Windows Phone 8.1 premieres on Lumia 630
Nokia Lumia 630/635 is the first smartphone to come with the latest available Windows Phone 8.1 out of the box. The update is going to roll out across all Windows Phone 8-running smartphones in late June, but for now the Lumia 630/635 and 930 are the only two devices where you can find both the final version of the Microsoft's OS and Nokia's Lumia Cyan customizations.
Windows Phone 8.1 brings a plethora of new features and UI improvements, while Lumia Cyan build on that and delivers Nokia's exclusive apps such as the Nokia Camera, Creative Studio, Storyteller, plus it adds some additional options on selected Lumia smartphones, such as Miracast Wireless Display support and Dolby Surround Sound capturing.
Before we dig into details, here comes our traditional UI walkthrough to get you warmed up.
The Windows Phone 8.1 is certainly one of the largest updates to a mobile operating system we've seen recently. It retains much of the flow of its predecessor, so existing users won't feel lost even for a second, but it adds much on top in an attempt to change the attitude of those sitting on the sidelines.
Let's start our tour with the lockscreen. The Lumia 630/635 doesn't offer Glance screen, nor is there the double-tap to wake up option. Apparently, those are reserved for the mid and high-end Lumia phones. Still, you get to choose up to six notification slots for your lockscreen, you can setup PIN unlock too.
Once you unlock your Lumia 630/635, you'll get to the familiar interface with resizable live tiles.
In the past Windows Phone had been criticized for lacking wallpapers. Not anymore as with WP 8.1 you can finally set a Start Background. This won't replace the black or white color on your homescreen with a wallpaper. Instead your tiles become transparent and you can look through them into your chosen background. The only problem is the feature works much better with some tiles than with others - contact pictures for example are non-transparent, other icons are not optimized for this feature yet and really get in the way.
There's another change to the live tiles too. Windows Phone 8 GDR 3 update introduced the option to pack even more tiles on a row, but the decision for the tile count was only available to the manufacturer. With WP 8.1 you are free to make up your own mind by going to Settings->Start+Theme and selecting or deselecting the "Show more Tiles" option. Thus depending on the size of the tiles you can have up to six in a row, instead of merely four.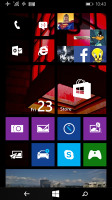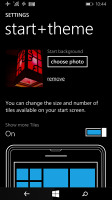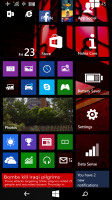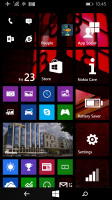 Customizing the Live Tiles count
Windows Phone 8.1 supports on-screen controls and the Lumia 630/635 is the first one to take advantage of those. You can configure their background - dark, to match the (black or white) background (not the Start Wallpaper), or to match you accent color.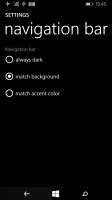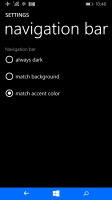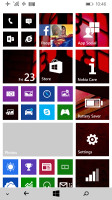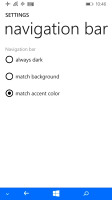 Customizing the navigation bar
One of the major novelties brought by Windows Phone 8.1 is a unified notification center. Microsoft calls this Action Center and you access it by pulling from the top of the screen. There you can access quick toggles as well as various app notifications. You can swipe individual notifications off the screen or you can click the dedicated clean all key to remove them all at once. You may not notice it at first (we didn't), but there is also a battery percentage indication just below the battery icon in the Action Center. Yes, finally!
The four or five toggles (depending on the handset) are fully customizable, though there aren't as many shortcuts you can assign as on Android. The available options include Airplane mode, Bluetooth, brightness, camera, internet sharing, location, project my screen, quiet hours, rotation lock, VPN, Wi-Fi. A double tap on the Wi-Fi button will get you to the Wi-Fi settings menu, while a double-tap on the Bluetooth - won't. That's rather confusing in its inconsistency and we hope Microsoft sorts this out before the update is released to the masses.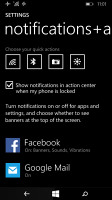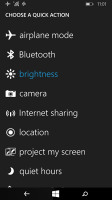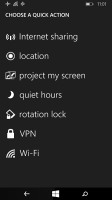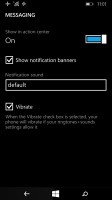 Customizing the notifications • choosing a quick action button
Just like on iOS, here you can customize the notifications - you can choose whether banners, sounds and vibration are available for each notification type.
The multi-tasking has also been improved. Microsoft chose Apple's way of handling apps running in background - most of the apps are suspended upon hitting the Win key and will be resumed once you bring them back. There are others, of course, such as Navigation, Cortana and Battery apps, which will continue to run in background unless you specifically kill them.
There are a few other improvements you get with the Windows Phone 8.1 and you'll see for the first time in Lumia 630. Quiet Hours mode is pretty much the same as Apple's DND mode - it can be set to activate automatically over pre-defined time interval, plus it can also go on automatically during events you have marked in your calendar. Just like its competing services, Quiet Hours supports the so-called Inner Circle - the notifications from your Inner Circle will always break through the firewall. There is also an option to allow calls from people who call you more than two times in less than three minutes.
The synchronization options have been upgraded as well. You can now sync your settings (theme, app settings and data, Internet Explorer tabs and passwords) and push them across all other devices. The service isn't as powerful as on Windows or iOS, but it does most of the important stuff and is another step in the right direction.
Windows Phone 8.1 still doesn't offer a full-featured and system-wide file manager. Various apps such as Gallery, OneDrive, Music, and Office pack such functions, but they work only within their dedicated folder. There are some apps (with limitations) that give you the functionality of a full-blown file manager, but you need to read how they work first and then decide whether they are worth your money or not. You can still have (non-rooted) access to the mass storage memory on both the internal storage and the memory card via a PC connection.
Finally, the well-known Kid's mode is here too. It allows you to setup a secondary virtual environment (accessible from the lockscreen) just for your kids, control the content they have access to, thus not risking losing valuable data or allowing them to call who-knows-who from your phonebook.
Windows Phone, just like iOS and Android, offers Find My Phone option. If you lose your phone, you can log into WindowsPhone.com with your Microsoft ID and try to locate your phone from there. Ring, lock and wipe options are available as well.
Overall, it's amazing how smoothly Windows Phone 8.1 runs on such modest hardware. Microsoft has put great efforts to optimize the OS and the end results is nothing short of amazing user experience. There is no lagging at all and the loading times are quite good for a device of such class and price tag.