Ngage gaming: cash is king
We still look at Nseries handsets as smartphones but they are probably more important to Nokia as N-gage phones. It's all about mobile content sales and trial-to-purchase-conversion counts big time. No wonder our N85 unit was quite loaded. You also get one full-featured game as a taster.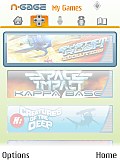 The N-gage gaming platform offers some pretty interesting titles but only one of them comes for free
You can of course download some free games at the Nokia download center but those aren't as good as the N-gage titles. There are also plenty of third-party games out there, so Nokia N85 users can easily download both native and java titles.
GPS does OK
Nokia N85 has a built-in GPS receiver and comes with three months of free voice guided navigation. Sounds like a serious premise for reasonable use as a dedicated navigation unit. The chip sensitivity might be an issue here as it isn't the best we have seen on a mobile phone.
It took the phone about two and a half minutes to get satellite lock upon cold start and that is way off Nokia N78 or even Nokia N96. However, on most occasions, this kind of speed might seem perfectly adequate to use. In addition A-GPS might take down this time to a more acceptable level. After all, if a couple of minutes are so important you might as well spend a few extra cents on data.
The built-in GPS receiver works with Nokia Maps, which is one of the navigation applications to offer the most detailed maps. Furthermore, it is free and relatively easy to use. You will have to buy the voice-guided navigation license once your three-month free trial expires. At least the actual purchase itself is quite simple directly via the phone interface.
The Nokia Maps application itself is doing pretty well in terms of features too. It has four different view modes including satellite and hybrid maps. Those however do need an internet connection to be available. The more regular 2D and 3D view modes are also at hand.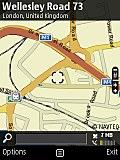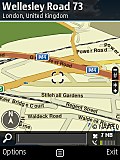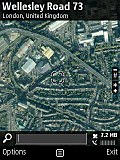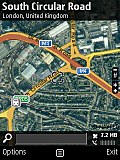 Nokia Maps offers four different view modes
The route planning algorithm is also rather easy to customize to best suit your preferences. Toll roads and motorways can be avoided and so can tunnels and ferries. Route selection can be set to either fastest or shortest. The app is also usable for pedestrian navigation or you can switch the GPS receiver off and use the phone as a hand-held map.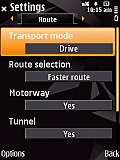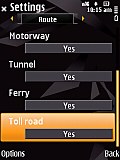 The route planning algorithm si easily customizable
Additional features like traffic information and city guides can also be activated but they come for a fee.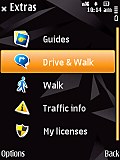 Additional features can also be purchased
Finally, in case you are still unhappy with Nokia Maps you can go for a third-party application and there are quite a lot of those available. User reports indicate the internal GPS has no problem working with any of the more popular third-party navigation apps.
The overall impression with GPS navigation on Nokia N85 is rather positive but not as good as most other recent Nokia GPS-enabled models. The quick initial lock of the Nokia N78 really impressed us but if you can live without it the rest is basically the same. The large screen is also a benefit but still not up to standalone navigator standards.
Final words
The good thing Nokia N85 does is take (almost) all the Nseries have delivered to date and put it in a neat and tasteful package. There are no groundbreaking novelties but what you get is quite worth it. And the display… well you do need to see it.
Nokia N85 didn't hit the market so bitterly overpriced as the N96. Nor was the wait so hyped - instead it almost instantly felt right where it belongs.
While the N85 certainly doesn't have the best 5MP camera on the market or the best styling there is, it is certainly one of the best all-rounders we've encountered. There is virtually no aspect of its performance where it totally fails (okay, zooming in the gallery is not that important).
And - having said all that - the best thing about Nokia N85 is it can tempt both Symbian newcomers and upgraders. It's quite a list of phones that can lose their owners' favor to N85.