90Hz IPS LCD
The N10 5G comes with an IPS LCD that measures 6.49-inches diagonally with a resolution of 1080 x 2400 px, coming out to an aspect ratio of 20:9. It supports the smooth 90Hz refresh rate.
The high refresh rate here doesn't look as good here as it does on an OLED display. Although looks are subjective, it doesn't change the fact that OnePlus chose a display panel with cost-savings in mind and its very apparent with the N10 5G.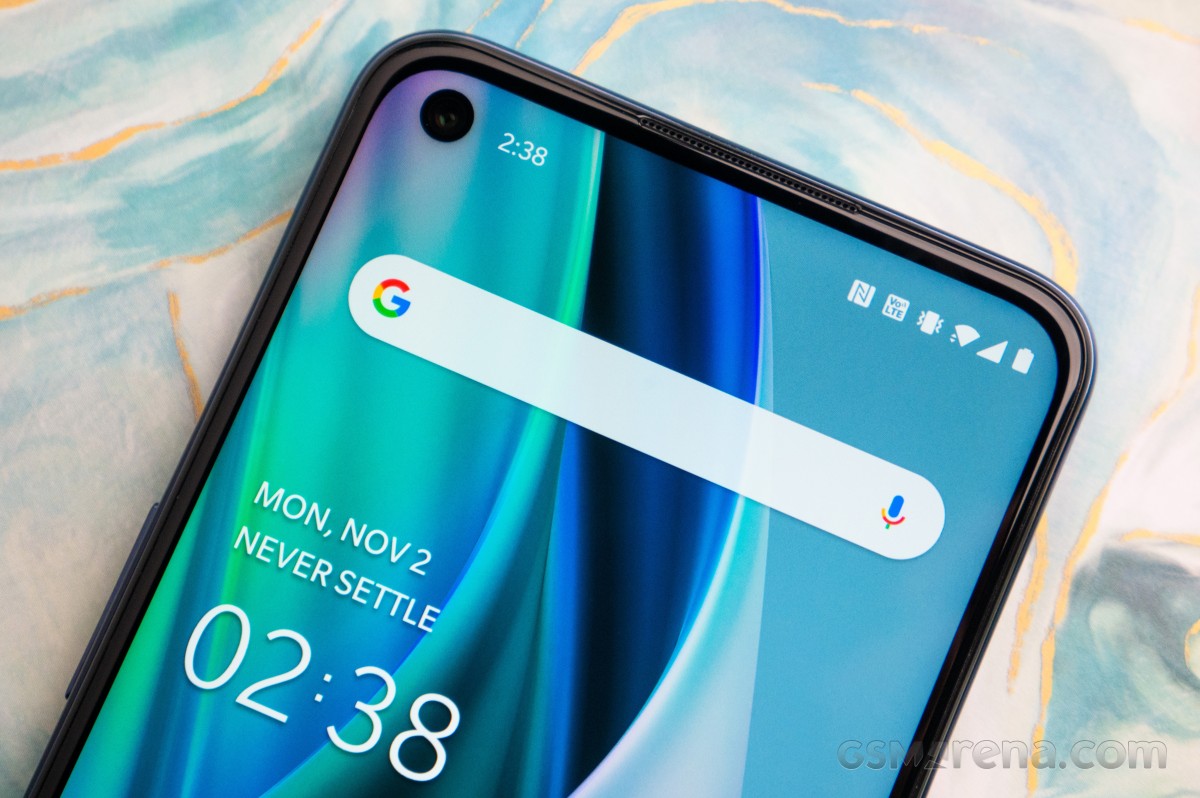 This panel is a very noticeable step down in quality from Nord's AMOLED display. Even so, the display manages to keep up in this price range. Brightness maxes out at 440 nits, and it doesn't get any higher when automatic brightness kicks in. Meanwhile, the minimum brightness is just 2.4 nits. Sunlight legibility is generally okay for the price range. In very bright light, the display will also adjust its contrast to make it easier to see.
Display test
100% brightness
Black,cd/m2
White,cd/m2
Contrast ratio
Oppo Reno4 Pro (Max Auto)
0
843
∞
Google Pixel 4a (Max Auto)
0
803
∞
OnePlus Nord (Max Auto)
0
756
∞
Google Pixel 5 (Max Auto)
0
699
∞
Apple iPhone SE (2020)
0.434
670
1544:1
Samsung Galaxy A51 5G (Max Auto)
0
642
∞
Xiaomi Redmi Note 8 (Max Auto)
0.475
631
1328:1
LG Velvet (Max Auto)
0
617
∞
Motorola Moto G 5G Plus (Max Auto)
0.466
543
1165:1
Oppo Reno4 Pro
0
508
∞
vivo X50 Pro (Max Auto)
0
503
∞
vivo X50 Pro
0
489
∞
Google Pixel 5
0
475
∞
Xiaomi Redmi Note 8
0.311
473
1521:1
Google Pixel 4a
0
456
∞
Motorola Moto G 5G Plus
0.349
443
1269:1
OnePlus Nord N10 5G
0.304
440
1447:1
Samsung Galaxy A51 5G
0
410
∞
LG Velvet
0
405
∞
OnePlus Nord
0
323
∞
There aren't any color profiles, but there's a color temperature slider that can potentially help color accuracy. By default, the slider is set to the cooler end. This results in a default setting of cool whites like many OEMs tend to do out of the box. We got the most accurate colors by setting the slider to about 5/8 of the way to the right. The display has an average deltaE of 3.4 with a maximum deltaE of 6, but we saw better numbers when we shifted the slider a bit warmer: average deltaE of 2.5 with a max of 5.
Between the Nord and the Nord N10 5G, this phone's display is a noticeable step below the Nord's AMOLED display with deeper blacks, smoother colors, and wider viewing angles. The N10 5G's LCD screen is by no means top-notch. You'll be able to watch videos on it, play games, and make video calls just fine, but if you're looking for a better viewing experience, you might want to look one or two price brackets higher.
Battery life
The N10 packs a 4300 mAh battery - not a small capacity and not a huge either. In our endurance tests, the OnePlus Nord N10 5G scored an overall 99h of endurance with 29:43h of talk time. On-screen tests scored above 15h, with a web browsing score of 15:23h and 15:10h of video playback.
We're pleased with the N10's battery endurance. It was really easy to reach the end of the day with enough battery to roll over to the next day.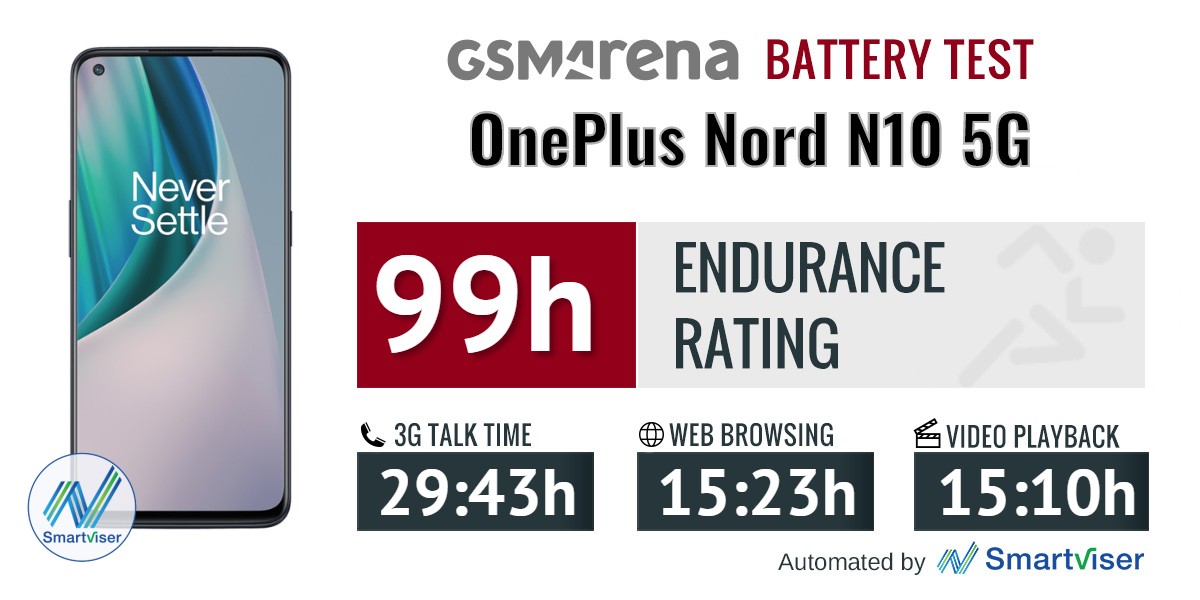 Our battery tests were automated thanks to SmartViser, using its viSer App. The endurance rating above denotes how long a single battery charge will last you if you use the OnePlus Nord N10 5G for an hour each of telephony, web browsing, and video playback daily. We've established this usage pattern so that our battery results are comparable across devices in the most common day-to-day tasks. The battery testing procedure is described in detail in case you're interested in the nitty-gritty. You can check out our complete battery test table, where you can see how all of the smartphones we've tested will compare under your own typical use.
Battery charging
The Nord N10 supports OnePlus' Warp Charge 30T and has the needed adapter in the box. The company promises "a day's power in half an hour," and we can vouch for OnePlus' claim. The included charger restores 66% of the N10 5G's dead battery in just half an hour of charging. Fully charging the phone only took a total of 52 minutes.
If you don't have such a charger handy, the phone is still able to charge quickly with a USB PD charger, though not at the advertised peak speeds.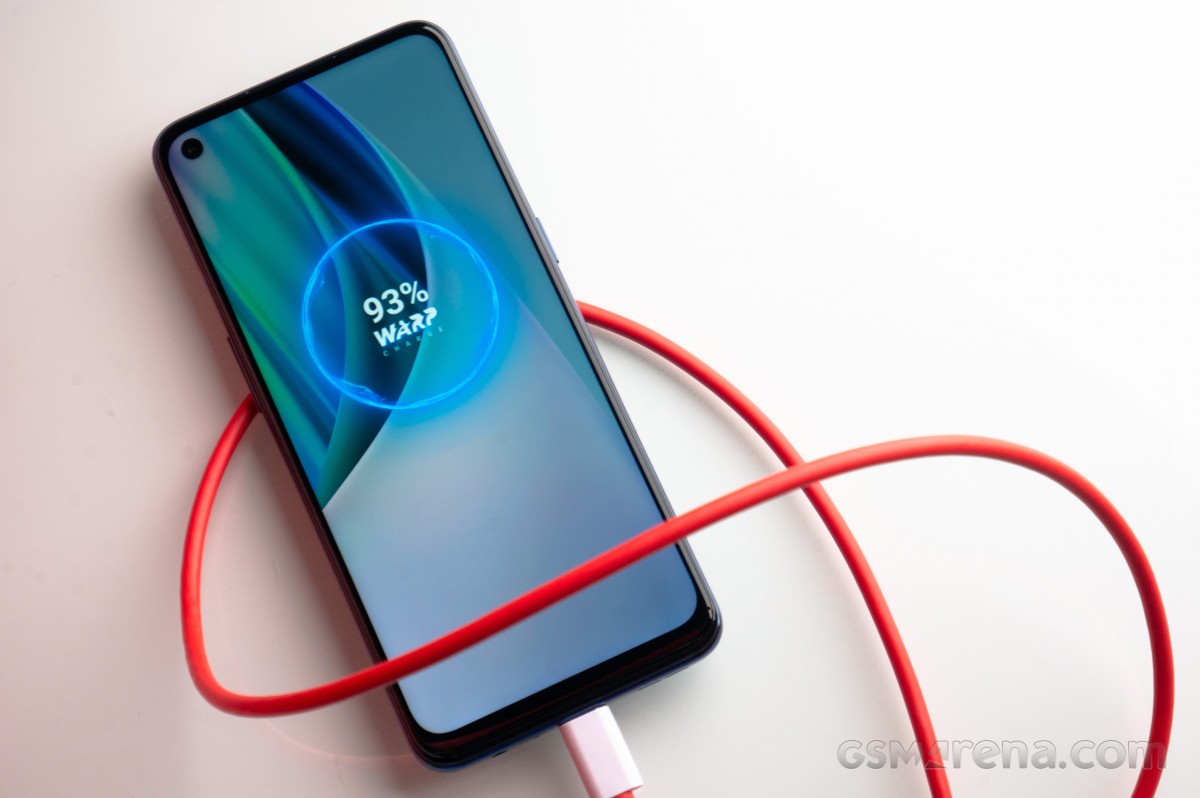 30min charging test (from 0%)
Oppo Reno4 Pro 5G
97%
OnePlus Nord N10 5G
65%
OnePlus Nord
60%
Google Pixel 4a
45%
Samsung Galaxy A51 5G
39%
Motorola Edge
37%
LG Velvet
36%
Time to full charge (from 0%)
Oppo Reno4 Pro 5G
0:32h
OnePlus Nord N10 5G
0:52h
OnePlus Nord
1:05h
Samsung Galaxy A51 5G
1:30h
Google Pixel 4a
1:37h
LG Velvet
1:52h
Motorola Edge
2:32h
Speaker test
The Nord N10 5G has a dual speaker setup with one unit firing out the bottom and the earpiece doubling as another. Mind you, we're saying 'dual' as opposed to 'stereo' - there's no channel separation, and both speakers output the same sound.
They do so loudly, at least, which is nice - the phone posted a 'Very Good' rating in our testing, and that puts ahead of most potential rivals.
Use the Playback controls to listen to the phone sample recordings (best use headphones). We measure the average loudness of the speakers in LUFS. A lower absolute value means a louder sound. A look at the frequency response chart will tell you how far off the ideal "0db" flat line is the reproduction of the bass, treble, and mid frequencies. You can add more phones to compare how they differ. The scores and ratings are not comparable with our older loudspeaker test. Learn more about how we test here.
Audio output quality
We've recently discontinued our audio output quality test.
The reason for that is that most phones that arrived for testing were already excellent in this regard and whatever difference there was, it was marginal and probably indistinguishable to anyone but our lab equipment.