Organizer with Office doc editor
The Oppo Find 5 comes with QuickOffice out of the box and it's the full version that can create and edit files too. It supports Word, Excel and PowerPoint files (97, 2007 and 2010 docs are supported) and can view PDFs too.
The editors are quite capable - the Word editor can do complex text formatting, create tables, while the Excel editor has full support for editing formulas.
The calendar has iOS looks with a leather accent on top, and is pretty functional at that. There are four views - Daily, Weekly, Monthly and Agenda. The app can easily handle several online calendars as well as the local calendar and you can selectively hide calendars to keep things tidy.
You can add multiple reminders for each event and search through all events.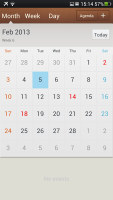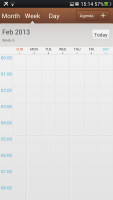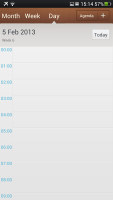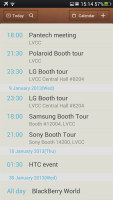 The organizer can sync with multiple calendars
The clock app supports multiple alarms, each with its own repeat time, ring tone, volume, snooze interval and note. The app also offers a world clock, a stop watch and a timer.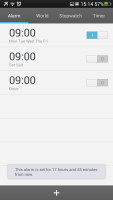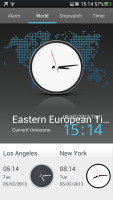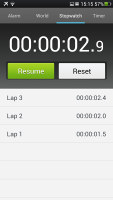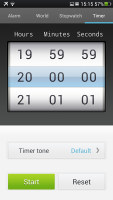 Alarms • World time • Stopwatch • Timer
The calculator is a just a skinned version of the stock app - it has big, easily thumbable keys and you can swipe to the left to bring up the advanced functions (trigonometry, square root, brackets, etc.).
The NearMe Notes app comes pre-installed. The app lets you create complex notes with text, images and hand drawn notes. The gimmick here is that each note has a location associated with it and only notes that are "close by" will be displayed.
The Tools folder is preloaded with a few apps that you usually get from the market. There's a Flashlight app (that's virtually identical to the HTC app), a sound recorder and a 3D compass.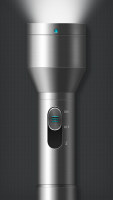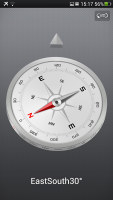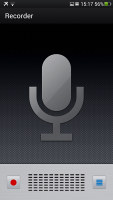 Tools: flashlight, 3D compass, sound recorder
Another useful app here is the System update app, which can be used to update the phone's software over the air or from a local file (a ZIP saved in the internal memory).
Google Maps
The Oppo Find 5 comes with a GPS receiver, which took about a minute to get satellite lock upon a cold start (it supports GLONASS for faster, more accurate locks too). You can use the A-GPS functionality to get near instantaneous locks. Alternatively, network positioning will also do if you only need an estimate of your location.
Google Maps is a standard part of the Android package and we've covered it many times before. It offers voice-guided navigation in certain countries and falls back to a list of instructions elsewhere.
3D buildings are shown for some of the bigger cities and you can use two-finger camera tilt and rotate to get a better view of the area.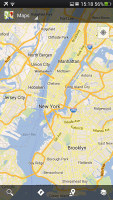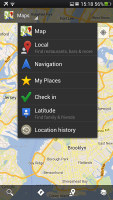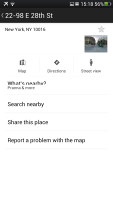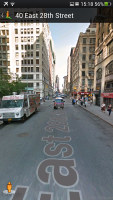 Google Maps uses efficient vector maps • Street View
You can also plan routes, search for nearby POI and go into the always cool Street View. The app will reroute you if you get off course, even without a data connection.
Google Maps uses vector maps, which are very data efficient. The latest version has an easy to use interface for caching maps - you just choose "Make available offline" from the menu and pan/zoom around until the desired area is in view (there's an indicator showing how much storage caching that area will take). You can later view cached areas and delete ones you no longer need.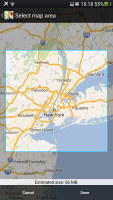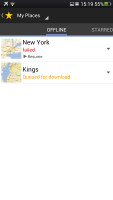 Making a part of the map available offline
Note that there's a limit to the size of the area you can cache - you can't just make all of Europe available offline, not even a whole country. We managed to cache London and some surrounding regions before Maps told us the area is too big. Also, there's no address search in the cached maps and you can only cache map data in supported regions of the world.
Google Play Store
Luckily for the Oppo Find 5, Android is very flexible about resolution and you get full access to the Play Store. With the Snapdragon S4 Pro chipset you'll be able to run even heavy games.
The Store is organized in a few scrollable tabs - categories, featured, top paid, top free, top grossing, top new paid, top new free and trending. The in-app section is untouched though and it's very informative - a description, latest changes, number of downloads and comments with rating. There is usually a demo video and several screenshots for most apps too.