Connectivity with NFC and Wi-Fi display, but no LTE
The Oppo Find 5 has quad-band 2G and tri or four-band 3G connectivity (depending on the market) with HSPA+. The big omission here is LTE - that might be a deal breaker for some, but a lot of places still don't have LTE coverage and for them it wouldn't matter.
Local connectivity is handled by dual-band Wi-Fi a/b/g/n, Bluetooth 4.0 and NFC.
There's no dedicated app to handle NFC tasks, you do that from the Settings instead. NFC can be used for standard Android Beam (data transfer happens over Bluetooth) or Oppo Lightning transmission, which is faster but works only between two Oppo devices.
NFC can be used to automate actions with NFC tags too - here's where the two NFC stickers in the box come into play. The OppoTag software has five presets that can be used - Home, Bedroom, Office, WLAN display and Application.
Each one can be set to perform a predefined list of functions. Each preset controls different settings (e.g. Office can enable silent and launch Notes, while Bedroom can switch off wireless connectivity options). Settings can usually be turned on or off if you want to modify the behavior of a preset, but not all setting and you can't add new settings to the preset or create custom presets.
The app can write to the NFC tag.
The Oppo Find 5 also has a Wi-Fi display option, which can output the screen image to a compatible device over HDMI.
Wired connectivity includes a microUSB port for data transfers and charging (but there's no MHL functionality here) and a 3.5mm audio jack.
Web browser
The Oppo Find 5 comes with Google Chrome as the default web browser out of box instead of the generic Android browser. The minimalist interface hasn't changed since Chrome launched on Android.
At the top there's an URL bar with a refresh/stop button next to tabs and settings. You can switch between tabs with a wide horizontal swipe in either direction.
Opening the tabs area reveals a list of tabs which can be closed, again with a left or right swipe. The animation accompanying this action is neat, too.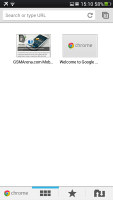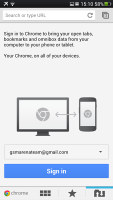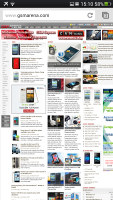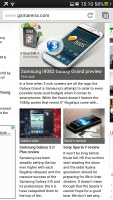 Browsing GSMArena.com with Chrome
Chrome is running on the WebKit rendering engine, so underneath the minimalist UI it's basically the same as all Android stock browsers.
Of course, one of Chrome's strengths is its ability to seamlessly sync with the desktop version, using nothing but your Google account. This allows you to open an article on your PC and finish reading it on your mobile phone. It also syncs your bookmarks and favorite sites.
Google Chrome is generous with settings as well. You can control almost every aspect of your web browsing from choosing what content you want to allow to load like JavaScript, images, cookies and pop-ups.
If you are out of Wi-Fi range, you can, for example, choose temporarily not to load images. Digging into Chrome's deeper settings, you'll also have the option to turn the auto-fill of forms and storing passwords on or off.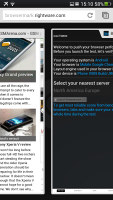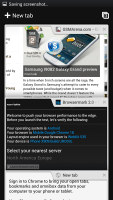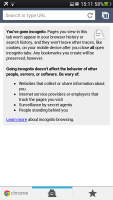 Switching between tabs • an incognito tab
Oppo has thoughtfully preloaded Flash player on the Find 5, but the problem is that Chrome doesn't support external plug-ins (the stock Browser does). So, it's useless as-is, but you can always install a third party browser or even find the APK for the stock Browser.