Phonebook and dual-SIM telephony
The phonebook uses a tabbed interface - it offers groups, then there's the contact list and favorites. The UI is pretty standard Android affair, save for the custom paintjob.
A tap on a contact's photo brings out Quick contacts - shortcuts for calling, texting, emailing a contact and a bit more (e.g. a Chrome shortcut to visit their web site).
Contact info is displayed as a list of all available details. Custom ringtones can be selected for each contact and duplicate contacts can be merged into a single entry.
Contact syncing tools are very powerful - contacts can be moved or copied between phone storage and a Google account, they can be synced with an Exchange server or Facebook, and you can send / import contacts over Bluetooth.
There's an Anti-harassment mode located in the contacts app, which is pretty powerful. You can put numbers in a blacklist, block messages and intercept spam calls. The strange thing is, you can't block people from within the messaging or phone app - only in the contacts app.
The dialer supports Smart dialing just fine (looking up both names and phone numbers).
If you've decided to use the microSD compartment for a second SIM instead, you'll get two Dial keys, one for each SIM. The SIM manager in the settings will pop up too, allowing you to setup your SIM defaults - for calls, messaging and data connection.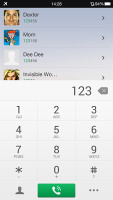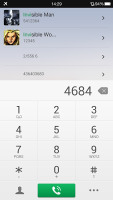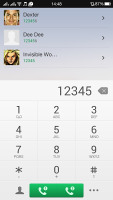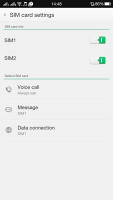 Dialer • Dual SIM dialer • SIM manager in Settings
By default the Oppo N3 scored a Good mark on our loudspeaker test, which means you should have no problem hearing it in all but the loudest of environments.
Then we went and tweaked the Wave Maxx Audio sound setting, which also applies for the loudspeaker, and the Oppo N3 scored an Excellent score without sacrificing the sound quality.
So, if the default speaker loudness isn't enough for you, Maxx Audio will definitely help.
| | | | | |
| --- | --- | --- | --- | --- |
| Speakerphone test | Voice, dB | Pink noise/ Music, dB | Ringing phone, dB | Overall score |
| Apple iPhone 6 Plus | 67.3 | 65.7 | 66.5 | Below Average |
| Sony Xperia Z3 | 69.7 | 66.6 | 67.2 | Average |
| HTC One (M8) | 65.8 | 64.7 | 75.7 | Average |
| Oppo R5 | 66.6 | 66.2 | 75.3 | Good |
| Oppo N3 | 68.2 | 65.8 | 75.7 | Good |
| LG G3 | 70.2 | 66.6 | 80.2 | Good |
| Oppo N1 | 73.7 | 67.7 | 78.7 | Very Good |
| Oppo N3 with Maxx Audio | 77.9 | 69.8 | 80.4 | Excellent |
Messaging and email
The messaging department is a pretty standard affair - there's a list of all bubble-styled conversations organized into threads, with a big New Message button at the bottom and a settings button next to it.
Attaching multimedia to a message will turn it into an MMS. You can add everything from photos, videos, audio to general files. There's even a full blown slide editor if you want to make full use of the MMS standard. The Attach location option is pretty nice too.
Hangouts is also included and supports SMS.
Moving on to email, the Gmail app has handy shortcuts at the bottom of the screen and supports batch operations, which allow multiple emails to be archived, labeled or deleted. The default app supports multiple Gmail accounts, but there's no unified inbox.
A cool feature in Gmail is that you can swipe left or right to move between messages in your inbox.
There is also a generic email app for all your other email accounts and it can handle multiple POP or IMAP inboxes. You have access to the messages in the original folders that are created online, side by side with the standard local ones such as inbox, drafts and sent items.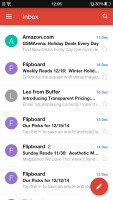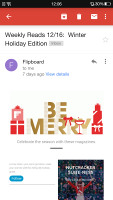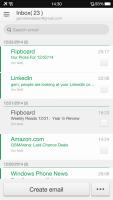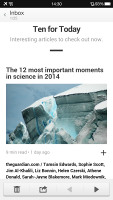 Gmail and Oppo's built-in email client
The Oppo N3 offers a great Swype-enabled keyboard with big keys and they become even bigger when you switch to landscape mode - the wide screen is remarkably comfortable for two-thumb typing.
There is an option to change the individual key height in both portrait and landscape, which isn't found that often. Keyboard themes are available too. You can also have split or mini keyboard layouts.
Placing the device in landscape expands the keyboard immensely but leaves too little space for the text box above and we found ourselves never really using landscape as the portrait keyboard was spacious enough.