Android 4.0.4 Ice Cream Sandwich with a heavy Pantech input
The Pantech Discover comes with Android 4.0.4 Ice Cream Sandwich out of the box. We were told that Jelly Bean update is planned, but no timeline was provided for it. Google's OS is dressed in a really functional UI from Pantech. Check it out in action below.
One of the most impressive tweaks, which Pantech brought to Android in its Discover, is the lock screen. The latter packs the impressive six shortcuts, which can take you straight to the homescreen, the camera app, the music player, the text messages, web browser, as well as the phone dialer.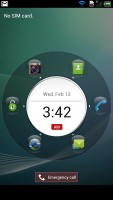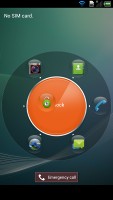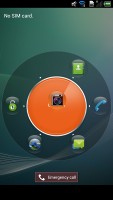 The lockscreen can overwhelm you with options
There are seven homescreen panels at your disposal. You can arrange them any way you want but, unfortunately, add and delete them.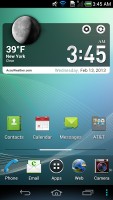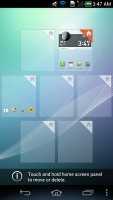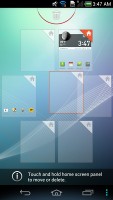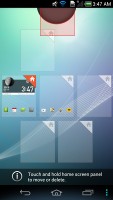 The homescreen • arranging the panels
The docked icons on the bottom of the homescreen can be customized too. You can add two extra rows which can be accessed by swiping a finger to the left and to the right.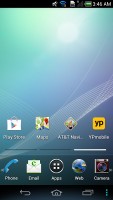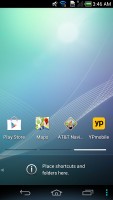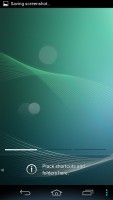 You can add more shortcuts to if you wish
Adding and removing widgets is business as usual. There's plenty to choose from out of the box.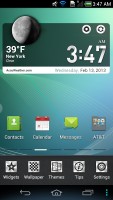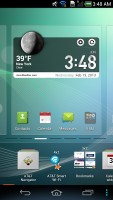 Adding content to the home screen is hassle free
The notification area has been seriously touched. It has an additional, slide-out section, which adds more settings.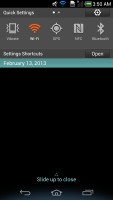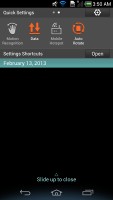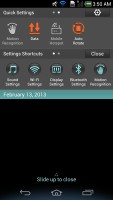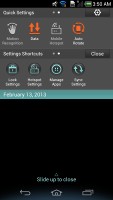 The notification area is very functional
The application launcher can be customized as well. You can view the apps as an alphabetical list or a grid. You can create folders too.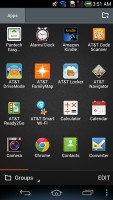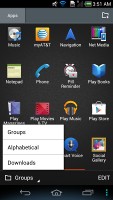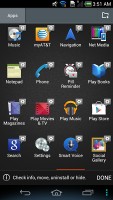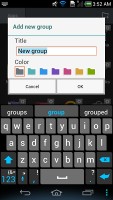 The app launcher • some of the customizations
There are also themes at your disposal. They do very much resemble the ones offered by another Korean maker. They include Work, Play, etc. You can also save your own. You can even change the style of your phone dialer.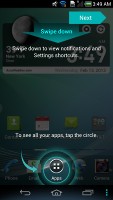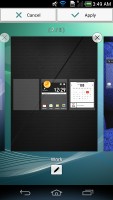 The themes section looks quite familiar
Just in case the above customizations are not sufficient enough for you, Pantech also gives you the opportunity to change the set of icons the Discover. There are two sets available - stylish and modern.
There is a task manager at your disposal. It can be accessed via dedicated widget. It shows CPU, RAM, and network data usage for the device.
The task switcher is a standard ICS affair. Pantech have sprinkled some extra functionality to it by adding shortcuts to a pop-up notepad, music or video player.
Finally, we have the biggest change Pantech made to the otherwise colorful, but familiar looking UI - the Easy Experience. It is directed at first time smartphone users, who are still abundant in the United States. With the press of a button, the easy experience transforms your Pantech Discover into an overpowered feature phone.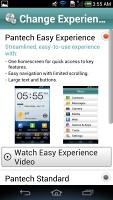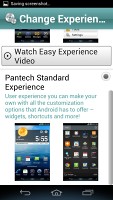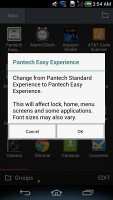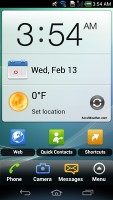 Turning on the easy experience
Once turned on, the easy experience offers only one homescreen with larger icons for access to the most common functions of the device. The lockscreen gets simplified too.