A 12.6MP camera at your service
The Pantech Discover offers a camera with an eye-popping resolution considering the price of the phone. Android smartphones of much higher stature still have to make do with 8MP units. Here, there are dedicated HDR and panorama modes too.
The camera interface is simple and intuitive. There are two shortcut bars on both sides of the viewfinder, which allow you to access all the camera options. The one on the left can be hidden.
On small flaw we found was the relatively slow focusing time, compared to its competitors. It is hardly a deal breaker, but it certainly requires some getting used to.
We were pleasantly surprised of the high image quality the Pantech Discover delivers. In good light the photos are nicely detailed with low noise. The only issue we managed to spot was a certain softness on the right hand side of all photos but that can be a a unit-specific problem.
The camcorder shoots 1080p videos
The video camera interface is identical to the one found in the still camera. The same shortcut bars can be found on both sides of the viewfinder, so no surprises here.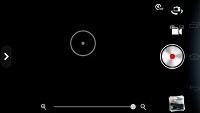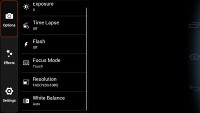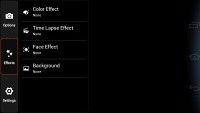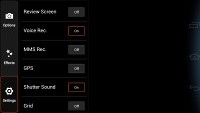 The camcorder interface
The Pantech Discover shoots nice and smooth 1080p videos at 30fps. Despite the fact that it uses the inferior .3gp file container, the Discover's videos come out with great level of detail and commendable quality.
The videos have a bitrate of 18Mbps and the sound stream is recorded in stereo.
And here goes a short untouched 1080p video clip (26MB), which you can download.
Connectivity with more options than you need
As you can probably guess, the connectivity is fully covered in the Pantech Discover. That includes NFC connectivity with Android Beam preinstalled.
AT&T's LTE connectivity worked like a charm in the New York City area. We found nothing to frown at on that instance.
The Pantech Discover also offers a Net Media app for sharing multimedia with other devices over a Wi-Fi network. It worked as expected.
Two web browsers out of the box
Curiously, the Pantech Discover comes with two web browsers out of the box. There's an ICS web browser which has been modified by Pantech, and Google Chrome to keep it company.
The default Pantech Browser did everything as expected, including flash support. Compared to Chrome, its UI looks slightly busier. You also get a pop-up menu at the bottom with social network sharing options.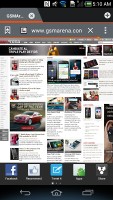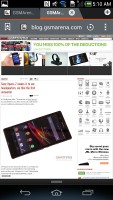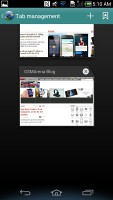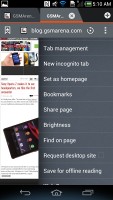 The Pantech web browser loves sharing
Google Chrome on the other hand, barely needs any introduction. It easily syncs with its desktop sibling and will likely be your go-to choice for web browsing.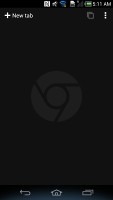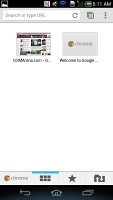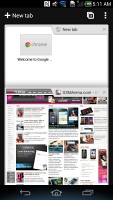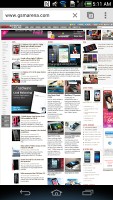 Google Chrome is the go-to Android browser these days
One thing you must keep in mind, when using either browser is the battery life of the Pantech Discover.