MIUI history/explainer
The Pocophone F1 runs MIUI 10 now, although it launched on MIUI 9. Initially it jumped from MIUI 9 to MIUI 10, and in the meantime it's also received an update to Android Pie - which is commendable because the latest version of the OS still is nowhere to be found on most devices. However, what you see on top is still MIUI 10, the differences between MIUI 10 based on Oreo and MIUI 10 based on Pie are really minute.
And that's because Xiaomi's update system is a bit different from those of other manufacturers, so if you're not familiar with it, here's the gist - the biggest changes to how the UI looks come with updates to MIUI. Updates to underlying Android versions aren't tied to updates to MIUI. Xiaomi mostly uses Android version updates just for their effects on the lower-level stuff that's usually not user-facing.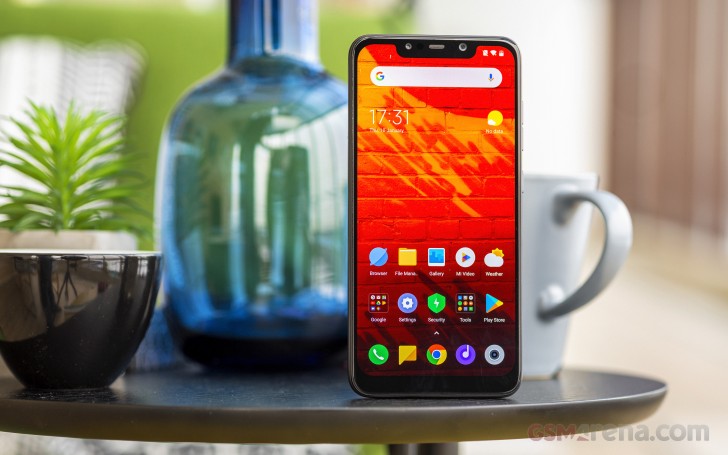 And all of this brings us to how different MIUI is from any other Android skin out there. This is a love it or hate it approach, but if you're a die-hard stock Android fan, you definitely aren't likely to enjoy it. On the other hand, if you keep an open mind and also take into account the explanation regarding Xiaomi's updates above, you might be in for a nice experience. The idea here is that it's pretty pointless to anxiously await a new Android update if you have a Xiaomi device, and you should probably focus on MIUI updates instead. The good news there is that even very old phones do tend to get new versions of MIUI for years on end, so even if the Android iteration you're on isn't the latest you can still benefit from new features.
All Android UI overlays that got started in China are very heavy, though some have gotten lighter for international markets over the years. There's a combination of factors that led to this, but you have to keep in mind that the Play Store is not available in China. In its place there are dozens of different stores, some more legit than others, and people are also used to installing apps from outside sources.
What this means unfortunately is that a lot of the apps that end up on people's phones are either malicious or simply badly coded, since there's no coherent policing structure - the Play Store may not be perfect, but it does auto-scan apps (including ones already installed on your handset) and removes the ones that aren't on the up and up. There's nothing like that in China so then the OS needs to do the policing itself. That's why most Chinese-developed skins are very heavy on shutting down background processes even on phones with a lot of RAM. It just comes from many bad experiences people over there have had with bad apps draining battery, using mobile data excessively, and so on.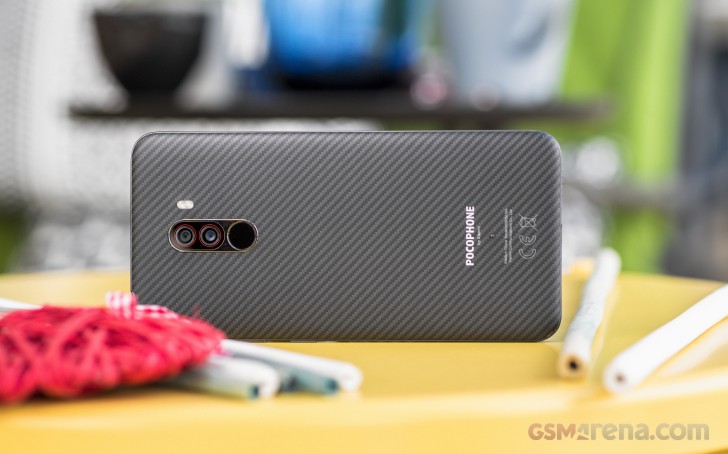 All of this, however, doesn't aim to give a free pass to those companies who use the exact same app policing systems on phones sold outside of China, which do come with the Play Store preinstalled. For most people who have access to the Play Store, it is the primary method of app distribution, so all of these safeguards for misbehaving apps need to be shut off in the OS for devices sold globally.
The Pocophone does okay on this front, but not perfectly. Note that we're assessing how it handles such things out of the box, with the default settings. All of these policing features can usually be manually turned off, but that puts unneeded pressure on the owner of the phone to first know that this is an option, and then, in some cases, go and turn an assortment of settings off for every single app they have installed. That's bad user experience design no matter how you look at it. In today's busy world, filled to the brim with "AI" this and "AI" that, having to actively think about such things is really disconcerting.
The most annoying part is that when some default settings interfere with the functioning of apps you won't even know - there's no notification telling you to switch settings or anything like that, you just have to start digging yourself. This has happened to us with the Garmin Connect app - the one you use to sync the company's smartwatches to your phone. It simply refused to take us past the login screen until we went into the Settings and enabled every single permission (which aren't even all in the same subcategory), then switched to "No restrictions" for the built-in battery saver, and finally turned Autostart on.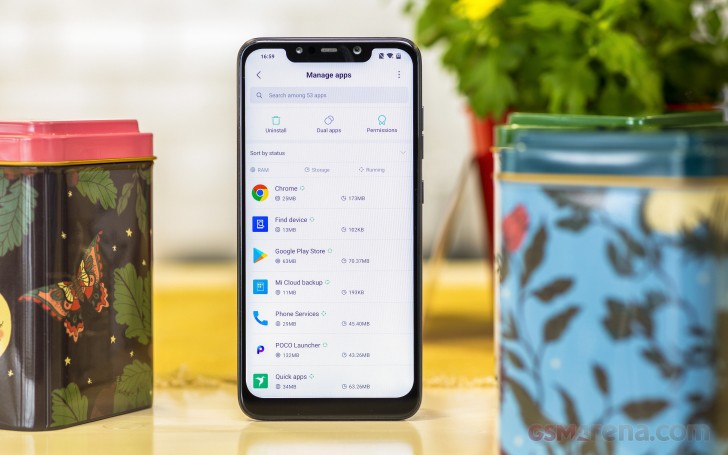 All of these steps were necessary for one single app. Of course, most apps will work decently from the get-go, but you still may find some being randomly shut off in the background for no apparent reason if you stick with the default settings - Castbox (a podcast app) and even Spotify exhibit this behavior a lot. Thankfully none of them gets ousted from memory while something is playing, but soon after you hit Pause (for Castbox), and at some point after that (for Spotify) you may find they're just gone from RAM and need to be restarted.
Again, all of these things can be alleviated by spending a lot of time in Settings > Installed apps, changing things in there so that MIUI is more friendly with them, but in 2018 on a phone that's sold outside of China this shouldn't be necessary.
Additionally, note that not all apps will show notifications on the lock screen by default - some do, some don't, and there doesn't seem to be any logic behind how they get picked for this. So if you like to just hit the power button thus turning the screen on to check for new notifications, consider that the ones you're seeing may not be all of them. You need to unlock and then swipe down the notification panel to actually see everything.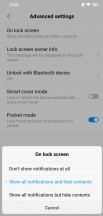 This setting is lying to you sometimes
This is another thing you can fix by digging into Settings, and another thing you really shouldn't have to do. A setting with three options (show all notifications and their contents, show notifications but hide contents, or show none) exists but unfortunately you shouldn't really trust that if you pick "Show all notifications and their contents" that will actually happen every single time for every single app.
What you need to do instead for an app that won't show notifications on the lock screen despite the setting described above is go to Settings > Installed apps, pick the app in question, then go to Notifications and make sure that for every category listed there "Lock screen notifications" is turned on. Needlessly complicated? Oh yeah.