Performance and smoothness
Read "Snapdragon 845" on the Pocophone's spec list and you're obviously expecting the phone to be very fast, stutter-free, and perform very well no matter what task you throw at it. And you'd be right. That is exactly the case. The device is a joy to use because it's so fast, and we haven't seen any disturbing lags or stutters at all in our long-term evaluation of it. At all.
The fingerprint sensor on the back is one of the fastest we've ever used, and also one of the most reliable. We've had maybe 4-5 mishaps with it where it didn't instantly recognize our fingers. That's 4-5 out of literally hundreds, if not thousands, of unlock attempts. So it's all good on this front, although we would've liked the unlocking to be accompanied by a small vibration like in most other Android phones. The lack of that is however something you get used to pretty fast, but for the first few days you might think it's not going to work because of the lack of tactile feedback, when in fact it does.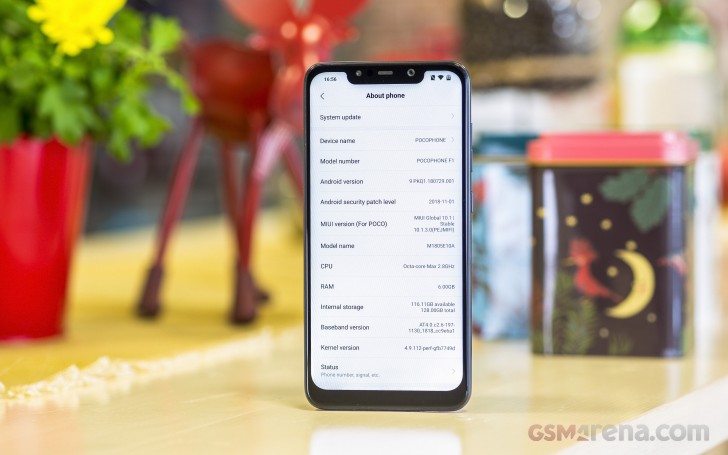 There's not much else to say here, and that's a good thing. Everything works fast and good. The Pocophone F1 is also incredibly smooth, although its scrolling may feel a bit weird at first if you're coming from another fast Android device, because its physics are tuned a bit differently - like halfway between how iOS does it and how seemingly every other Android handset does. That's how Xiaomi wants it in MIUI, so that's how it is in the Pocophone.
But, let's reiterate - the F1 is really deserving of the implied analogy in its name. The way it performs should remind you of an F1 racing car. But it's also smoother than most Android handsets we've tested, and when you consider that it does all this with that price tag, the value proposition for someone who's primarily looking for great performance becomes very hard to resist.
Battery life
As you might expect from a phone with a 4,000 mAh battery, we were really impressed with the Pocophone's endurance. Great battery life has been a staple of certain devices at this price point, but only recently have normal flagships started to catch up, and they're still not all there yet. The Pocophone F1 delivers among the best battery life stats we've ever seen for a top of the line device.
With our normal use we constantly got around 7 to 8 hours of screen-on time over two days. Considering the standby times involved, that's pretty amazing. We'd call such endurance that even if it came in the span of just one ~16 hour day, but this is really something else.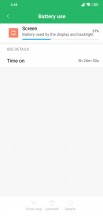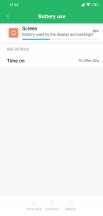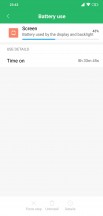 Battery life screen on times (the second and third are over two days of use)
Keep in mind that these numbers were achieved while connected primarily to Wi-Fi, with a couple of hours or so of mobile data connectivity, location always on, Bluetooth always on (and with a couple of hours of music streaming every day), and around 30 minutes of navigation through Waze or Google Maps. This usage scenario is very similar to what we've had for every other long-term review, so that hopefully puts things in context.
As usual, caveats aplenty when talking about battery life - the phrase "your mileage may vary" seems to have been invented specifically for this purpose. Obviously, if you're going to rely on mobile data all day you'll see different numbers. If your signal is weak then they'll get even worse, and so on. But overall, we'd call the Pocophone F1 one of the battery champs of 2018, based on our day-to-day experience with it.
Camera app
The Pocophone F1's camera app looks very similar to every other one that's out there in this day and age, as all manufacturers seem to have settled on the same overall design philosophy. Perhaps this is just what most people prefer, what intuitively works best, so then why mess with a good thing?
You swipe between different capture modes, including photo, video, portrait, panorama, and manual. The phone has an AI toggle, HDR that can be set to On/Auto/Off, and even Google Lens is an option in the app's interface. Unsurprisingly, there are "beautification" features included too, but we've steered clear of these.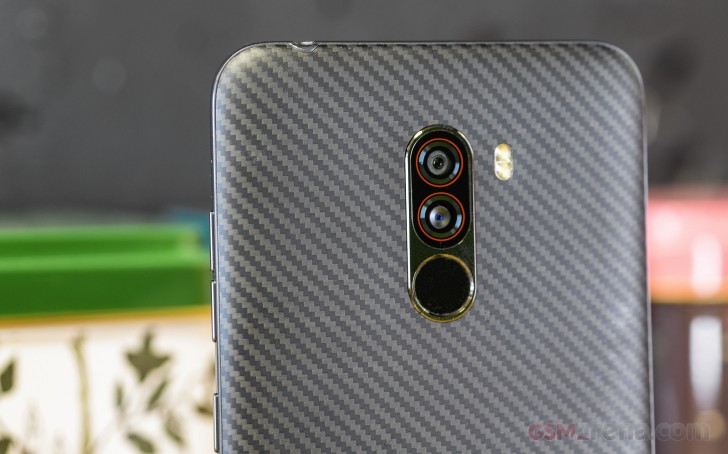 The app is fast and easy to use, we really have no complaints. We've seen no bugs in our long term review period, and we like that you can quickly get to the camera by double tapping the power button. This is thankfully becoming a trend in the mobile world, one that almost completely alleviates the fact that there aren't dedicated camera buttons on most phones anymore (those were the days).
Camera samples
Now let's talk image quality. We've snapped a few more samples for your viewing pleasure during our time with the Pocophone F1, and overall we were very satisfied with the results. Compared to the top dogs in the camera phone space, Xiaomi's budget option is obviously no match. But - like with everything about this phone - you have to account for its price here too. And for the price, it delivers amazing camera quality.
Daytime images turn out very good for the most part, even in the currently sun-starved winter conditions around these parts. Dynamic range is stellar, the photos are sharp and detailed, while noise is kept under control. The colors are very accurate.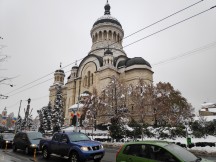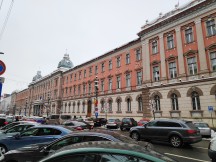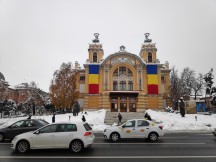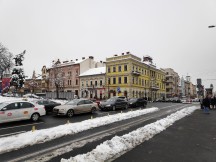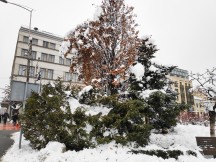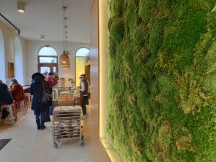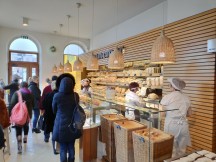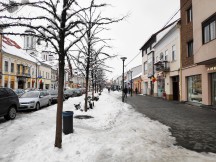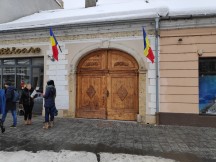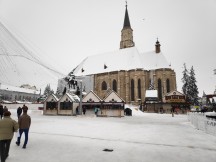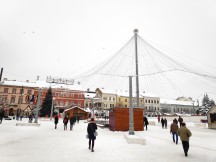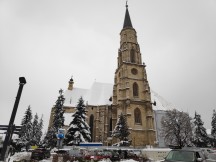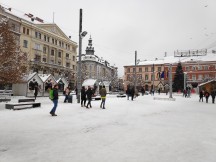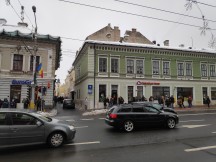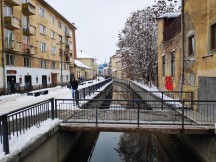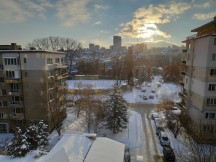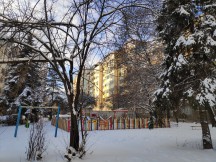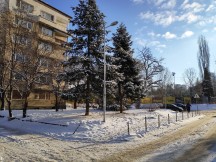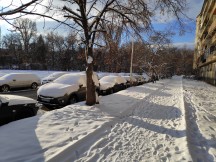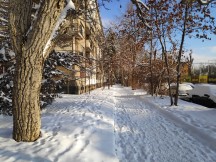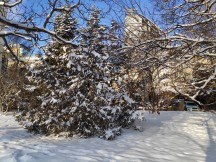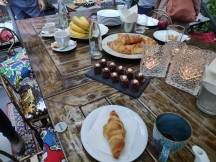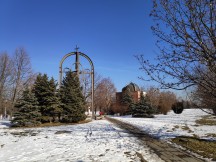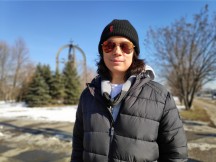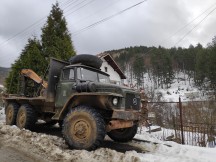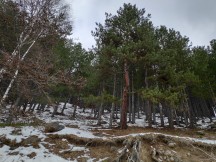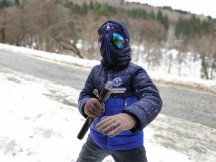 Pocophone F1 daytime camera samples
Nighttime shooting can be hit or miss, especially with the lack of OIS - some inherent camera shake would've been alleviated by such a feature, but this is probably just another cost-cutting measure. If you can hold steady, you'll get decent pictures most times, although there were occasions on which we shot the same thing twice and were met by differing colors in the resulting pictures. So color accuracy is certainly down when ambient light levels go down compared to what you'd see in broad daylight.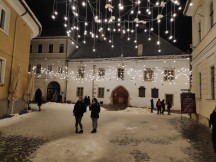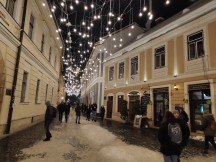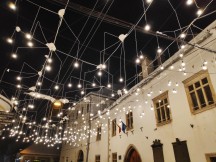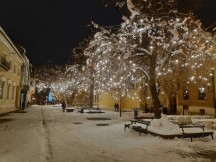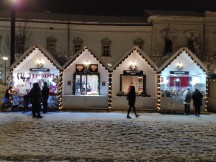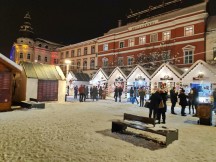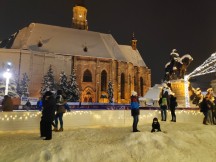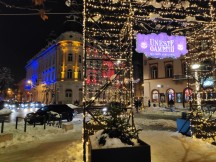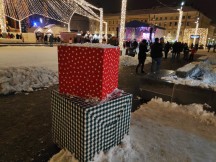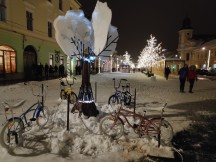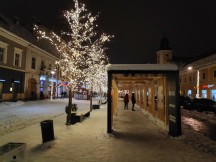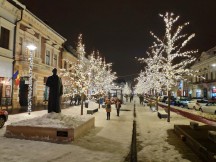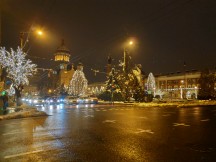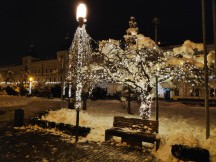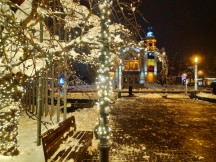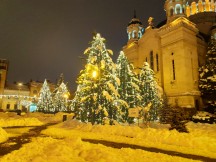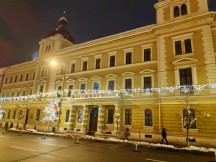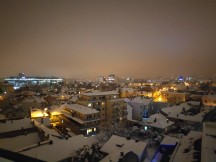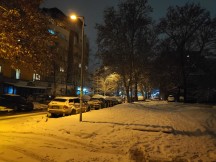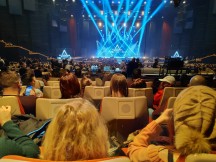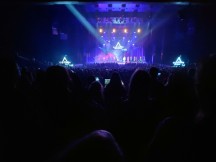 Pocophone F1 night-time camera samples
As with any smartphone camera, there's a quality degradation when shooting at night (and the darker it is, the more this happens), but we would still call the Pocophone's night shots good - if nothing to write home about.
We did appreciate the fact that the HDR attempted to improve nigh-time images by restoring the color to the various sources of light. However, image stacking comes with a drawback of its own when shooting handheld at low shutter speeds - and that's ghosting. We frequently observed ghosting on the images we took with the Pocophone F1. This is not to say it's worse in this respect than other phones but rather something to keep in mind when shooting. This camera will always try to improve the dynamic range by stacking a few shots together so if you shoot stuff in a hurry you will end up with ghosting. The photos will look good on the screen but won't hold up under close scrutiny. The frequency of this issue would depend on whether you take pictures hastily or whether you attempt to keep the phone stable just as you hit the shutter button.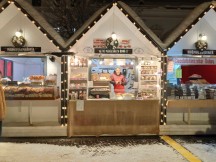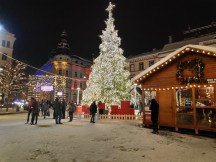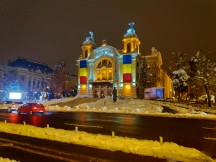 Pocophone F1 ghosting examples
Selfies turn out very good when there's plenty of light around, and portrait mode selfies are nice too, although since there's only one camera, stray hairs will get blurred. If you can live with that the output is generally fine.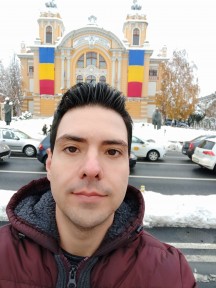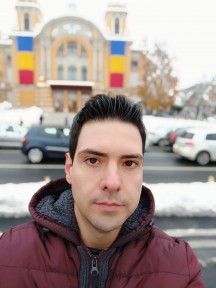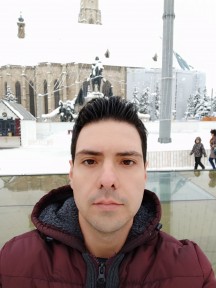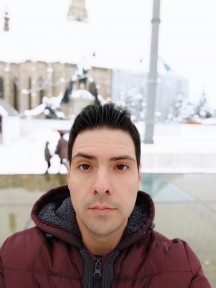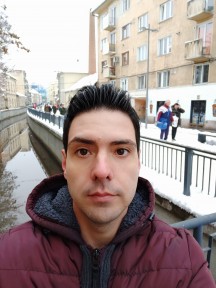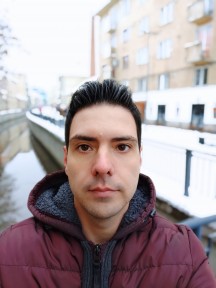 Pocophone F1 daytime selfies, Portrait mode off/on
Nighttime selfies turn out okay when there's at least a little bit of light somewhere in your vicinity, but in barely lit environments the output suffers. It's understandable given how small a smartphone camera sensor is, but something to keep in mind nevertheless. Noise goes up, details get lost, but in some cases you might still get barely usable results.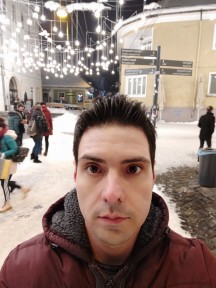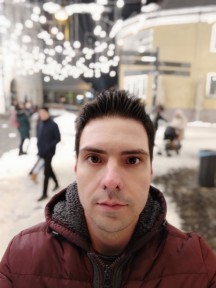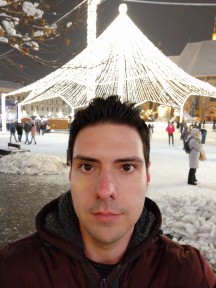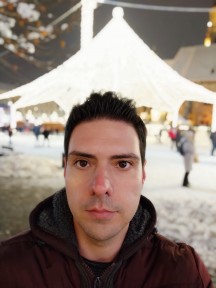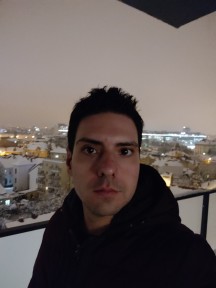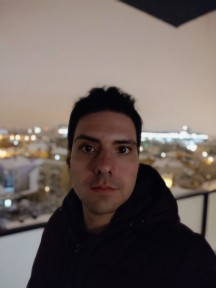 Pocophone F1 nighttime selfies, Portrait mode off/on
Portrait mode selfies at night seem to be even more prone to blurriness than normal nighttime snaps or even selfies sans portrait mode shot in the same conditions.
Frustrations
Aside from all of the bigger things we've already mentioned throughout the various sections of this review, here's a short list of additional issues that might frustrate or slightly annoy you about the Pocophone F1 - or who knows, maybe make you realize that this might not be your cup of tea.
First off, the faux stereo speakers aren't very loud even on the loudest possible setting, so if you're into watching videos on your phone or listening to music or podcasts through its speakers, you'll want to be close to it while stuff is playing, and perhaps not in a very loud environment. What's more, the earpiece 'channel' is very low quality and very quiet - you can test this by covering the bottom firing speaker with your finger. In fact, you may unwittingly test this by accidentally obscuring the bottom speaker while you hold the handset. Even at maximum volume, when this happens you'll be hard pressed to notice that audio is still playing from the earpiece unless you bring it really close to your ear.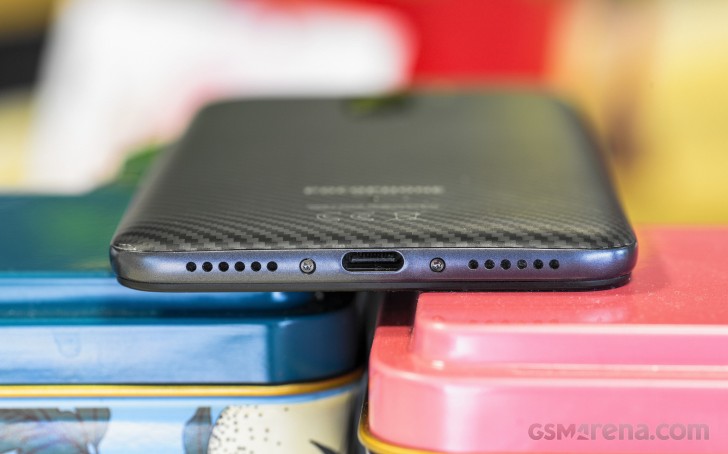 We commend Xiaomi for the decision of at least providing this faux stereo system (compared to, say, OnePlus), but we would've liked it if the company invested a few cents (or dollars) more to get louder speakers and, in the case of the earpiece, something with more dynamic range. Then again, the phone's price would've gone up in that case, so this is just one of those price-focused compromises that had to be made, we assume.
Next up, there's no NFC and no wireless charging. Mobile payments are really starting to take off across the globe, and while UPI in India might not need NFC for that to work, in Europe, where the Pocophone is also sold, this is a pretty big oversight. Google Pay is becoming available in more and more markets over there, and even where it isn't you can sometimes find a bank or two with its own app that does payments through NFC. You won't get that with the Pocophone, though. Now you can obviously live without paying with your phone, but this is one of those services that's very easy to get used to and then miss if you're switching from a device that had it.
Wireless charging not being in is a real shame because since the handset's back is not metal it would've been technically possible to include. But like with NFC, our assumption here is that these things are missing in another cost-cutting move, and for a lot of people that may not matter more than the Pocophone's resulting price.
Also note that VoLTE is not turned on out of the box for most carriers across the world that support it, but there's an easy fix for this. You can just dial *#*#86583#*#* in the Phone app and enable VoLTE from there. The reason you have to jump through this hoop is that Xiaomi hasn't tested the functionality with every carrier out there, so you do it at your own risk.
If the function isn't very stable with your carrier, then missed calls may occur when you're connected to LTE. Also, on some carriers with weird LTE configurations when you do turn VoLTE on in this manner you may not be able to send text messages when connected to LTE. You can receive texts just fine, the problem occurs just with sending. If this happens you need to assess what's more important to you, VoLTE or that functionality. If you rely on WhatsApp, Facebook Messenger, and any other such app for your texting needs then this will be a non-issue.
If you're in the US, buying a Pocophone really isn't the best idea - and not just because it isn't officially available for sale over there. Sure, you could import one from elsewhere, but the mobile connectivity experience you'll be getting will be subpar at best, and that's all related to the bands it supports. As this phone wasn't intended to be sold in the US, 3G is basically only a go on AT&T, but when it comes to 4G things are much worse: you'll get only one US band, and even that is just a supplemental one for AT&T and T-Mobile, and not among these carriers' most used. Perhaps at some point in the future Xiaomi will finally make its official debut in the US and then such issues will be history.