Qualcomm files complaint against Apple aiming to ban iPhone sales in the US
Qualcomm and Apple are at it again. We've already heard about Apple suing Qualcomm for charging too much for royalties, then Qualcomm suing Apple for "making Qualcomm chips look inferior to Intel's", and today, Qualcomm has officially filed a complaint with the US International Trade Commission (ITC) and Federal Court.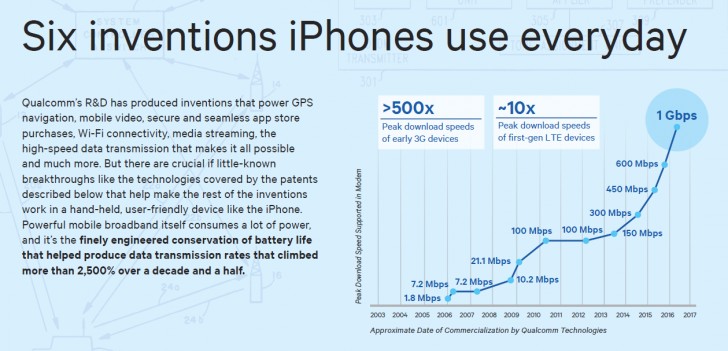 Qualcomm claims that Apple is using six of Qualcomm's patents in various devices whose royalties have not been paid by Apple. The chipmaker is seeking to stop Apple's alleged infringement by ordering a cease and desist order to block further selling, marketing, advertising, importing, warehousing, and use of all products in the United States. Don Rosenberg, executive vice president of Qualcomm had the following to say:
The patents we are asserting represent six important technologies, out of a portfolio of thousands, and each is vital to iPhone functions. Apple continues to use Qualcomm's technology while refusing to pay for it.
The six patents are all related to battery optimization, network management, and system performance, which all work together to increase efficiency of battery and of information being sent and received to and from the network. Here's a breakdown of each patent and what it does.
Qualcomm expects a formal investigation to prove the allegations to start in August with a case trial going into next year. In addition, Qualcomm is also filing a complaint against Apple with the U.S. District Court, seeking damages and "injunctive relief" – which just means they want Apple to stop using the aforementioned patents until it pays up.
Apple has brought both HTC and Samsung to cease sales of its devices in the past, though Apple's victory against Samsung managed to get Samsung to stop selling devices that were four years old at the time of the verdict.
D
Did you even read my comment, troll? It's beginning says 'As much as i hate Apple'
N
Using a charging port as the audio jack are the technology from Sony ericson and Nokia (N73) that time most of the phone are don't have another audio jack. so apple are the one that need to pay royalties. hahaha
V
Clash of the titans, new season begins :)
ADVERTISEMENTS