120Hz, IGZO display
The signature ULTRAMOTION, 120Hz, IGZO, Wide Color Gamut, 5.7-inch IPS LCD display (boy, that's a mouthful) is making a return on the Razer Phone 2. This time around, it's improved in some key areas, like, color accuracy (DCI-P3), contrast and brightness. One of our original issues with the Razer Phone and its usability as a daily driver was the 300 nit maximum brightness.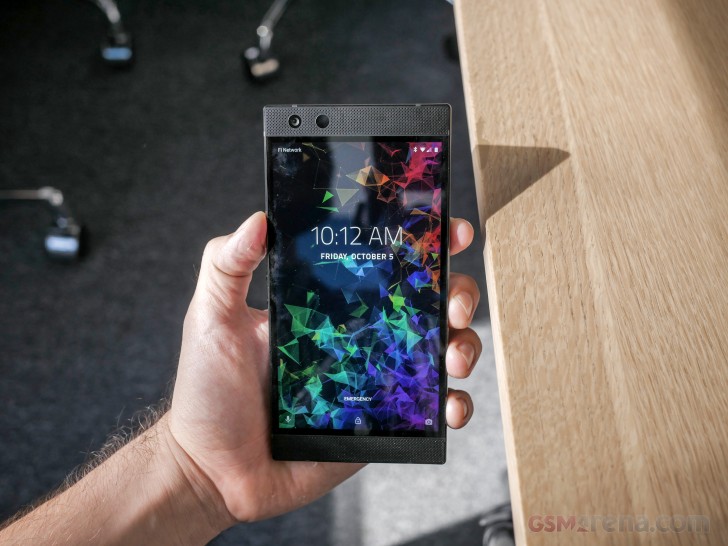 This came as a bit of a surprise, considering the IZGO technology, used in the advanced SHARP LCD panel. The thing you need to know about "indium gallium zinc oxide" or IGZO, is that it offers increased transparency in the TFT layer of the panel. Compared to your run-of-the-mill LCD panels, manufacturers can thus leverage IGZO technology to either boost the maximum brightness of a panel or lower the power consumption necessary to achieve some desired brightness level compared.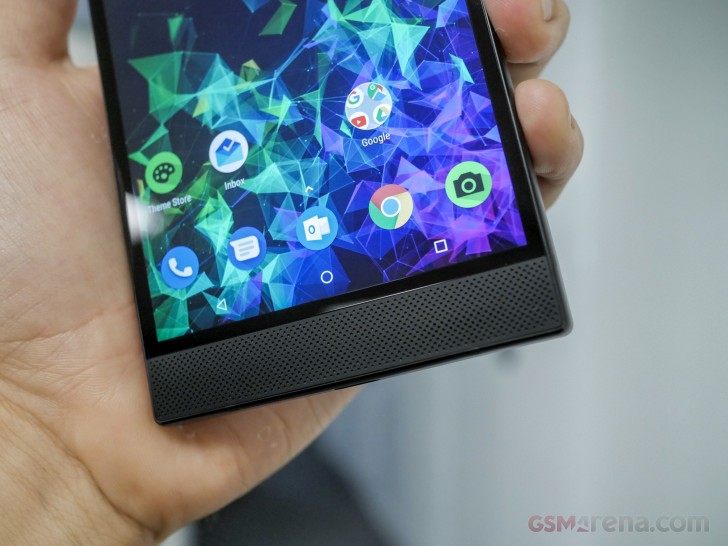 As it turns out, high refresh rates are pretty battery consuming. It makes quite a bit of sense, actually, considering that most smartphones have 60Hz panels, meaning they refresh the image on screen 60 times a second, while the Razer Phone 2 and its predecessor can try and fetch new images up to 120 times a second. In turn, that also means that the GPU can't just cap its efforts to 60 fps. Instead, whenever it can, it will push itself harder to deliver more frames, thus, using more power.
Fluidity of motion comes at a cost - an equation games are typically pretty well aware of already. Still, with its second handset, Razer is promising maximum brightness levels up to 580 nits, which would constitute a 50% overall brightness increase and effectively remedy previous brightness concerns. Considering the above math, that could, however, end up worsening the battery endurance situation even further. Razer promises that's not the case, but we'd have to wait for a review unit to test it and report back for sure.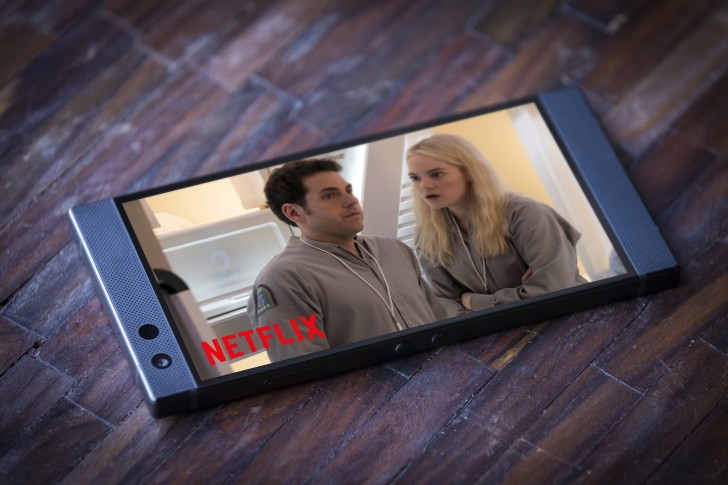 But the impressive display tech doesn't stop there. For one, Razer claims its phone is the only one certified by Netflix for both HDR and 5.1 surround sound. 2018 might have seen quite a few players break ground in the new smartphone gaming hardware niche, but Razer's display remains a unicorn, of sorts. Sure, certain Apple devices to have 120Hz panels and there is the ASUS ROG phone with its 90Hz unit, but, as any seasoned games will tell you, the high refresh rate is nothing if you can't consistently deliver the equally high frame rate output to match it in perfect sync. Otherwise, you end up with stutters and tears. The answer is the adaptive refresh rate, which is what the ULTRAMOTION moniker stands for. In essence, it is quite similar to Nvidia G-Sync or AMD Freesync. At every given moment, the screen refresh rate adapts to match framerate that the GPU outputs resulting in an ultra smooth motion.
And this syncing is important since there is not much Razer can do to guarantee consistently high framerates in all the millions of apps and games that are currently available for Android. The result really is amazing.
Once you experience the smoothness of the UI and the animations on the Razer Phone 2's screen, you'd never want to go back to any phone with a 'regular' screen out there.
Razer is also pretty accommodating when it comes to user control over the various aspects of the display. Besides settings menus, the original Razer Phone had the GameBooster app, which allows tweaking performance profiles on a per-app basis. It is present here as well, but now part of a bigger and more powerful Razer Cortex Mobile suite. The full details for the platform are yet to be disclosed, but it promises to be a one-stop-shop for personalization of hardware, optimizing game settings manually or via cloud-hosted profiles.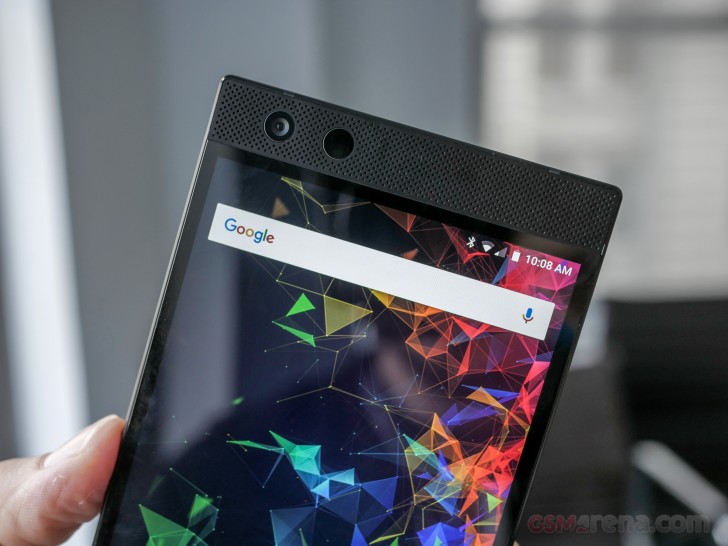 And some customizations are pretty powerful. For instance, Razer allows you to set a maximum refresh rate system-wide or on a per-app basis: 60Hz, 90Hz or 120Hz. Doing so does not fix the refresh rate at that number. Since it is variable, when there is nothing happening on screen, the phone can theoretically lower its refresh rate all the way down to 1Hz, also reducing the panel's power consumption.
While on the topic, Razer also allows resolution change. Natively, the display runs at QHD, but you can also set it to run at 1080p or even 270p. A lower resolution could be somewhat beneficial to overall battery endurance, in some case. But, unless you lock your refresh rate to a lower value, you will mostly allocate rendering resources away from detail and towards saturating that 120Hz refresh rate. If the game and its engine support going past 60fps, that is. This is still a grey area, but more and more titles are popping up with properly optimized graphics, that can really make use of the Razer Phone 2's hardware.
As far as overall software setup goes, like its predecessor, the Razor Phone 2 relies on a pretty clean, near-stock Android build, pre-loaded with Nova Launcher Prime. All the other visual customization and gamer aesthetic comes courtesy of custom, often exclusive themes and icon packs for this launcher. Seems like a pretty good setup for optimal performance.
Internals
With modern smartphone hardware - there is little variance in chipset configurations and pretty much everyone has to work inside to confines of what ARM has to offer. Hence, we get a Snapdragon 845 chipset, along with all the connectivity, charging image and other processing the chip brings along. For memory, 8GB of LPDDR4X RAM and 64GB of expandable v4 UFS storage are still perfectly adequate. On a side note, it's nice to see Razer's PC roots shine through in the specs sheet as well, providing detailed memory specifics.
One aspect of core performance left up to manufacturers and their engineers is cooling. Not unlike many of its competitors, Razer boasts a vapor chamber design. It's an impressive-looking custom design, with quite a large footprint. Given the expectations set for the Razer Phone 2, the cooling solution will have to keep up with lengthy gaming sessions. The ultimate goal Razer has set for itself is to avoid any throttling and performance dips altogether. We guess we'll just have to hold some heavy gaming sessions for the full review.