Camera
On the surface, the camera setup looks pretty identical to the original Razer Phone. But, that's not really a compliment, since Razer's original camera experience was limited, to put it mildly. Hardware-wise, the two modules on the back look pretty familiar, on paper - a 12MP, autofocus, f/2.6 telephoto, with 2x zoom and a main 12MP, autofocus, f/1.7 wide-angle snapper. The sensors, however, are new: the Sony IMX 363, for the main snapper and IMX 351 for the secondary, telephoto one.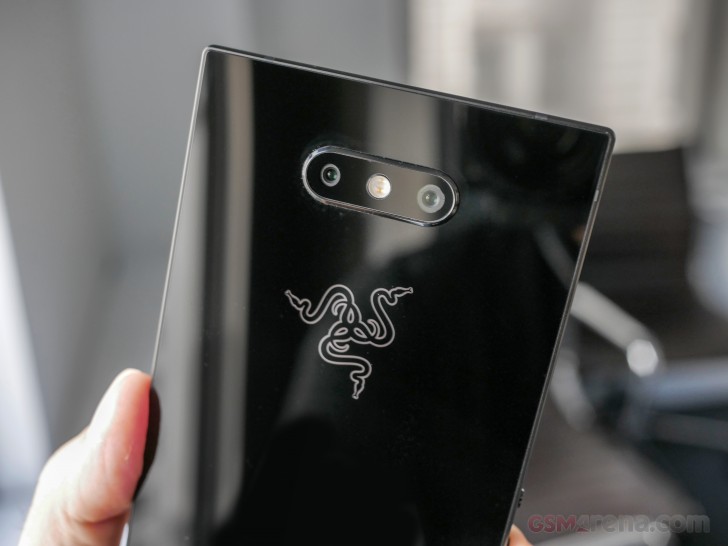 But perhaps the biggest change is that OIS has been added to the mix. The Camera app itself is a lot more flushed-out this time around. All the basics are covered. Razer promises better overall camera performance this generation, including HDR, low-light and more. We'll make sure to test all that in the full review.
Accessories
If there's one thing sweeter then selling gamer-tailored hardware it has to be selling accessories for the hardware in question. This is yet another area Razer is more than qualified to hold seminars on. Hence, it should come as no surprise that the Razer Phone 2 is launching with quite a few optional extras you can get yourself to enhance the user experience.
First, there is the wireless charger stand, we mentioned earlier. As far as Qi chargers go, this one is actually pretty powerful, rated at 15W. But, the real reason most are going to lust after it is the Chroma synchronization support. Again, we are not exactly sure how far that will extend (beyond mirroring the RGB logo on the Razer Phone 2 itself) but we can only imagine Razer will make sure you can sync it with all your other Chroma peripherals, as well.
The charger will set you back $99. Then there are cases, which start at $19.99. That will get you the so-called "Thin Case". It's a semi-transparent plastic clip-on, that skips on covering the top and bottom sides of the metal frame. Unfortunately, that seems to be an ongoing theme with the official Razer Phone 2 cases.
For $24.99, you can get a "Word Case", complete with a Razer branding. This one is a lot thicker and covered with sturdy rubber. It is available in Black or the signature Razer green. Bump the budget up to $29.99, and there is a "Rugged Kickstand Case" to be had. Pretty self-explanatory.
The most premium options include a leather case at $39.99, and a kevlar one, for a pretty steep $49.99. Razer will also gladly sell you an official tempered glass screen protector for $19.99.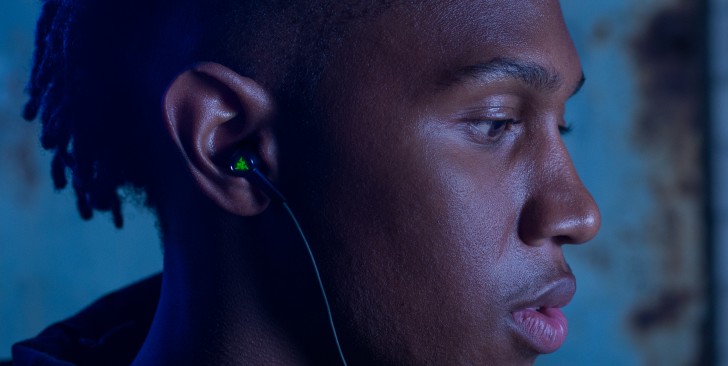 Last, but not least, Razer also has a new pair of earbuds to go with the Razer Phone 2. These feature a Razel logo, which lights up in green, noise canceling and a native Type-C interface so that you can plug them straight into the phone.
Final thoughts
Going back a year or so in time, there was a lot to love about the original Razer Phone. The same goes for the new Razer Phone 2. In fact, many of these lovable traits are shared between the two models. The key difference here seems to be that Razer has been working hard over the last year to make the new model better by address the key issues the previous model had and most importantly, on making it more appealing as an overall package.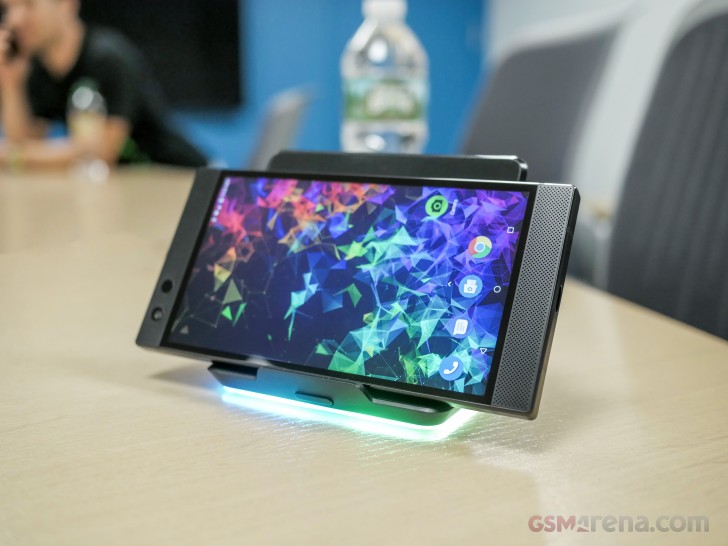 This might just be enough to market it as a proper daily driver outside the confines of Razer's traditional gamer demographic. With an MSRP of $799, the Razer Phone 2 is certainly not a budget phone. Still, it's not outrageously expensive either. Plus, it can stand its own when compared to the brand-name flagships of the day owing to its unique features. Whether it's your particular cup of tea or not, one thing about the Razer Phone 2 is certain - it's a truly unique offer in an ever-growing sea of smartphone sameness. Pre-orders are going live on October 11, at 12.01 A.M. PT on Razer.com.