Last week Realme showcased its 64MP quad camera technology at a Camera Innovation Event in New Delhi, India. This multi-camera system uses a 64MP Samsung ISOCELL Bright GW1 unit as the primary sensor which is joined by an ultrawide angle, super macro, and portrait modules. We were present at the event and got our hands on a prototype.
The units were all covered with special cases to conceal their design so all we got were some limited info on the camera setup. We couldn't transfer the samples either, only checking them out on the screen on the phone, so we weren't able to perform in-depth analysis of any sort.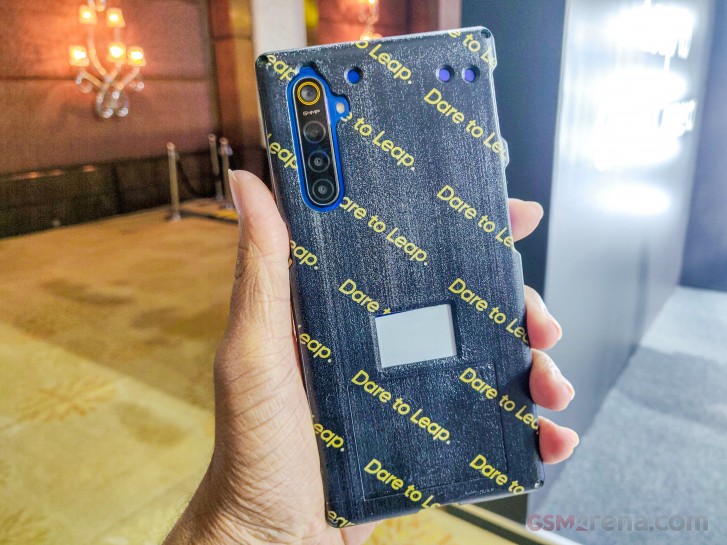 Realme 64MP quad camera setup
The quad camera setup was placed vertically in the upper-left corner of the prototype device with the 64MP Samsung ISOCELL Bright GW1 sensor on top, followed by the ultrawide angle camera, the macro unit and the depth sensor.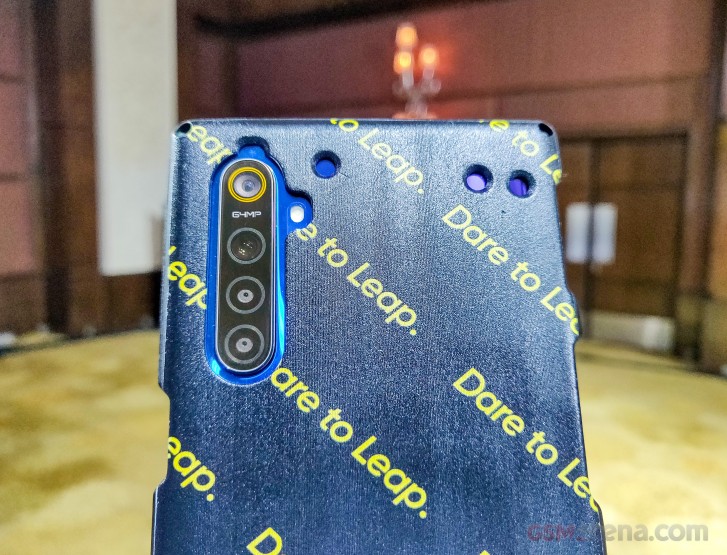 Ultra Clear 64MP Main Camera
The 64MP unit has a 1/1.72" type sensor and a pixel size of 0.8μm and works similarly to its 48MP counterpart. It uses the Tetracell technology (Samsung's version of Sony's Quad-Bayer), which means that it's effectively a 16MP sensor with large 1.6μm pixels and real-time HDR.
The sensor does have a demosaic algorithm for full 64MP shots, but there's so much interpolation going on there that you get very limited extra detail, if any.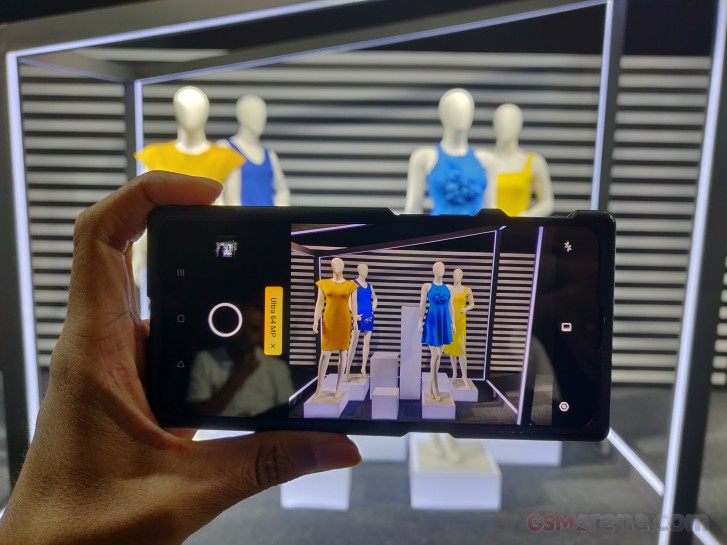 Realme had put up an MTF chart on display and compared its 64MP smartphone with the 48MP Redmi K20 Pro, showing how its phone resolved more detail than the Redmi flagship.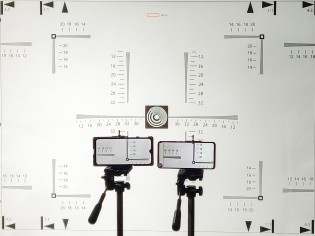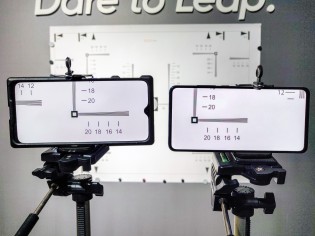 MTF Chart with Realme's 64MP camera smartphone on left and Redmi K20 Pro on right
Ultrawide angle camera
The ultrawide angle module has f/2.2 aperture, an FOV of 119-degrees, and takes pictures in 8MP resolution. It also supports HDR. You can check out the pictures below showing the photos to see how much more it fits in the frame, compared to the regular camera.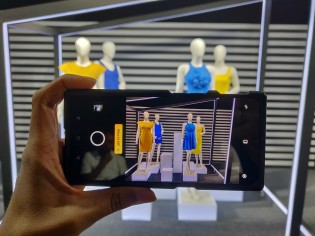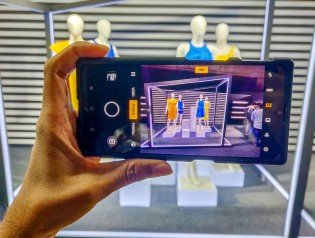 Ultra 64MP shot (left); Wide-angle shot (right)
Super Macro camera
The macro camera in this quad camera setup has f/2.4 aperture and large 1.75μm pixels. It can go as close as 4cm. Realme had set up up a miniature city consisting of tiny objects like grass, trees, people, and vehicles for us to check out this super macro lens.
The photos looked mostly fine but we were not all that impressed with the pictures of the artificial small grass. Well, it's worth noting that we are talking about a prototype here and the final product will likely produce better results.
Portrait Lens
The portrait lens supports five new portrait styles and eight refined face beauty modes.
At the event, Realme said that its quad camera system will include a 2x telephoto lens as well, so we could see the portrait lens being replaced with a telephoto one. However, a company executive told us that the "telephoto lens" won't support optical zoom.
It's a bit confusing the whole thing and we'll have to wait and see when an actual product arrives, but we'd certainly prefer a telephoto unit over a depth sensor or a macro cam.
The prototypes offered 2x and 5x zoom toggles, but with no telephoto lens this is all done digitally and as you can expect the results aren't great.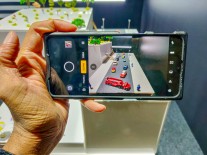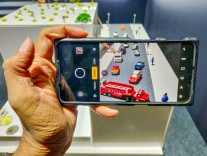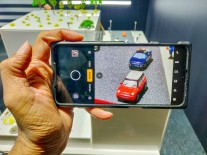 1x (left), 2x (center), and 5x (right) zoom
Camera app UI and other features
The UI of the camera app is similar to what we have seen on other Realme phones like the Realme X - toggles to switch between Video, Photo and Portrait above the camera shutter button, with a hamburger menu icon on the left letting you access different modes like Ultra 64MP, Ultra macro, Nightscape and Expert.
The Expert mode lets you tinker around with different aspects of the camera like exposure, manual focus and white balance, but there was no option to capture photos in RAW mode which means either this 64MP camera smartphone won't let you shoot pictures in RAW mode or Realme is yet to finish developing the option.
So when is this 64MP quad camera smartphone coming?
Realme said that it will launch the 64MP quad camera smartphone in India before the Diwali festival which starts on October 27. The company also announced that it will move all three of its product lines - the main Realme series, the Pro series, and the X series - to quad camera setup.
However, one of the presentation slides at the event didn't have 64MP etched on the 5 and 5 Pro, giving a subtle hint that these smartphones will ship with a quad camera setup sans the 64MP sensor.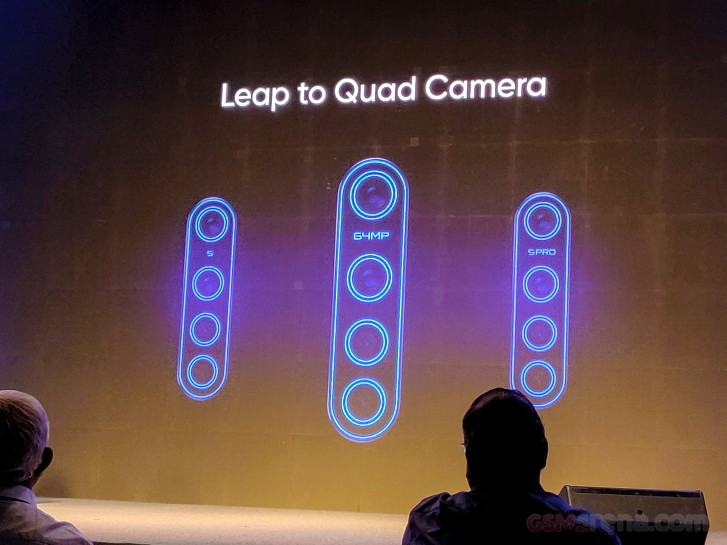 Realme 5 and 5 Pro won't come with a 64MP camera
This means the 64MP smartphone will likely be a part of the X lineup. A Realme executive told us this might be called the X2, but followed up by saying the company hasn't decided the name yet.
As far as 5 and 5 Pro are concerned, we are likely to see this pair go official later this month.
-
Realme could never topple xiaomi from it's position if they would just compete in the megapixel race, instead they should improve the overall user experience by adding usefull features like led notification light which is absent in all their phones, ...
S
This camera seems fantastic but the brand of the phone, I don't think if it would last for a year or so. This might not be a long lasting phone.
ADVERTISEMENTS