Photos
The Photos hub is also pretty much the same as we left it in Windows phone 7.5. You can set a single photo as a background for the hub (it used to be the last photo viewed) or you can set it to shuffle different photos.
The main view of the Photos hub offers four options - camera roll, albums, date and people. A swipe to the left reveals what's new, which displays your Facebook friends and liked pages' new picture galleries. Another swipe shows your favorites section, where the photos you've faved are displayed.
The Albums feature the camera roll, the preloaded system pictures and all of your Facebook albums. A flick to the left shows all your pictures sorted by date. You can't sort individual camera roll photos into albums, though.
The camera roll presents your entire collection of photos and videos captured with the device in a 4x5 grid. You cannot change the layout. Viewing a photo can be done in either portrait or landscape mode. Zooming in on a photo is done by either double tap or a pinch. We like it that the camera roll doesn't downsize pictures and you can enjoy them in full resolution.
Sharing options include Bluetooth file transfer, NFC-enabled tap+send, messaging, email, Facebook and the cloud-based SkyDrive.
Music app
The music section is made up of albums, songs, playlists, genres and artists. Videos features all, television, music videos, films and personal - think of them like more of categories you can assign your videos to when syncing with Zune. The third section is where you can store all of your downloaded audio and video podcasts.
As a music player, it's pretty standard - your tracks are sorted by artist, album, playlists or you can view all songs. The interface is very similar to that of the stock music player, but under the album art it lists the next three songs to be played - really helpful if you're using shuffle. There's no way to manually reorder the upcoming songs, but you can reshuffle them if there's one you don't like.
The video player is integrated into the Music + Videos hub. It has a very simple interface - you have fast forward and rewind controls, a timeline and a video size button that toggles full-screen viewing.
The video player supports XviD, DivX, MOV and MP4 videos up to 1080p resolution. There is no subtitle support at this point.
You can easily upload videos from your computer via the USB mass storage mode. Individual items can be pinned to the homescreen - like a song or video.
Audio output is ok
The Samsung Ativ SE audio output turned out solid, if hardly impressive. The smartphone demonstrated excellent frequency response, very good noise levels and dynamic range, while its distortions levels were tolerable.
The stereo crosstalk is very good when no load is applied to the line-out, although it does rise significantly when you plug in a pair of headphones. Volume levels also failed to impress, falling in the below average category. Overall the performance of the ATIV SE is good, although not quite among the best we've seen.
And here go the results so you can see for yourselves.
| | | | | | | |
| --- | --- | --- | --- | --- | --- | --- |
| Test | Frequency response | Noise level | Dynamic range | THD | IMD + Noise | Stereo crosstalk |
| Samsung ATIV SE | +0.04, -0.07 | -83.4 | 84.7 | 0.0090 | 0.384 | -83.2 |
| Samsung ATIV SE (headphones attached) | +0.04, -0.07 | -81.3 | 82.5 | 0.0095 | 0.384 | -46.6 |
| Nokia Lumia Icon | +0.06, -0.10 | -81.8 | 82.4 | 0.0093 | 0.384 | -80.9 |
| Nokia Lumia Icon (headphones attached) | +0.34, -0.14 | -81.8 | 82.4 | 0.093 | 0.388 | -54.3 |
| Nokia Lumia 1520 | +0.02, -0.04 | -89.3 | 90.0 | 0.0097 | 0.016 | -89.4 |
| Nokia Lumia 1520 (headphones attached) | +0.50, -0.07 | -88.5 | 89.2 | 0.013 | 0.302 | -52.8 |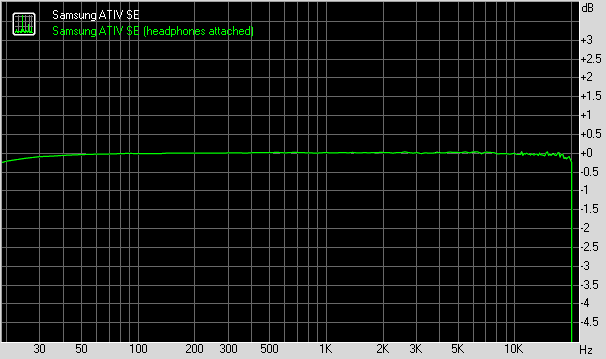 Samsung ATIV SE frequency response
You can learn more about the whole testing process here.