Organizer is skinned much like everything else
Windows Mobile offers several time-management features and all of them are easily syncable with desktop MS Outlook. With B7610 OmniaPRO, the old WinMo Calendar is gone and has been replaced by the Schedule app. It's the same as the Touch Calendar we've seen before.
The Schedule application is extensively touch-optimized and feature-full. It offers daily, weekly, monthly and even yearly and agenda views but there are no different appointments available for setting up. Instead you get a single appointment item that you can place in different categories but you always get the same fields.
You can filter events by categories if you wish and each category can have a different color. There's no support for cutting, copying and pasting of events though. Any of the available view modes can be set as default and you can choose the first day of the week to be either Monday or Sunday. The default WinMo calendar is available as well, if you're more comfortable with it.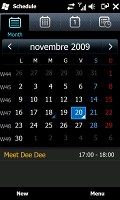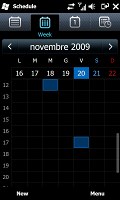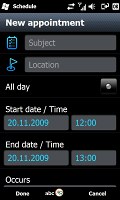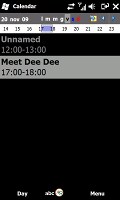 The Touch calendar a.k.a. Schedule • The old calendar, just for laughs
The Tasks application allows you to add tasks and assign them priority. Unfortunately, it is one of the places where the old WinMo interface breaks the surface - no glossy UI or touch-friendliness here.
The Notes also come in handy, as you can either type or directly write the text down on the screen. It too is the stock app, but there's an alternative called Memo (previously called Smart Memo), which has received the TouchWiz treatment. You get different colors and brush sizes plus you can zoom in and out of those notes. You can even save them as JPEG files or send them over MMS, email or Bluetooth if you want to.
The Voice Recorder and the Calculator need no explanation - their interface is only slightly polished, compared to previous-generation WinMo devices.
The Alarm clock allows you to set a vast number of alarms to act as either wake-up or reminders. The dedicated wake-up alarm has three slots, which should allow you to wake up at different time in the different days of the week.
You can however set as many additional alarms as you want, each with its own name, repeat pattern, snooze time and ringtone. You also get to pick the volume and whether or not the alarm should power the phone on if it happens to be switched off.
The other extra features of the clock application are World clock application that can keep the time in as many time zones as you want, a stopwatch and an anniversary list. In the anniversary list, you can enter as many anniversaries as you want and optionally set up an alarm for each one to act as a reminder on either the day of the event or up to 7 days before it.
The final item in the organizing package is the neat and simple Unit Converter that offers weight, length, area, volume and temperature conversions. There is also a currency converter and a neat Tip calculator.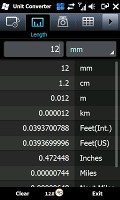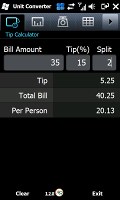 The unit converter also features a tip calculator
The File Manager deserves some attention too. It's a TouchWizified file explorer, which means it's easily thumbable, has an alphabet scroll and offers a tree view. The tree view is a nice option and will make navigating folders a more familiar experience to a lot of people. Aside from that, it covers all the file and folder management features.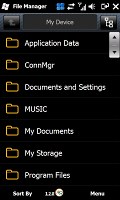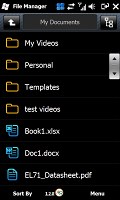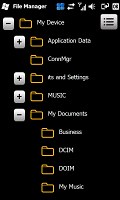 The Document Manager offers tree view
Document editor as good as usual
Among the other WM core applications is the Office Mobile package featuring support for viewing and editing Word, Excel, and PowerPoint files. With the latest version of Office Mobile, you also have the OneNote application. Office 2007 documents are supported (e.g. .DOCX, .XLSX) and the format is used by default when creating new documents.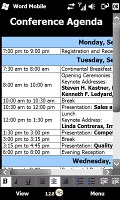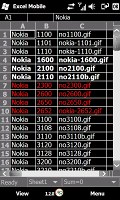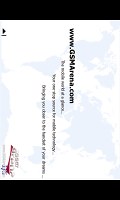 Document editing is also available on the Samsung B7610 OmniaPRO
Not only are they very good for viewing your office documents straight on the phone, but they also offer editing too. There are no extra charges - you are good to go straight out of the box.
Thanks to Adobe Reader LE, there is also support for viewing PDF documents. We are extremely pleased with the performance of the OmniaPRO in this area, as opening and handling PDF documents is usually rather slow on most handsets.
The 3.5" screen offers plenty of room and the high-resolution means that text is readable even at low zoom levels. The B7610 OmniaPRO is an excellent device for document handling on the go.
Applications aplenty
The Samsung B7610 OmniaPRO has got plenty of preloaded applications, outside its organizing and multimedia packages too. There's the regular stuff such as an RSS Reader and a Streaming Media manager for a start but there's some new cool stuff also.
The RSS Reader application is rather self explanatory. It gives you quick access to RSS feeds for staying on top of the latest news and content on your favorite websites. The Podcasts application allows you to subscribe and download video and audio podcasts of your choice.
The Digital Frame application allows you to use the B7610 OmniaPRO as a digital picture frame with content of your own and highly customizable styles. The app is nothing special, but still a welcome inclusion - AMOLED photo frames are still rare and expensive.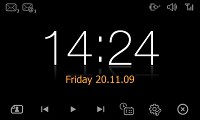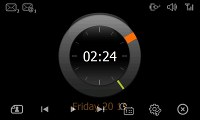 The OmniaPRO used as a digital frame
You can have music playing in the background too and, if needed, event alerts such as incoming message or alarms can be suppressed when the Digital Frame is running.
Another application is the rather handy Search Phone, capable of searching throughout applications and the whole file system. You have the option to set filters so that the application searches only in the places you need.
In fact the OmniaPRO is equipped with two search applications - the other is named Smart Search and adds some nice graphics and transition effects to the whole searching thingy. Oh, and it's pretty good at actually finding what you are looking for too.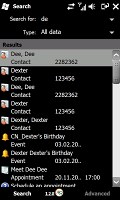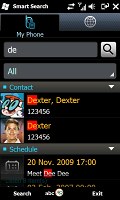 The Search phone and Smart Search apps
The MSN duo of applications - Money and Weather - is also here. Those are convenient tools for retrieving weather and stocks updates straight from you handset.
Microsoft's Windows Marketplace for Mobile is an integral part of the WinMo 6.5 experience. The application distribution solution should help third-party applications find their way from developers to the users' handsets by basically cutting off the middle man.
The interface of the new Marketplace application is pretty straightforward - it gives you shortcuts to the most popular applications, the most recent ones and category view. There is of course a search box too to make things easier as the number of applications grows.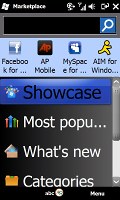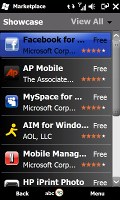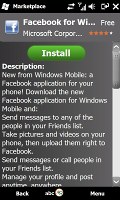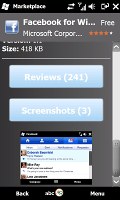 The Marketplace is growing bigger and bigger
As of now, there are over a 1000 apps available within the Marketplace, which is a lot more than when the service launched. There are free ones, but there are also a disturbingly many apps that command 30 dollars - and we're talking stuff that would hardly cost more than 5 dollars in the iPhone app store.
The Marketplace is nicely setup as well, offering user reviews, screenshots and, as usual, individual ratings. It's even accessible through a desktop browser, which is more convenient. If you buy an app through your computer, it will be downloaded the next time you start the Marketplace client.
GPS would be better off coupled with a satnav app
The Samsung B7610 OmniaPRO features a built-in GPS receiver with A-GPS support. The assisted GPS allows for much faster satellite lock upon cold start thanks to current satellite data downloaded over Wi-Fi or the 2G/3G network.
Unfortunately, there is no navigation software preinstalled on the OmniaPRO so you will have to get one at your own expense. The free Google Maps app is included but that's it really.
As usual, GPS navigation software is a regional thing and on your local market the OmniaPRO can be pre-bundled with some sort of satellite navigation.