Not really happy with the display
Samsung G800 is equipped with a large 2.4" TFT display of QVGA resolution. It is capable of showing up to 256K colors, which is just what you would expect from most Samsung mobiles these days.
We were let down by the display quality. Whenever there was a gradient graphics shown on the display (especially on photos), the image suffered severe banding effect. It may be an issue of the software not being final.
The performance in extremely sunlit conditions was also dissatisfying, to say the least. The glossy front panel really reduces legibility and makes it very hard to navigate through the menus unless you know them by heart. Finding a proper angle for looking at the phone, when you are outside on a sunny day, is a truly difficult job in most cases.
A camera that rings well
Telephony was almost out of favor, as a secondary function in Samsung G800 but don't let this mislead you. No compromise was made with any aspect of this feature. The sound during calls is crystal clear and yet loud enough so that you won't have troubles communicating with whoever you are calling.
Dialing a number has always been fun with Samsung, as you always have some sort of dialing animation, or a choice of several ones. Samsung G800 has as many as five different dialing styles: Quill pen, Sticky note, Living world and two "Normal" fonts.
In addition, you can alter the font size from small to large and the font color. The final configurable element is the background color, so practically you can customize almost any element of the dialing screen according to your liking.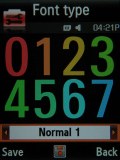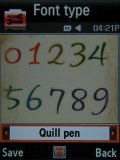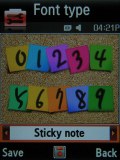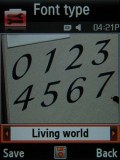 Some of the different dialing styles
The phone automatically searches and suggests contacts, whose numbers contain the digits you have typed. You can further on choose to search with a spelling option, to look up names containing the letters corresponding to the digits you type.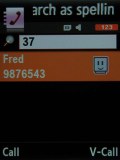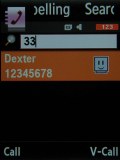 The Search spelling option looks up contacts whose names begin with the letters assigned to the numbers you type
Finally, we bring you the results Samsung G800 produced at our speakerphone loudness test. You can find more info about the test itself and the other devices we have measured here.
| | | | | |
| --- | --- | --- | --- | --- |
| Speakerphone test | Voice, dB | Pink noise/ Music, dB | Ringing phone, dB | Overal score |
| Samsung G800 | 70.7 | 66.6 | 73.6 | Good |
| HTC Tytn II | 76.0 | 75.7 | 82.7 | Excellent |
| LG KU990 Viewty | 72.0 | 68.8 | 77.8 | Good |
| Sony Ericsson K850 | 71.0 | 75.7 | 75.7 | Very good |
User interface: Good old Samsung
The Samsung G800 user interface is not nearly as revolutionary as its camera claims to be. In fact, the way you control it is the same as with previous models of this manufacturer. The funny thing is that its little brother - Samsung G600 has a more advanced version of the user interface.
The main menu is accessible from the stand-by display through a press on the left soft key or the confirming center of the navigation key. The right soft key is reserved for the phonebook. At the same time, each direction of the navigation key can be assigned a shortcut of your choice from a list of 27 items.
Pressing the camera key activates another shortcut menu with some of the most commonly used features of the phone - telephony, messaging, internet browser and music player. This shortcut menu also contains an "end all" option for terminating any currently running applications. This can come in handy if you have started an internet browser, music player and message editor at the same time and you don't want to spend too much time closing them one by one.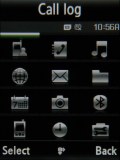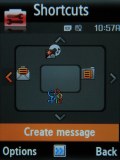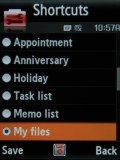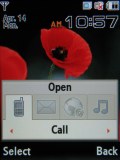 The UI of Samsung G800 is nothing unseen before • The shortcuts on the four-way navigation key are user configurable • Pressing the camera key in stand-by mode brings another shortcut menu
The stand-by display looks are also quite typical of Samsung feature phones. The top bar shows signal strength, battery status, network connectivity (GPRS, EDGE or 3G) and the currently selected ringing mode. The ringing profile is marked by an icon in the top right corner.
The bottom bar features the description of the functions assigned to the soft keys. The animated traveler background (uGo) with analogue clock and date showing is gradually becoming a synonym of Samsung mobile. As you already know, it sets the background image according to the country where the phone is currently being used. Furthermore the background wallpaper is animated: birds are flying in the sky, clouds are moving etc. From 7 pm till 6 am night mode takes over: the sunny sky gets dark, while houses get lit up.
A feature that we appreciated back in Samsung D900 lacks in G800 - the option to have the calendar display on the home screen in standby mode.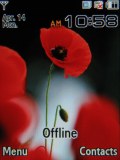 Stand-by screen is quite familiar
The main menu can display as either a 4 x 3 grid of icons or as a standard list. The menu, at least in our unit, had no color versions. The white theme has been ditched leaving the stylish black one as the only option. Sub-menus can be set to get visualized as pop-up windows accessible through the horizontal ways of the navigation key. Should you find that uncomfortable, you can switch this option off and rely on direct access only. Unfortunately, the handy three font sizes for the user interface are not present here, so there's no way to change font size if it doesn't seem right to you. A lot of people did like that function when it appeared in Samsung U600 and will probably feel a bit disappointed to find out that it has been dropped in G800. Samsung continue shipping their phones with different versions of the UI.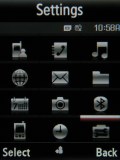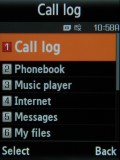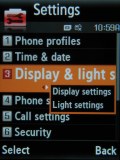 The two different menu styles are grid and list • Pop-up menus can be activated if you like
Samsung G800 automatically prompts locking the keypad once you close the slider. You can then unlock it by either pressing the left and right selection keys successively or sliding the phone open.
You can additionally choose whether closing the slider should stop the running application or not and set sliding up to answer an incoming call.
Phonebook
The phonebook of the Samsung G800 can store up to 1000 contacts with multiple fields. It can be set to display the names on the phone memory or on the SIM card, or both lists simultaneously.
Searching employs gradual typing of the contact's name. Unfortunately, Samsung G800, like the Samsung Ultra II lineup member U600, does not search in both the contact's first and last name. That is a decision by Samsung that we can hardly understand, especially considering the fact that this option was available back in Samsung D900. Maybe Samsung are trying to encourage the "search as spelling" option in such cases.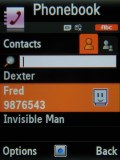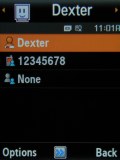 There is space for up to 1000 contacts in the phonebook
A large variety of fields is available for each contact. Furthermore, you can add each field more than once, which allows you to add up to 5 numbers per contact.
It goes without saying that different ringtones and pictures can be assigned to each contact. Videos can also be assigned for this purpose should the user find that necessary.
Finally, we ought to mention that contacts can be organized in groups or sent via Bluetooth. The groups can also have their own ringtone or picture but unluckily there is no option for call filtering based on existing groups.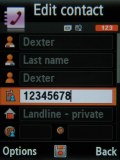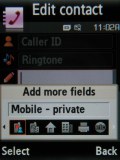 There are plenty of fields to choose from when editing a contact
The call log can be launched by either pressing the Call key in standby or from the main menu. There are three tabs - one for each type of calls (dialed, received, missed) as well as a data counter of your incoming and outgoing traffic.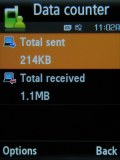 The data counter is an inherent part of the call log
Messaging
Samsung G800 handles all four popular types of messages: SMS, EMS, MMS, and email. A single editor is used for creating the first three, while emails have their own. Messages are converted from SMS to EMS or MMS by simply applying font colors or formatting or by inserting an image.
As you might have guessed, a rich T9 dictionary is also present here for text input assistance.
| | |
| --- | --- |
| "...The performance in extremely sunlit conditions was also dissatisfying, to say the least. The glossy front panel really reduces legibility and makes it very hard to navigate through the menus unless you know them by heart..." | ADVERTISEMENTS |
Sent messages can be saved if you choose to do so. There is room for 500 SMS, 30 push messages, 200 broadcast messages and 30 configuration messages on Samsung G800. MMS and emails are not limited in number but only by the available memory on the phone.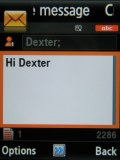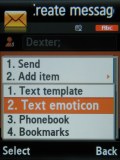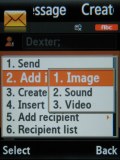 The Message editor is intuitive and generally a joy to use • Messages are automatically converted from SMS to EMS and MMS when font colors are applied or an image is inserted
The email client is relatively good. It can manage up to five accounts - POP or IMAP; download is user-defined, opting between headers only and entire messages. Not only any files from the phone memory, but also business cards, calendar events, tasks or notes can be emailed as attachments.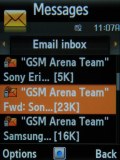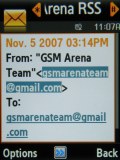 Emails are easily handled on Samsung G800
The SOS message feature is also present in Samsung G800. It allows quick sending of emergency messages to pre-defined numbers. Recipient numbers should be preset, as well as the text of your SOS message. To send a SOS message later you should just press the volume rocker 4 times with the keypad locked.
Another security enhancing feature in Samsung G800 is Mobile Tracker (previously known as uTrack). Its purpose is to send tracking messages to pre-defined numbers in case your phone gets stolen and a SIM card other than yours is inserted. The effectiveness of this particular feature is the subject of a longer discussion, which we would rather not go into at this stage. Suffice to say, having it won't hurt at least.