Core values
Samsung Galaxy Core Prime review: Core values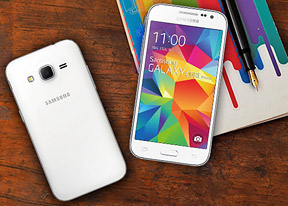 Performance
The Samsung Galaxy Core Prime continues Samsung's foray into the 64-bit field. With it the company has a lineup that spans from the entry-level to the flagship. The phone is based on a Snapdragon 410 chipset, which has four Cortex-A53 cores and Adreno 306.
A53 is the 64-bit replacement of the Cortex-A7 and ARM claims it offers a tangible performance improvement. As we found with the Galaxy Grand Prime though, clock speed is more important (for now) and 1.2GHz won't get you that far.
The Adreno 306 GPU on the other side is a more power-efficient version of the Adreno 305, but it still caters to casual gaming needs at most. The Galaxy Core Prime packs 1GB of RAM, which is better than some phones in its price range but still, nothing to write home about.
Note that in some regions the phone has a Spreadtrum SC8830A chipset instead. It uses a 32-bit quad Cortex-A7 processor and Mali-400MP2 GPU, both of which are slower than their counterparts in the Snapdragon 410 chipset.
Our performance tests start off with Geekbench 3 where the Core Prime matches the bigger Grand Prime (both use the same chipsets).
This is a good demo of the fact that a Cortex-A7 at a higher clockspeed (like in the original Moto X) works better than A53. Android 5.0 Lollipop should offer performance enhancements specific to 64-bit processors, so tables might turn if the Galaxy Core Prime gets updated to this latest Android version further down the road.
GeekBench 3
Higher is better
Samsung Galaxy Core Prime
1492
Xiaomi Redmi 1S
1492
HTC Desire 510
1471
Samsung Galaxy Grand Prime
1469
LG G2 mini
1123
Motorola Moto G
1120
Sony Xperia E3
1118
Note that the Sony Xperia E3 has a quad Cortex-A7 processor at 1.2GHz, so we can compare performance per clock. The HTC Desire 510 uses the same chipset as the Core Prime and Grand Prime.
With that in mind, AnTuTu 5 gives the newer chipset a small lead, but it's hardly a groundbreaking difference.
AnTuTu 5
Higher is better
Samsung Galaxy Core Prime
21533
Samsung Galaxy Grand Prime
21002
HTC Desire 510
20756
Xiaomi Redmi 1S
19912
Sony Xperia E3
18336
Basemark OS II has a high opinion of the Galaxy Core Prime. In general it makes it easier to see the single-core advantage of Cortex-A53 and how that translates to four cores.
Basemark OS II
Higher is better
Samsung Galaxy Core Prime
564
Motorola Moto G
559
Samsung Galaxy Grand Prime
504
HTC Desire 510
491
Nokia Lumia 635
451
Sony Xperia E3
417
Xiaomi Redmi 1S
394
Basemark OS II (single-core)
Higher is better
Xiaomi Redmi 1S
1435
Samsung Galaxy Grand Prime
1420
HTC Desire 510
1332
Samsung Galaxy Core Prime
1313
Sony Xperia E3
1171
Basemark OS II (multi-core)
Higher is better
Sony Xperia E3
5697
HTC Desire 510
5484
Samsung Galaxy Grand Prime
5481
Samsung Galaxy Core Prime
5283
Xiaomi Redmi 1S
4875
The low screen resolution - 800 x 480px - helps the relatively weak GPU, but even then there just isn't enough processing power to run complicated 3D games at a playable framerate. The Galaxy Core Prime is confined to casual games, which was to be expected in the entry-level segment.
Basemark X
Higher is better
HTC Desire 510
1906
Samsung Galaxy Grand Prime
1904
Samsung Galaxy Core Prime
1895
Sony Xperia E3
1577
The Kraken 1.1 measures JavaScript performance and we found it to be the same as on the Grand Prime - slow. Samsung have skipped performance tuning the Internet app on this cut down TouchWiz version.
Kraken 1.1
Lower is better
Xiaomi Redmi 1S
12470
HTC Desire 510
14171
Sony Xperia E3
16059
Samsung Galaxy Grand Prime
18343
Samsung Galaxy Core Prime
18353
We tried running BrowserMark 2.1 as usual, but the benchmark kept hanging so we don't have a score.
The Grand Prime was held to a higher standard, but the Samsung Galaxy Core Prime is a good performer for its class. The Moto G (both old and new one) is powered by the older version of Qualcomm's chipset and is considered a mid-ranger. The Snapdragon 410 advantage won't be fully realized until (and unless), these phones get their Android 5.0 Lollipop fix.