Software
The Galaxy M21 runs on Samsung One UI 2.0 on top of Android 10. Our review unit was on the February 1, 2020 security patch at the time of writing in June.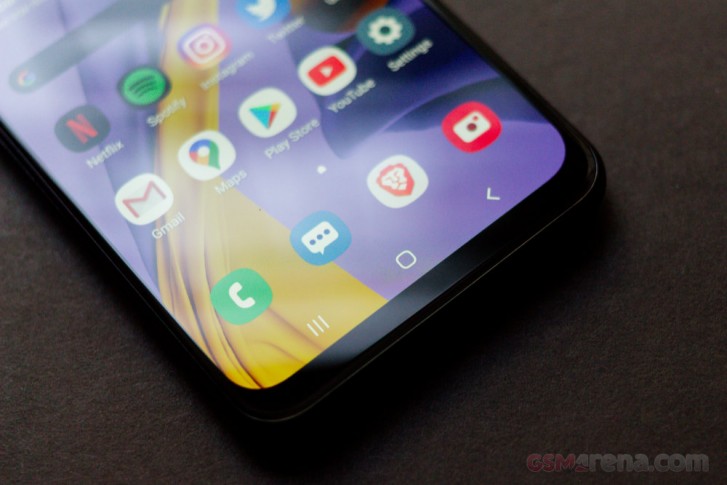 The software experience is largely identical to what we have seen on Samsung phones for the past several months. One UI 2.0 brought some design changes, such as a redesigned notifications UI, updated Camera app, more accessible design for stock apps that shifts everything down by default with large app titles on top, along with everything Android 10 introduced.
One UI 2.0
The new UI is largely user friendly and also comes with a fair number of features built-in, even on this budget device. There's not much to complain on the design front and although there's a bit of bloatware that comes pre-installed, at least on our Indian review sample, an experienced user should be able to get rid of most of it.
Novice users, however, might be tricked into installing even more bloatware through the app suggestions that popup while setting up the phone. We don't condone these practices but it has become the reality of buying a budget Android smartphone today, especially in markets like India.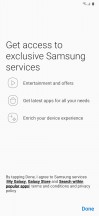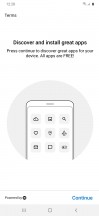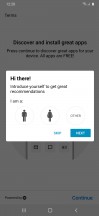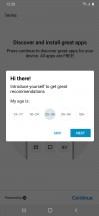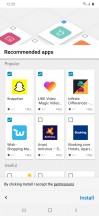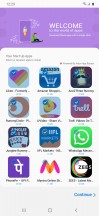 From agreements that you can't decline to data-collecting app installers
Unfortunately, the performance on the M21 isn't very good. Our review unit was the 4/64GB model, and that did seem to make a difference compared to the 6/128GB M31 we reviewed earlier this year. The M21 felt noticeably slower, especially during multitasking. Everything happens with a short pause and it's especially noticeable in the Camera app, which has a hefty shutter lag and then a further delay in saving the processed image.
Part of the blame also goes to the Exynos 9611 but we have seen this chip perform better in Samsung's other models, so this largely comes down to the memory configuration. We would strongly recommend you avoid the 4GB variant and go for the 6GB instead. But then the 6GB variant is too close to the M31 in pricing, so there's a bit of dilemma there.
Gaming performance isn't as severely impacted by the memory size as apps and they run just as well as they did on the M31, which is to say well enough for a budget smartphone.
GeekBench 5.1 (multi-core)
Higher is better
Xiaomi Redmi Note 9S
1785
Realme 6
1726
Redmi Note 8 Pro
1622
Motorola Moto G8 Plus
1385
Xiaomi Redmi Note 8
1339
Samsung Galaxy M21
1319
Samsung Galaxy M31
1315
Realme C3
1262
GeekBench 5.1 (single-core)
Higher is better
Xiaomi Redmi Note 9S
570
Realme 6
548
Redmi Note 8 Pro
493
Samsung Galaxy M31
349
Realme C3
347
Samsung Galaxy M21
346
Xiaomi Redmi Note 8
315
Motorola Moto G8 Plus
310
AnTuTu 8
Higher is better
Realme 6
288931
Redmi Note 8 Pro
279355
Xiaomi Redmi Note 9S
254000
Samsung Galaxy M31
195284
Realme C3
192223
Samsung Galaxy M21
180711
Motorola Moto G8 Plus
168699
Xiaomi Redmi Note 8
161572
GFX 3.1 Manhattan (1080p offscreen)
Higher is better
Realme 6
31
Xiaomi Redmi Note 9S
30
Redmi Note 8 Pro
29
Samsung Galaxy M31
16
Samsung Galaxy M21
16
Realme C3
14
Xiaomi Redmi Note 8
13
Motorola Moto G8 Plus
13
GFX 3.1 Manhattan (onscreen)
Higher is better
Realme 6
27
Realme C3
27
Xiaomi Redmi Note 9S
26
Redmi Note 8 Pro
24
Samsung Galaxy M31
14
Samsung Galaxy M21
14
Motorola Moto G8 Plus
12
Xiaomi Redmi Note 8
11