Triple camera on the back
One of few areas where the M30 comes with upgrades over the M20 is the camera. Those upgrades include an additional 5MP depth sensor on the back and a 16MP selfie shooter replacing the 8MP unit of the M20.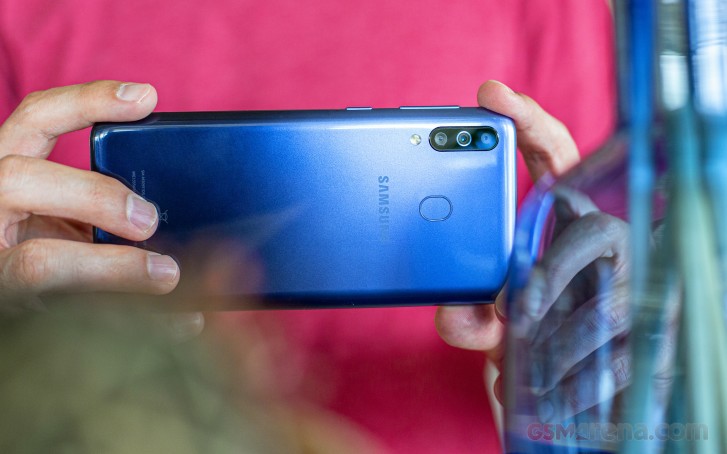 The main module is the 13MP one from the M20, with an f/1.9 aperture 27mm-equivalent lens and phase detect autofocus. There's also an ultra wide-angle camera, its modest 5MP sensor behind an anything-but-modest lens that covers a 123-degree field of view. Mind you, the images' EXIF data reports a 13mm equivalent, while the 123 degrees Samsung specifies correspond more to 12mm but it's a very ultra-wide angle camera regardless of the specific number.
The camera app is the Samsung camera you'll find on all recent Samsungs. Side swipes work for changing modes, while swiping up and down toggles between the front and rear cameras. There's a camera selector with the self-explanatory tree designation for switching between the main and ultra wide modules on the back.
The row of icons above the shutter button includes a cogwheel for accessing settings, an aspect ratio selector that toggles the full view mode (because who doesn't want 19.5:9 photos), flash mode selector, filter bank, and self-timer. There's also a front/rear toggle next to the shutter button if you're not into the gesture-based solution.
Inside the settings menu you get access to the usual stuff: resolutions for stills and video, an HDR setting (effectively Auto/On/Off, only organized differently), grid lines, the lot. There's even a watermark option if you're that type of person. Live Focus mode is present, which should benefit from the dedicated depth camera. There's no Night mode, however.
There's a Pro mode, and as with most non-flagships in Samsung's range, this one is rather barebones - you can only choose ISO (in the 100-800 range), exposure compensation (-2/+2EV in 0.1EV steps), and white balance (presets, but no light temperature). There's no shutter speed selector or manual focus.
Image quality
The Galaxy M30 takes okay photos, and even if they won't have you go 'wow', they're very likable considering the price range. During the day it captures good detail with its main camera and has adequate handling of noise - very similar performance to the A30 there.
If you're shooting landscapes and greenery, you'd get pretty vivid colors but cityscapes end up missing that Galaxy pop we're used to. The M30's rendition of the iPhone mural, for example, is among the most lifeless ones we've seen.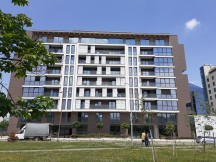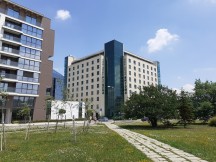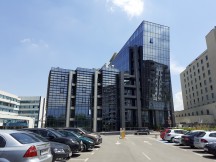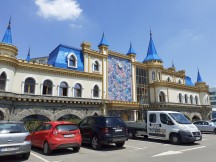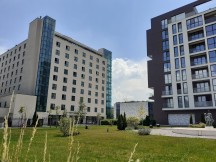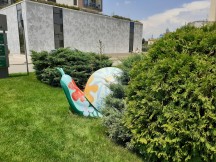 Camera samples, regular camera
Leaving the HDR setting in full auto - that is to say, 'On' and 'Apply when needed' the M30 captures good dynamic range for the class, particularly in the highlight region. Shadows don't benefit all that much, however, and we'd have preferred better development there. We wouldn't advise turning it off as that results in blown highlights to little practical benefit. If anything, we'd put it in the 'Always apply' state, as we encountered situation when we'd have liked to have HDR applied and the phone didn't deem it necessary.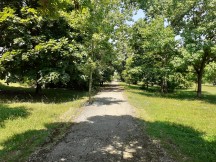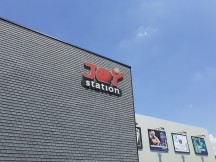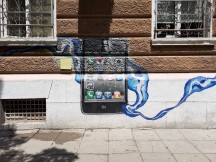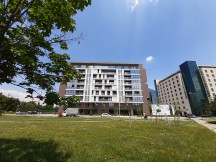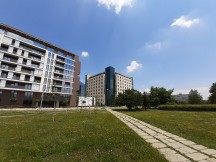 Camera samples, regular camera
That's especially the case with the ultra wide angle cam which is in a tougher position as the extreme coverage inevitably comes with tonal extremes as well.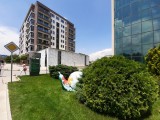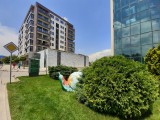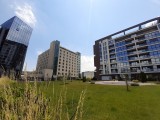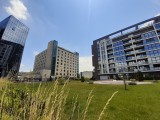 Camera samples, ultra wide camera: HDR Auto • HDR On • HDR Auto • HDR On
The M30's ultra wide-angle camera has a noticeably different color rendition than the main one, producing warmer and slightly more saturated colors. It's also heavily distorted, with no setting to fix that in-phone.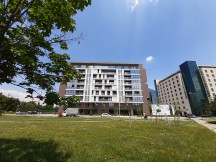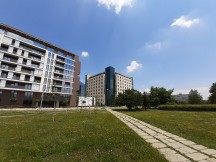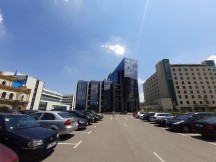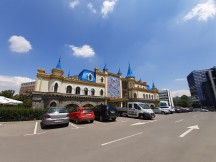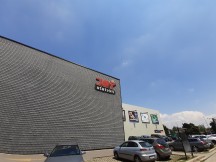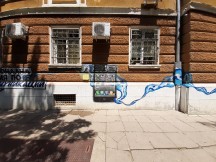 Camera samples, ultra wide camera
The M30's low-light performance won't win it any awards. Saturation isn't great (the A30 does a little better in this respect) and you can count on really blown out highlights. Detail is decent in the reasonably lit areas, but there's more than a fair share of noise.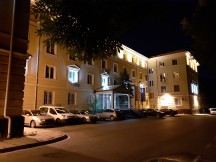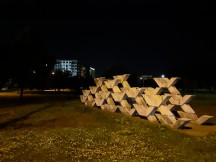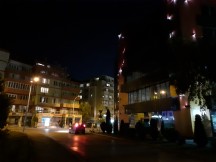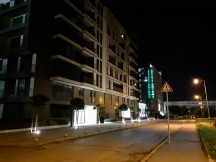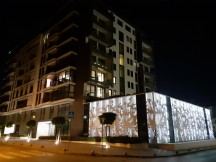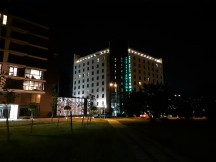 Low-light camera samples, regular camera
Low-light shots from the ultra-wide camera are even less appealing, exhibiting a general softness and blotches instead of fine detail. But it's a 5MP shooter after all, which wasn't spectacular in good light either, so everything is as expected.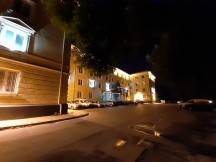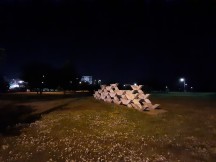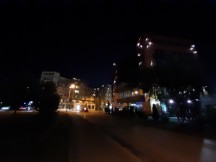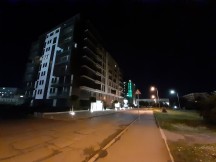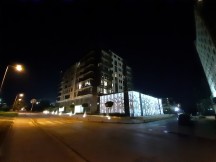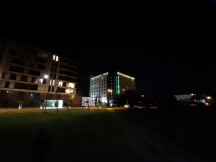 Low-light camera samples, ultra wide camera
Once you're done looking at real-life samples, don't forget to head over to our Photo compare tool to check out how the Galaxy M20 deals with our studio charts. Mind you, the Redmi Note 7 we've tested is the global version which has the same camera as the Redmi Note 7 Pro sold in India, where the non-Pro comes with a different setup.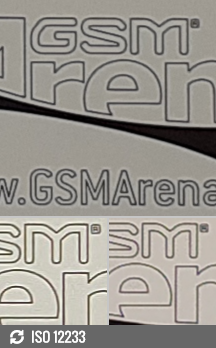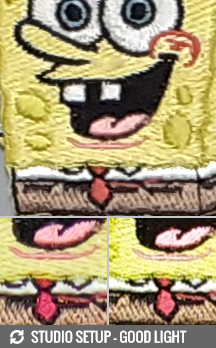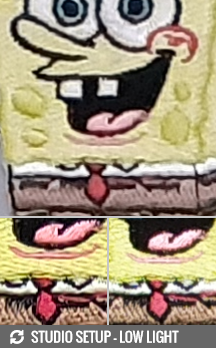 Samsung Galaxy M30 against the Realme 3 Pro and the Redmi Note 7 in our Photo compare tool
The Galaxy M30's additional camera helps it immensely in the Live focus mode. The M30 is more proficient at separating subject from background than the M20 and creates very good portraits.
Since it has a dedicated camera for making a scene depth map, the M30 doesn't need to recognize a face in the frame for Live focus to work. This means you can use it to isolate random stuff from the background, something you couldn't do on the M20. It generally produces great results, provided you stay within the optimal distance, though we found it sometimes didn't engage on some shots in the sequence, but did on others - take several just in case.
Not bad 16MP selfies
The Galaxy M30 has a 16MP selfie camera - twice the resolution of the M20's. The photos it takes are actually quite good with excellent detail and sharpness, true colors and decent if not amazing dynamic range.
Portrait selfies end up particularly soft however, and we're not talking about the 'defocused' background. Looking at fit-to-screen magnification, however, you won't notice the lack of per-pixel sharpness and you'll likely enjoy the end results. The subject recognition is okay, of course depending on the particular set of subject and background.
Video recording
The Galaxy M30's video recording capabilities are identical to the M20's and they're not too vast. The phone records video up to 1080p at 30fps - no 4K, and no 1080/60 either. Electronic stabilization is also notably missing. The bit rate of 1080p videos is a rather standard 17Mbps, whether you're using the main or the ultra wide camera, while audio is recorded in stereo at 256kbps. There's an option for switching to the H.265 codec, which will bring file sizes down.
Video quality is actually quite good - as 1080p clips go, these are among the better ones we've seen. There's plenty of fine detail and very mature processing with none of the overly aggressive sharpening Samsung has been guilty of. Colors are very likeable too, and if anything, perhaps a little boost in exposure would have made for even better footage - we're finding the videos a bit underexposed.
The ultra wide camera's footage isn't quite up to the same standard, though it does take decent videos. If you make sure to stay focused on the extreme coverage and perspective, you may not notice the limited dynamic range leaving shadows pitch black.
Here's a glimpse of how the Galaxy M30 compares to rivals in our Video compare tool. Head over there for the complete picture.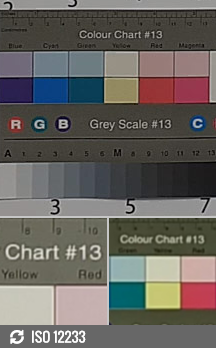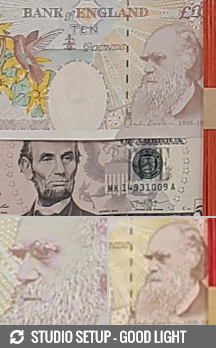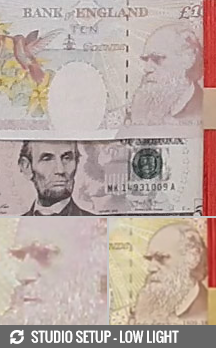 Samsung Galaxy M30 against the Realme 3 Pro and the Redmi Note 7 in our Video compare tool