Software
The Samsung Galaxy M31 runs on Samsung's latest One UI 2 on top of Android 10. Our review unit came with the latest February 2020 security patch, which means at the time of writing, this is about as current as the software can get on an Android device.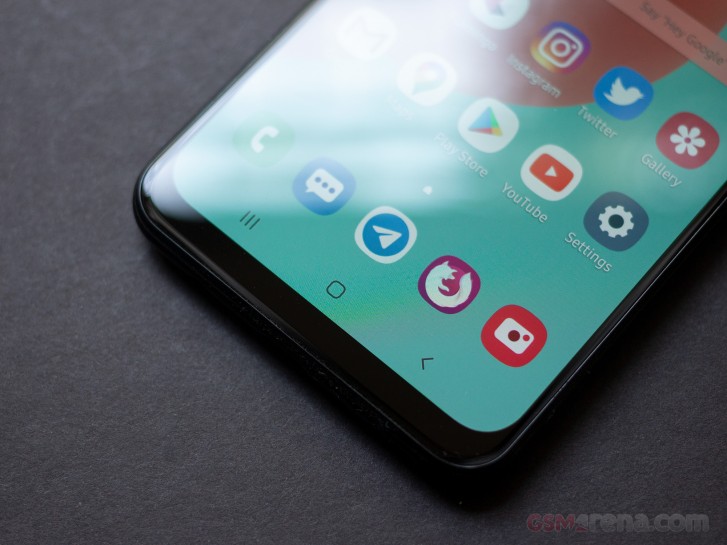 Samsung released One UI 2 alongside Android 10. The latest version makes a host of changes to the UI across the OS, most of which are centered around improving the user experience and ease of use rather than just making things look different. As such, some of the changes won't even be noticeable unless you have been using the previous version for a long time or compare the old and the new version side by side.
User experience has improved considerably over the years and the latest One UI 2 is extremely easy to use with well thought out UI and feature-set. One UI 2 also incorporates all the new Android 10 features, such as the new permission options as well as some of the updated UI design paradigms.
We do wish that Samsung would ease up a bit on the bloatware on these devices. While these things depend on region, our Indian review unit came with a bunch of pre-installed apps. Some of these can be uninstalled but others can only be disabled. One particularly notorious app is Facebook, which comes with three other apps that are buried under system apps. Even if you disable the main app, these other services will keep running in the background unless you dig around and disable them individually.
Samsung also has another app, whose whole point is to cajole you into downloading even more bloatware on your device. Called AppCloud, this app will keep nagging you after you've set up your device to install additional apps and you can't disable its notifications. You have to go through its setup, which involves giving it personal information which it then uses to recommend you groups of apps to batch download on your phone. You can choose to unmark all the apps and install nothing to finish the setup and it's only then does it stop bothering you.
We also noticed multiple Samsung apps offered to show us promotional content (read: ads). Unlike Xiaomi, these aren't enabled by default and you can deny them permission, after which you will neither see the ads nor get prompted about it. However, we wish manufacturers didn't indulge in these practices in the first place.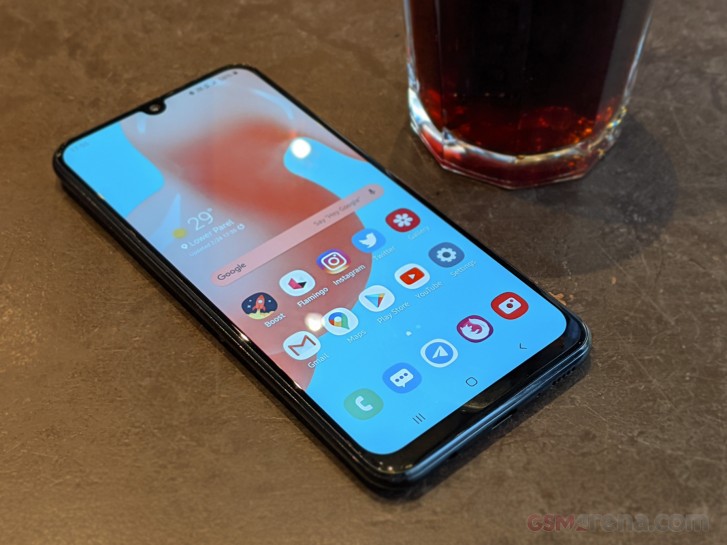 These annoyances aside, we really had no issue with the software on the Galaxy M31. Samsung has done a good job over the years balancing the design, features and usability of its One UI to a point where we think it's close to being the best software experience on Android and it is easily the best among the non-stock looking interfaces.
Performance
The Galaxy M31 runs on the same Exynos 9611 that we have seen on a few Samsung devices so far, including the Galaxy M30s. It's an octa-core chipset based on the newer but not quite the latest 10nm process. Our review unit also had 6GB of memory and 128GB of storage space.
GeekBench 4.4 (multi-core)
Higher is better
Xiaomi Redmi K30
7008
Redmi Note 8 Pro
6999
Realme X2
6926
Xiaomi Mi 9T
6863
Xiaomi Mi 9 SE
6017
Xiaomi Redmi Note 8T
5620
Samsung Galaxy M30s
5566
Samsung Galaxy M31
5487
Nokia 7.2
5440
GeekBench 4.4 (single-core)
Higher is better
Xiaomi Redmi K30
2558
Xiaomi Mi 9T
2537
Realme X2
2508
Redmi Note 8 Pro
2472
Xiaomi Mi 9 SE
1905
Nokia 7.2
1534
Xiaomi Redmi Note 8T
1519
Samsung Galaxy M31
1510
Samsung Galaxy M30s
1489
GeekBench 5.1 (multi-core)
Higher is better
Realme X2
1750
Xiaomi Mi 9T
1703
Xiaomi Redmi K30
1692
Redmi Note 8 Pro
1622
Nokia 7.2
1398
Samsung Galaxy M31
1315
Samsung Galaxy M30s
1288
GeekBench 5.1 (single-core)
Higher is better
Xiaomi Redmi K30
548
Realme X2
545
Xiaomi Mi 9T
542
Redmi Note 8 Pro
493
Samsung Galaxy M30s
349
Samsung Galaxy M31
349
Nokia 7.2
332
AnTuTu 8
Higher is better
Redmi Note 8 Pro
279355
Xiaomi Redmi K30
272229
Realme X2
257443
Xiaomi Mi 9T
257146
Samsung Galaxy M31
195284
Samsung Galaxy M30s
180321
Xiaomi Redmi Note 8T
167395
Nokia 7.2
164484
GFX 3.1 Manhattan (1080p offscreen)
Higher is better
Xiaomi Redmi K30
30
Redmi Note 8 Pro
29
Realme X2
29
Xiaomi Mi 9T
27
Xiaomi Mi 9 SE
26
Samsung Galaxy M30s
16
Samsung Galaxy M31
16
Nokia 7.2
15
Xiaomi Redmi Note 8T
13
GFX 3.1 Manhattan (onscreen)
Higher is better
Xiaomi Redmi K30
27
Redmi Note 8 Pro
24
Realme X2
24
Xiaomi Mi 9T
24
Xiaomi Mi 9 SE
24
Samsung Galaxy M30s
14
Samsung Galaxy M31
14
Nokia 7.2
13
Xiaomi Redmi Note 8T
11
GFX 3.1 Car scene (1080p offscreen)
Higher is better
Redmi Note 8 Pro
18
Xiaomi Redmi K30
17
Realme X2
16
Xiaomi Mi 9T
16
Xiaomi Mi 9 SE
15
Samsung Galaxy M30s
10
Samsung Galaxy M31
10
Nokia 7.2
9
Xiaomi Redmi Note 8T
7
GFX 3.1 Car scene (onscreen)
Higher is better
Xiaomi Redmi K30
15
Redmi Note 8 Pro
14
Xiaomi Mi 9 SE
14
Realme X2
13
Xiaomi Mi 9T
13
Samsung Galaxy M31
9.2
Samsung Galaxy M30s
8.7
Nokia 7.2
8.1
Xiaomi Redmi Note 8T
5.9
3DMark SSE OpenGL ES 3.1 1440p
Higher is better
Xiaomi Redmi K30
2467
Realme X2
2402
Redmi Note 8 Pro
2363
Xiaomi Mi 9T
2182
Xiaomi Mi 9 SE
2082
Samsung Galaxy M31
1599
Samsung Galaxy M30s
1425
Nokia 7.2
1333
3DMark SSE Vulkan 1440p
Higher is better
Redmi Note 8 Pro
2447
Realme X2
2263
Xiaomi Redmi K30
2244
Xiaomi Mi 9T
2035
Xiaomi Mi 9 SE
1989
Samsung Galaxy M31
1559
Samsung Galaxy M30s
1502
Nokia 7.2
1277
The performance on the Galaxy M31 is decent. Most of the time the phone seems fast and fluid while scrolling through or switching between applications. Occasionally, however, there is some hitching and we also noticed animations stuttering while opening and closing apps. This is usually solved by restarting the phone but we hope Samsung fixes whatever is causing this issue. The UI was also noticeably stuttery when the battery got low, as the phone switches automatically to a low performance mode. Aside from that, the phone also takes quite a while to install applications once they are downloaded and performance when using AR filters in apps such as Instagram and Snapchat isn't great, either.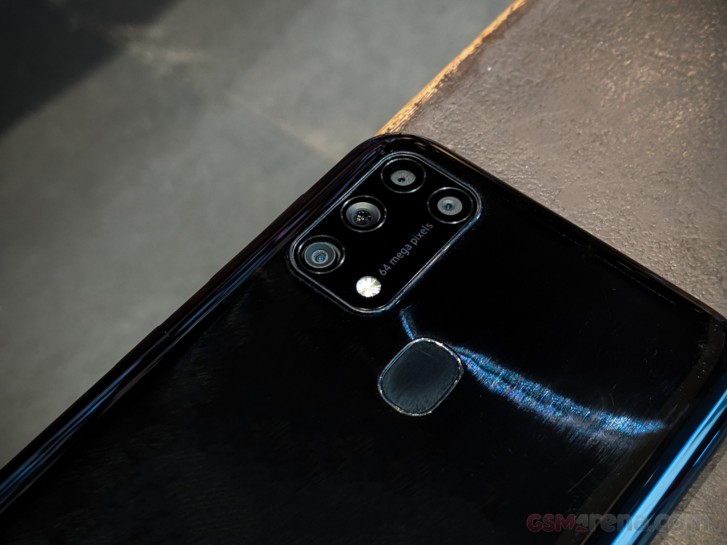 Multimedia performance on the Galaxy M31 is also decent. The single loudspeaker isn't ideal but it sounds okay and gets loud enough. You also get a headphone jack for wired headphones, which is always great. You also sort of need it on this phone because it also comes with an FM radio. Of course, you can always use Bluetooth headphones and if you have the Galaxy Buds or the new Galaxy Buds+ then you can also use Samsung's optimized scalable codec with them. However, if you have aptX HD headphones you're out of luck, as the Galaxy M31, like other Samsung phones, only supports aptX and not aptX HD.
The Galaxy M31 also includes Dolby Atmos feature. However, we can't help but feel this feature is half-baked. It does upscale stereo sound into the 3D surround sound that Dolby Atmos promises, but the device itself does not support the Dolby Atmos codec, which means if you want to watch files that already include Dolby Atmos audio track on this phone, you will get a codec not supported error while playing and then you won't have any audio at all.
We tested this with multiple Dolby Atmos files and none of them were compatible with this device. The Tidal app also does not support its Dolby Atmos feature on this device. Usually, when a device claims Atmos supports, it supports both, upscaling of stereo as well as actual Atmos encoded content but the Galaxy M31 just does the former.