Display
Samsung is pretty much leading the pack when it comes to mobile OLED panels and we expect nothing short of excellence from their most premium Note devices. The Note10+ definitely does not disappoint in this department. Not only is its 6.8-inch display the biggest on a Note phone so far (some measurement and aspect ratio assumptions applied), but it is also of the Dynamic AMOLED variety.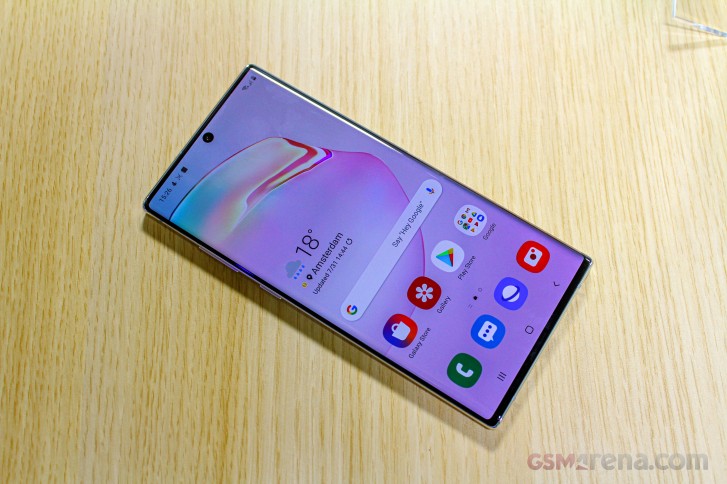 Compared to the Super AMOLED found on the Note9, this is the same, current-gen display tech as featured on the S10 phones. What the "Dynamic" bit denotes is an increased focus on HDR. HDR10+, to be exact, which allows the Note10 and Note10+ to read and play modern HDR content with dynamically changing per-scene color metadata.
For now, we are perfectly content with stating that the QHD panel on the Note10+ is amazingly sharp, crisp, bright and punchy. No high refresh rate yet again, but even so, very likely one of the best-looking displays on any phone currently out there.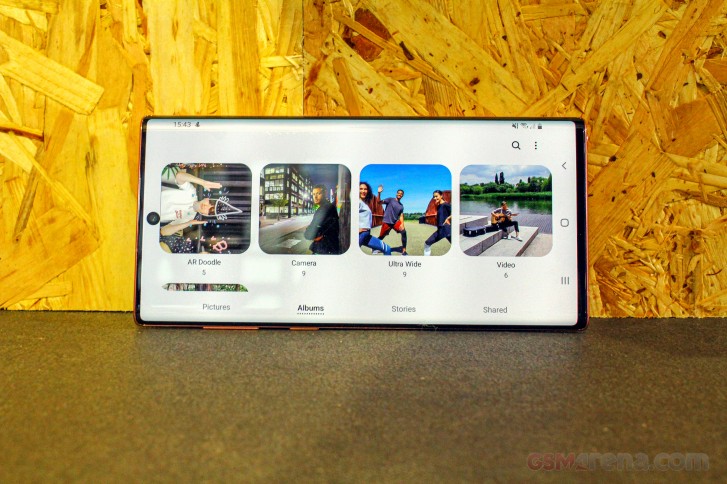 The Note 10 panel is not only smaller at 6.3 inches, but also with a native resolution of FullHD (2280 x 1080 pixels). This works out to a pixel density of 401ppi, compared to the 498ppi of the Note10+. This is even lower than the 438ppi on the Galaxy S10e. But before you ask, yes, the screen still looks perfectly sharp in person.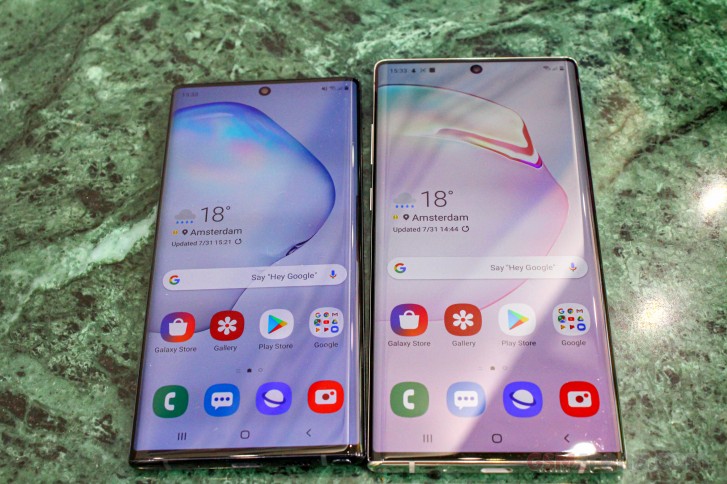 Sure, if you put the pair side by side and really pixel-peep, there is a difference in sharpness. Still, we definitely see why Samsung deemed even this downgraded panel worthy for a Note device. It even comes complete with the same HDR10+ certification as its bigger sibling.
Camera
The Note10 duo is an incremental update over the S10+. And the camera department is where that's felt the strongest.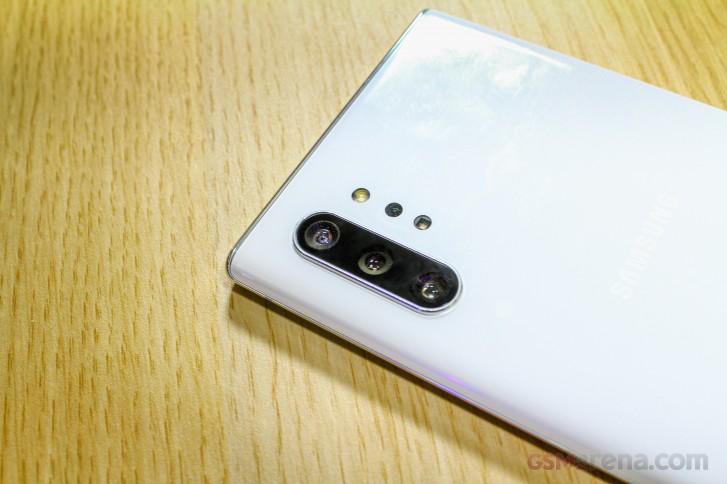 Looking closely at the specs of each one of the rear shooters only reveals an aperture upgrade in the telephoto, camera, which is now equipped with a brighter f/2.1 lens. And in fact, Samsung representatives we talked to on the topic of camera outright deem it identical to that on the S10. Something we will definitely test in more detail in the full review.
And just to be clear, this doesn't mean its a bad camera setup. On the contrary, the variable aperture main 12MP, Dual Pixel autofocus, OIS snapper has more than proven its worth by now. And the 16MP ultrawide and 12MP telephoto make for pretty nice companions.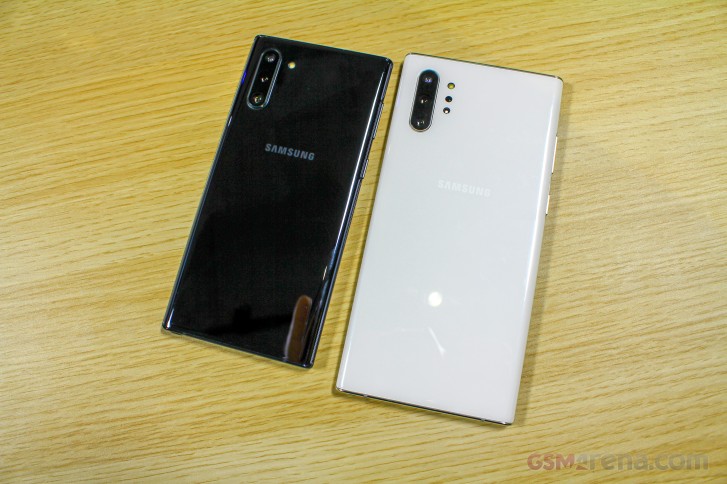 The Note10 camera has also learned a few new tricks mostly related to video recording. Samsung claims Super Steady mode is now enhanced compared to the one on the S10 devices. We managed to grab some official Samsung samples for you to check out for the various video capture modes. It is worth noting that these are not full resolution and have been compressed. Still, they should do fine to hold you over before we get some proper samples of our own for the full review.
There is a cute AR Doodle trick you can use to draw something and have it follow the subject's face around. And there is now a nifty audio zoom feature, called Zoom-In Mic.
The Note10 also brings more advanced video editing options for your clips in post. The built-in video editor got a significant feature boost, complete with various transition effects, speed adjustments and all sorts of goodies we can't wait to check out in the full review. There is also a version of Adobe Premiere Rush specifically optimized for the Note10 for anyone that needs even more video editing freedom.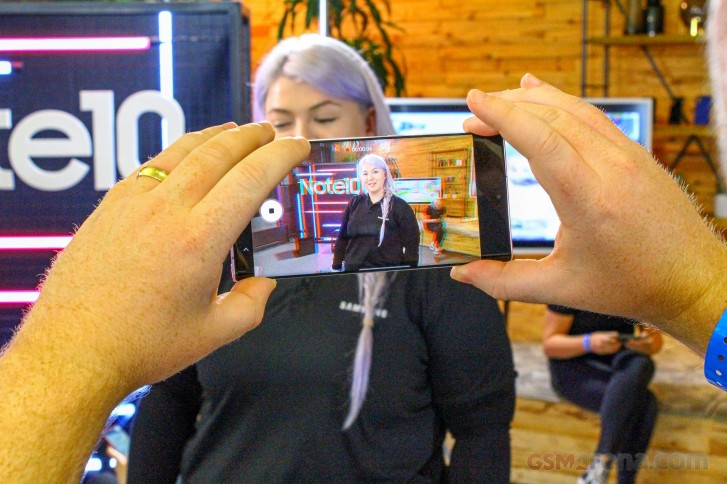 Pretty nice, but nothing Samsung can't realistically port over the the S10 as well, potentially making its owners pretty happy. The only real extra camera novelty is the ToF shooter on the Note10+, which Samsung calls DepthVision. Live Focus for Video is also on the list of new features on the Note10, which can best be summarized as Portrait mode for videos. We already got our first taste of this particular feature on the Galaxy A80, where it didn't really impress all that much.
On first inspection, Samsung has found a way to improve the effect on the Note10, but there is more investigation into the matter yet to be done.
Beyond the basic portrait, background blur effect, Samsung has also thrown a few extra modes into the mix, like the pretty self-explanatory color point and glitch. You can check these out in the short clips.
One thing worth noting here is that as far as we can currently understand the inner workings of Live Focus for video it might rely on a ToF camera, meaning that it could be limited to the Note10+ and be absent from its smaller Note10 sibling. Unfortunately, info on the matter remains quite ambiguous at this time.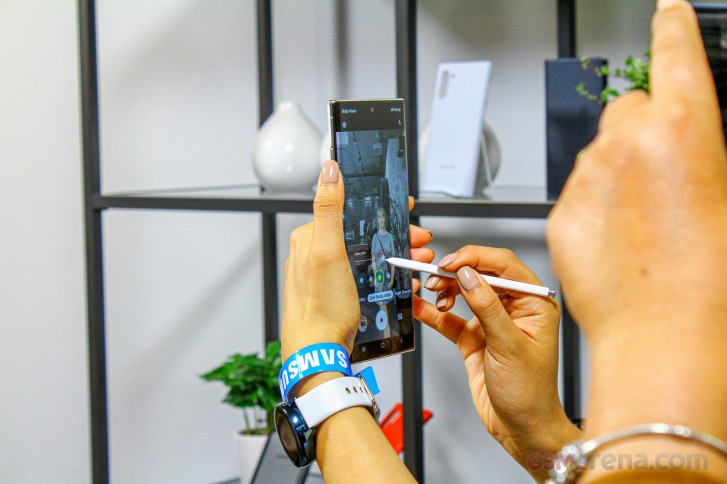 Last but not least, the S Pen has a few remote gestures now and can control the camera in a number of nifty ways from a distance. This includes zooming in and out or changing camera modes. You can skip over to the S-Pen section for a more detailed explanation of how this works.
Internals and performance
The global version of the Note10 pair gets the just announced Exynos 9825 chipset, which brings about a slight boost in GPU performance and is based on a more efficient 7nm LPP EUV process, up from the 8nm LPP of its predecessor. Other markets, like China and the US get a Snapdragon 855, just as on the S10 duo.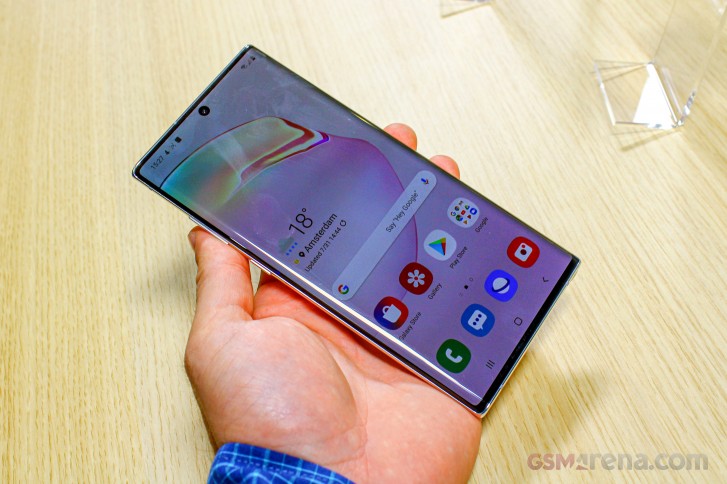 And to be honest we never really felt a shortage of power when it comes to these chipsets. In fact, they might be suffering from too much power at times or rather too much heat for the cooling to handle, as we recently found out in a gaming smartphone deep-dive. Samsung claims it outfitted the Note10 pair with the world's slimmest vapour chamber to keep the heat at bay.
Game mode is also smarter now thanks to AI. Samsung says it can deliver up to 10% better performance, although we aren't quite sure which metric they mean by this number. In any case, it should be able to assist you both while playing demanding games to get the most out of the hardware and while casually gaming, by dialing things back just the right amount to save the optimal amount of battery.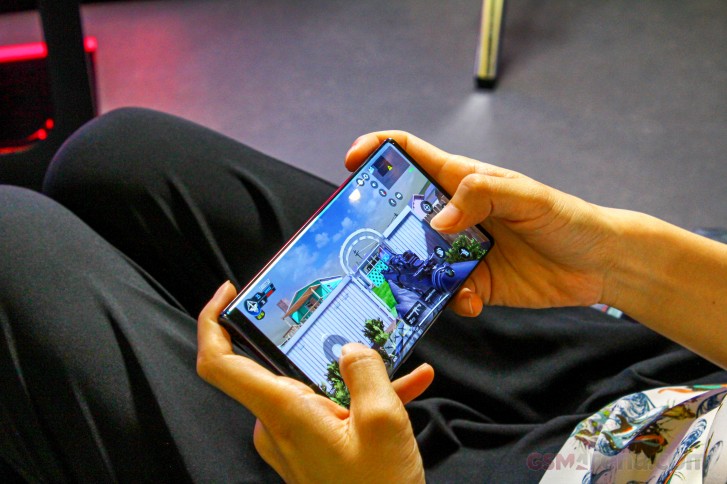 There is one small detail to note here about 5G. Samsung didn't really elaborate all that much on the topic, but it is clear that we will see a 5G variant on both the Note10 and the Note10+. The vanilla Note10 5G will reportedly even come with 12GB of RAM. Also, apparently, unlike the Galaxy S10 which only shipped its 5G units with a Snapdragon 855 chip, regardless of region, 5G will now be a thing on the Exynos 9820 as well. Since we are still dealing with external 5G modems a 5G variant of any of the Note10 pair is likely to feature slight variations to weight and potentially even dimensions and battery capacity.
Battery
Battery is always an interesting thing to consider especially on a device that is meant to appease to power users. Samsung managed to cram in 3,500 mAh in the vanilla Note10, which is just that little bit better than the 3,400 mAh on the Galaxy S10. As for the Note10+ - it gets a very respectable 4,300 mAh, up from 4,000 mAh in the Note9 and 4,100 in the S10+. Not bad for phones which also have to house an S-Pen inside their bodies.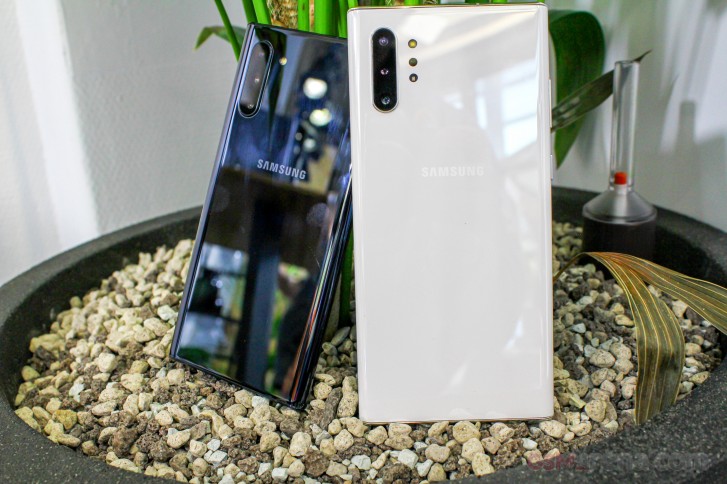 Samsung is finally moving beyond the 15W of charging that has been standard across so many of its devices for so long. The Note10 can now top-up at a rate of up to 25W via Power Delivery. Its bigger sibling can go up to 45W.
Samsung does not bundle a charger capable of outputting that much power in the box. You either have to buy one separately form them or rely on a good third-party PD solution. If you have a laptop that charges via PD, you should de able to just use that wall adapter.
Wireless charging is also part of the mix - 12W max for the Note10 and 15W for the Note10+. Another great example of a subtle difference that likely saved Samsung some cost but realistically isn't all that detrimental to the overall Galaxy Note experience in the vanilla unit.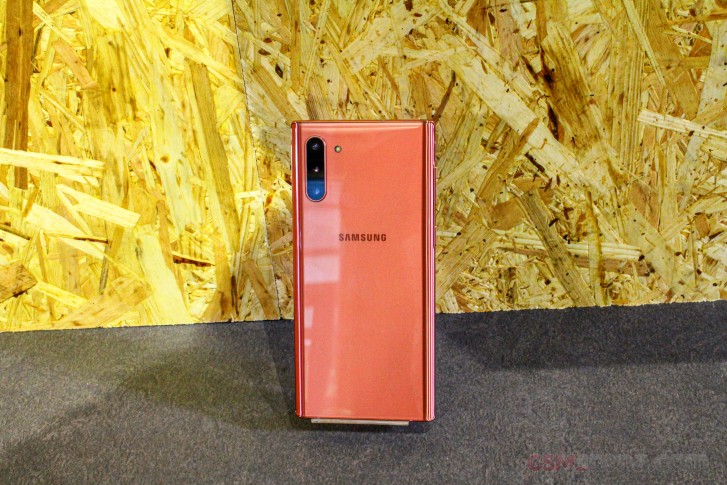 Wireless power share or reverse charging is also part of the mix.