Flippy dual shooter with an extra ToF module for depth sensing
The Galaxy A80's flippy platform houses two cameras - or three depending on whether you count the ToF camera as a camera. The main module is based on the now ubiquitous Sony IMX586 48MP Quad Bayer sensor (or at least our review unit is, there could be a version with Samsung's own S5KGM1), while the secondary cam is an 8MP ultra wide angle one.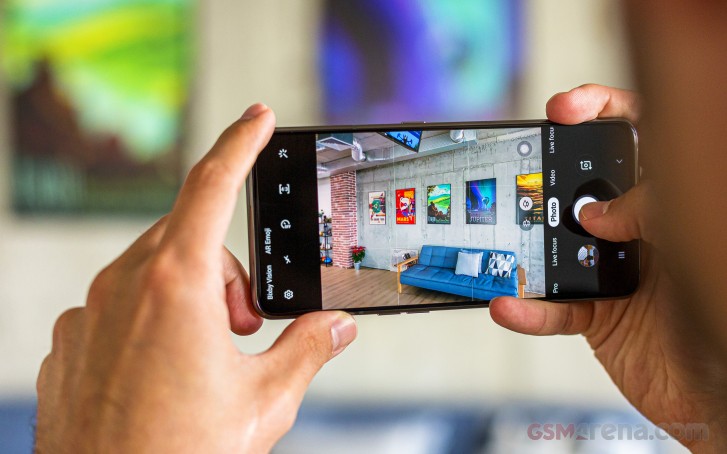 The Sony imager here is mated to an f/2.0 non-stabilized lens - we've seen both wider apertures and OIS in other implementations. The field of view is 80 degrees which corresponds to a moderately wide 26mm equivalent in full frame camera terms.
The ultra wide sidekick has more modest resolution and its 8 million pixels are 1.12µm I size. The lens covers a 123-degree field of view or it's got an equivalent focal length of about 12mm, while the aperture is f/2.2. This one has fixed focus.
And then there's the time-of-flight camera, or the 3D Depth Camera in Samsung speak. It projects a set of laser beams and measures the time it takes for them to return, thus recreating a depth map of the scene. This should be able to provide a more accurate subject/background recognition for the artificial bokeh modes and indeed Samsung's even using it for Live Focus videos, not just stills. The fact that the A80's main camera is also its selfie camera means you get Live Focus selfie videos too.
Controlling all these modules is done using Samsung's camera app which has a common UI across the lineup with minor tweaks to account for the differences. You still change modes with side swipes and in the settings you can add, remove and rearrange the modes you have at hand. Vertical swipes force the camera assembly to switch directions from rear to front and back, and you can also do that with a tap on a button next to the shutter release. Unlike the Zenfone 6 we reviewed recently, there are no in-between positions because the pop-up mechanism's frame gets in the way.
The row of icons above the viewfinder includes a cog wheel for accessing settings, an aspect ratio selector that toggles the full view mode (what are you going to do with 20:9 photos, though), flash mode selector, filter bank, and self timer. Inside the settings menu you get access to the usual stuff: an HDR setting (effectively Auto/On/Off), grid lines, shooting methods and resolutions for photo and video.
Live Focus mode is present, naturally, and a brand new addition is the Live Focus video we mentioned. Night mode is new as well, making its way to the A80 after recently being implemented on the S-series.
There's also a Pro mode, and as with most non-flagships in Samsung's range, this one is rather barebones - you can only choose ISO (in the 100-800 range), exposure compensation (-2/+2EV in 0.1EV steps), and white balance (presets, but no light temperature). There's no shutter speed selector or manual focus, and focus peaking is missing as well.
Image quality
In daylight, the Galaxy A80 takes pleasing photos with good contrast and likable vibrant colors. The captured detail is adequate for the 12MP resolution and similar to what we saw on the Zenfone 6 which uses the same sensor but different optics. We're seeing some noise in the Galaxy's shots, a bit more than what we're used to from a recent Samsung phone, but it takes some deliberate looking, so it's not an issue.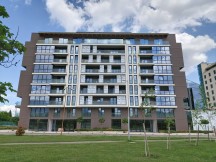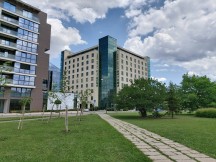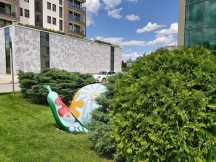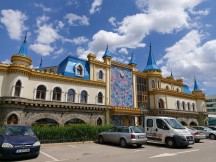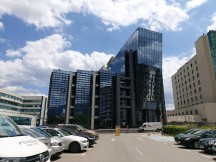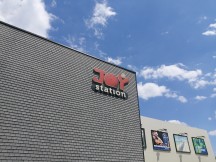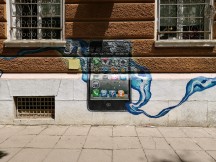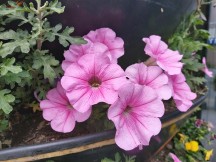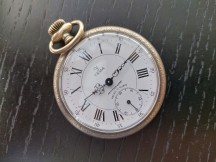 Daylight samples, main camera, 12MP, HDR Auto
Samsung's Scene optimizer is rather cautious at scene optimizing and we observed only the slightest differences in saturation some of the time.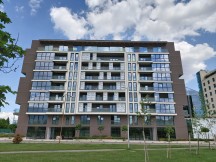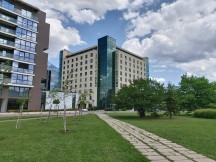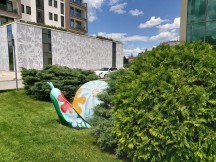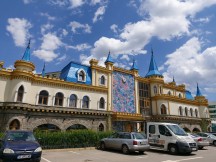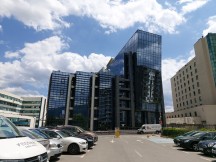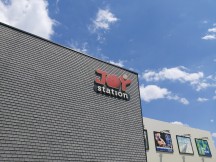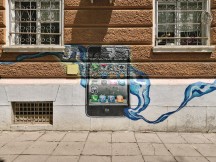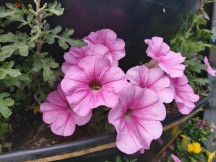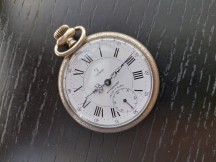 Daylight samples, main camera, 12MP, Scene Optimizer On
As is common with phones that use the 48MP Quad Bayer sensor, the Galaxy A80 lets you shoot at that resolution even if that's not what the imager was engineered to do. We see little benefit to using it that way as there's an increase in noise and not necessarily all that much detail to gain - foliage for example is rendered particularly mushy.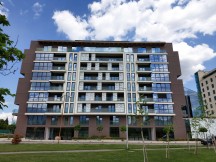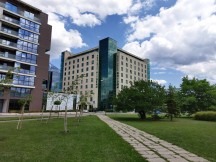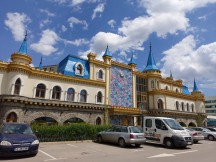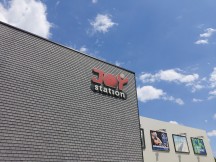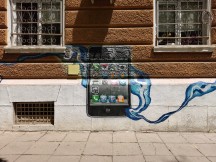 Daylight samples, main camera, 48MP
The ultra wide cam is a pretty basic one, with just 8MP resolution, not a lot of sharpness, and a rather limited dynamic range. There's plenty of distortion too. Overall, these images are best enjoyed from afar and you should appreciate them for the perspective as opposed to their technical qualities.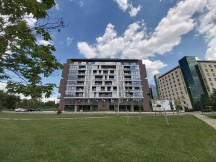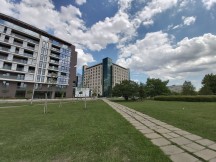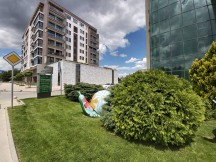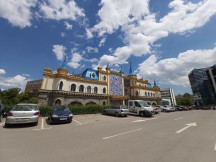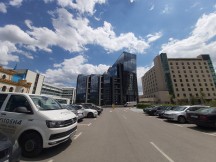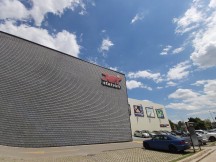 Daylight samples, ultra wide camera, HDR Auto
In low light, the Galaxy A80 takes alright photos, but it wouldn't be our top pick for the task. Images turn out slightly soft, and if it were up to us, we'd expose a little higher.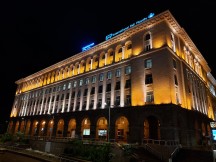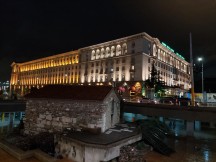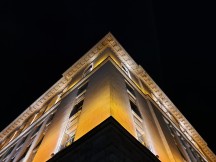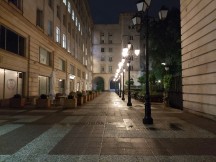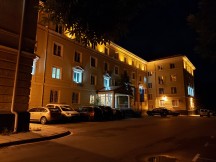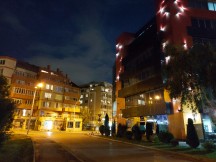 Low-light samples, main camera, 12MP, HDR Auto
Scene Optimizer doesn't make much of a difference here either - in fact, we're struggling to find any.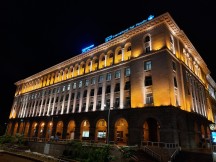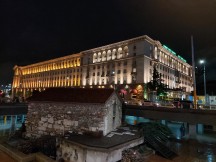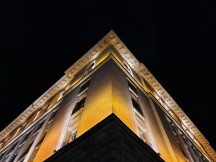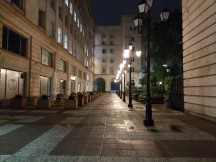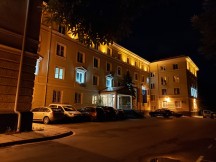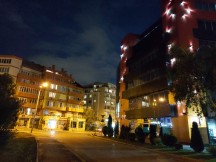 Low-light samples, main camera, 12MP, Scene Optimizer On
Night mode does introduce changes, and they're for the better. Certainly, if you're looking at fit to screen magnifications, you'd appreciate the better development of the shadows and the preserved highlights as well as the boost in color saturation, minor as it may be. And even from up close, you do stand to gain some extra detail.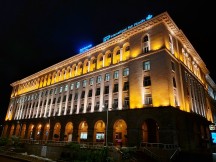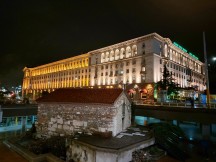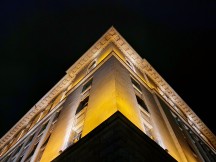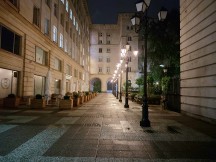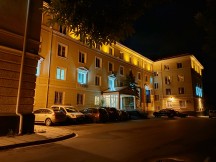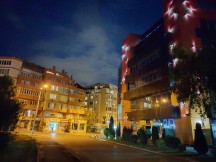 Low-light samples, main camera, 12MP, Night mode
The ultra wide camera fares rather poorly in low light, which is hardly surprising. It underexposes and captures pictures that are soft and noisy, plus colors get washed out too. There's no night mode to help things for this module.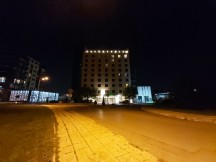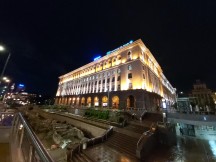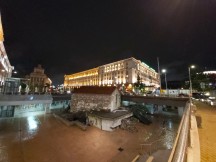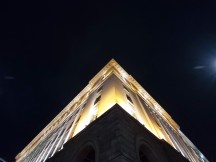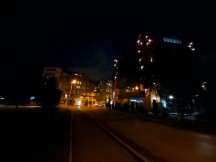 Low-light samples, ultra wide camera
Portraits
The Galaxy A80's Live Focus mode has the time-of-flight camera for what should be superior portraits than competing solutions with just conventional modules. Indeed, it's remarkably capable at separating subject from background and makes for very convincing blurry background shots.
The ToF camera's laser beams do not discriminate between people and stuff, so you can use the Live Focus mode to isolate random subjects. It works really well, even on complex subjects like the orchid flower.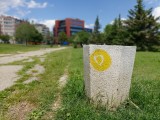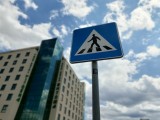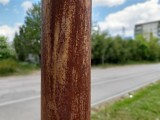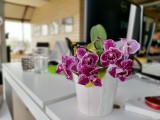 Live Focus on non-human subjects
Selfies
Moving on to selfies, we're treated to an unpleasant surprise - the A80 disables the camera's autofocus and locks focus at about an arm's length. While we found the distance they've chosen to be to our liking, it's a perplexing decision to have superior hardware and disable it on purpose. Particularly when one of the key selling points of the phone is that it has a primary-camera-grade selfie camera - being the same actual camera and everything.
That is in addition to the other mind-boggling decision on Samsung's part - to default the selfie camera viewfinder to a cropped-in 7.6MP section of the main cam as opposed to the full sensor coverage. Just because some time has passed since this 'feature' was first introduced on the S10, doesn't mean it's started to make any sense. Good thing you can switch.
Okay, enough with the rants already. The Galaxy A80 takes okay selfies with its main cam with good detail and true to life skin tones. We just can't help but think they could have been better had the autofocus been enabled.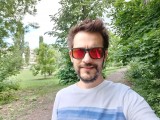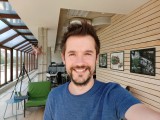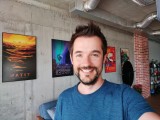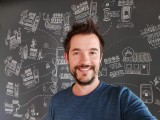 Selfie samples, main camera, 12MP, HDR Auto
The ultra wide cam isn't as good. It's fixed focus to begin with, so there's no artificial crippling here. However, it's not very adept at white balance swinging from yellow to red color casts depending on the lighting - compare against he much better images from the main cam above.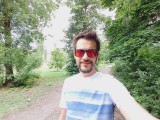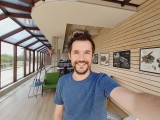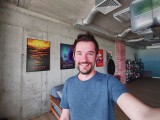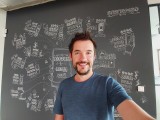 Selfie samples, ultra wide camera, HDR Auto
Update, June 26: One of our chief complaints with the Galaxy A80's behaviour when shooting selfies was that it used to lock the focus at a certain distance once the camera flipped to face forward. We're happy to report that this is no longer the case, and you get full autofocus for selfies.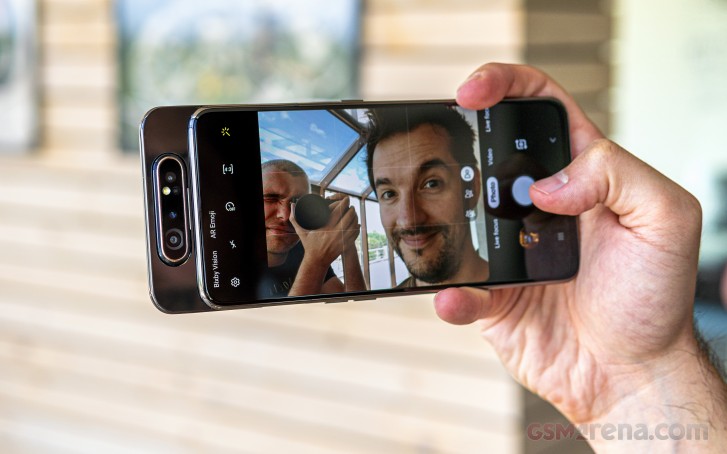 This means you get a lot more versatility and are treated to the full potential of the camera system that you have there anyway. Yes, for better or for worse, that means close-ups of your pores.
Selfie portraits should be the Galaxy A80's forte and they sort of are, only Samsung chose to rob you of the ability to capture ones quite like those you can get if someone else is shooting you. Technically, we already stated that when speaking of the plain selfies, but at the back of our heads we hoped it doesn't apply to the Live Focus mode, because there's the word 'focus' in it - alas, selfie portraits don't have autofocus either.
On top of that, they can only be captured in the cropped in mode - you have no control over this in Live Focus.
Don't get us wrong, Live Focus selfies are still plenty good, it's just that you're arbitrarily being denied the versatility.
Update, June 26: Okay, so now you can choose between the full-width and the cropped-in coverage, only you need to do that when in Photo mode - Live-focus will respect it, but won't let you change it while in it. What?!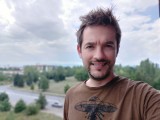 Post-update selfie portrait samples, full-width
Once you're done with the real world samples, head over to our Photo compare tool to see how the Samsung Galaxy A80 stacks up against the competition.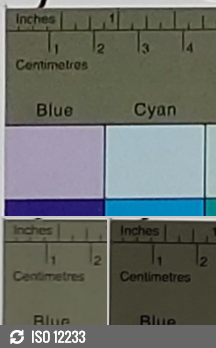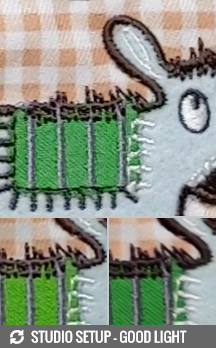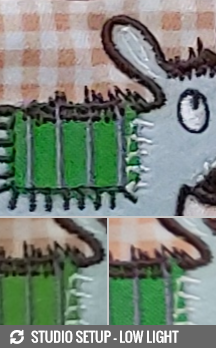 Samsung Galaxy A80 against the Asus Zenfone 6 and the OnePlus 7 Pro in our Photo compare tool
Video recording
The Galaxy A80 records video up to 2160p at 30fps with its main cam and up to 1080p at 30fps with the ultra wide one. You get a choice of H.264 and H.265 codecs, with H.264 being the default option. 4K videos have a 48Mbps bitrate, while 1080p is encoded at 19Mbps and 15Mbps for 60fps and 30fps respectively. Audio is always recorded in stereo at 256kbps.
There's what appears to be an always-on electronic stabilization in the 1080p/30modes on both cameras, while the main one's 4K footage isn't stabilized. Stabilized videos from the main cam do exhibit an unpleasant wobble, though pans are handled well.
The ultra wide is decently stabilized, though there's still minor shake when walking. And then there's the Super steady mode which further smooths out footage from the ultra-wide camera to what is essentially shake-free walking footage. Start running, however, and it's not quite what we saw on the S10 when Super steady debuted.
Video quality in the less demanding conditions of our balcony test scene with the phone mounted on a tripod is excellent in 4K. There's an abundance of fine detail and virtually no noise, dynamic range is wide and colors are nice and vibrant without going overboard. That pretty much holds true for 1080p/30fps, but the 60fps mode comes with overly aggressive sharpening and an overall super processed look.
The ultra wide camera's 1080p footage is decent but it has a water color quality to it and won't win any sharpness contests.
We gave Live Focus a try without expecting miracles and, sure enough, we didn't get miracles. It only works in 1080p and uses the main camera for capture and the ToF camera for depth mapping. The end result is iffy in the best of conditions with the border areas shifting from sharp to blurry. Under the right conditions, however, you could fool someone if they're not looking too closely.
Here's a glimpse of how the Samsung Galaxy A80 compares to rivals in our Video compare tool. Head over there for the complete picture.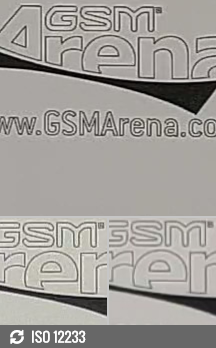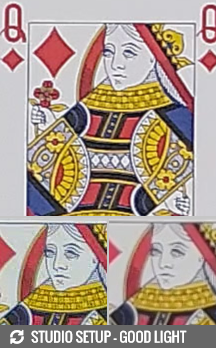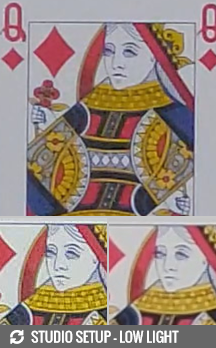 Samsung Galaxy A80 against the Asus Zenfone 6 and the OnePlus 7 Pro in our Video compare tool