Bixby talks now
Samsung's pushing heavily its Bixby AI assistant, and it has a prominent presence at launch events and on promo material. Well, there's a whole hardware button dedicated to summoning it, so it's not like Bixby will go unnoticed anyway.
We get all the PR effort Samsung is putting in to get the hype train rolling. By all accounts, Bixby is a massive undertaking and a whole lot more than a simple spin on the company's outdated S Voice platform. Samsung wants Bixby to be a pervasive and persistent presence, like a digital butler that sees everything, hears everything and can help in every aspect of your daily life. If nothing else, the name sure fits the bill.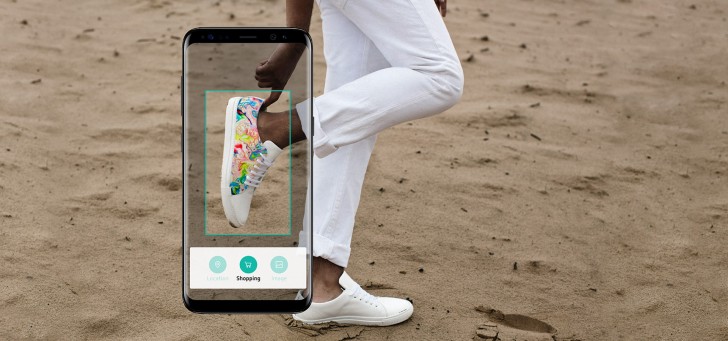 The Korean giant arguably succeeded on most of these points. You can pretty much call upon Bixby from every interface and if you ever find yourself stuck in a UI that doesn't offer any shorthand link to the AI, there is always the Bixby button. This, in itself, shows the level of commitment Samsung currently has to the platform. The company's vision for the future involves a seamlessly connected home, with all your electronics and appliances playing ball and Bixby near the center of it all.
But even Samsung's optimistic predictions place that reality at least three years into the future. The real question is, what can Bixby do for you today, where established assistants like Google's own and Siri have accumulated significant amounts of usage data and patterns?
Straight off the bat, we will note that Samsung is aware of the platform's early nature and is not pushing it down user's throats, for lack of a better metaphor. In its current state, it is surprisingly easy to turn Bixby off and ignore it altogether.
The easiest way to perceive Bixby is through its individual parts. First up, there is Bixby Home. In a lot of ways, this homescreen pane is similar to the older Google Now experience - a dedicated interface, with a feed of contextually relevant information. It can either be brought up by tapping the Bixby button three times or by swiping right from the left edge of the screen. The latter home pane positioning can be toggled off or on, as per your liking.
Bixby Home looks simple on the surface, but there is actually quite a bit of customizability hidden away under the hood. For one, cards can be hidden, pinned to the top or turned off. There is no apparent rearrangement option beyond that, but Samsung does offer a toggle for something it rather descriptively calls "Samsung Interactive and Customized Services for Hello Bixby" that makes the platform and thus the cards location- and context-aware.
As for the cards, themselves, they actually come courtesy of various apps which are installed on the phone. In a rather forward-looking fashion, Samsung has provided an API to enable displaying content from third-party developers. Even at this early stage, there are already a few notable applications that can talk to Bixby in this fashion, like Spotify, Twitter, Foursquare and Uber.
It is also worth noting that Bixby can put cards on your lockscreen as well. Of course, that all depends on whether you permit it to do so, again on a convenient per-app basis.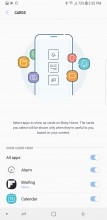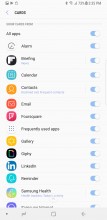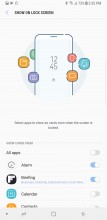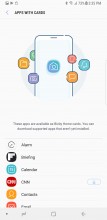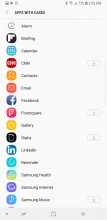 Bixby cards come courtesy of your apps
Reminder is a particularly convenient part of Bixby. It is a calendar and a task app rolled into one. But the trick is, Reminder is location- and context-aware, as well.
Once you enable the feature, it manifests itself as a separate app. In it, you can input content the old-school way.
However, Reminder also appears on your share list, so you can share a web page, photo, a conversation or even a video file with the app and create a reminder based on that. Once the timing or location conditions for that reminder are met, you can just jump back in your content. Reminder even remembers where you left off your video or song.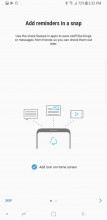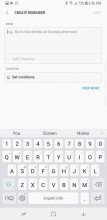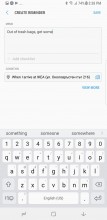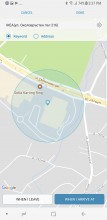 Reminder offers time and location based conditions
Bixby Vision is an interesting take on what has been one of the big goals of AR and computer vision enthusiasts for quite a few years now. If you've ever tried Google Goggles before, the concept here should already be familiar to you - point your camera at an object, recognize it and its properties and get relevant information.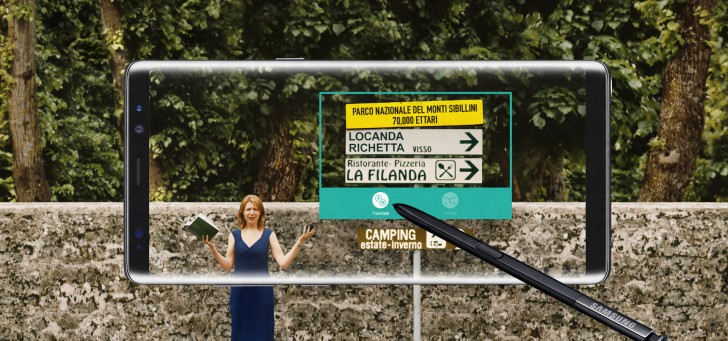 This sounds like a perfectly easy end-goal, but the underlying implications are immensely complex and difficult to tackle. Samsung aimed for a fairly advanced implementation. Bixby can potentially recognize objects in one of the following categories: Shopping, Places, Text, Wine, Image and QR code. As you can imagine, it's a hit-or-miss situation and some categories work better than others.
Once Bixby Vision detects something it thinks it can recognize, it gives you suggestions as to what category it thinks it falls under. Bixby then relies on user input to take it the rest of the way. Detection often ends up cropping too much of the item, so you should take the time to adjust the windows for best results.
The image search is fairly straightforward and mainly looks for general shape and color matches, patterns and compositions. Text and QR also work well, as one would expect in 2017. Looking up shopping links and wine listings is a lot tougher, and results from our tests were all over the place.
There are shortcuts to Vision scattered all around the interface. Naturally, you can enable it from the camera or Bixby Home, but there are also options for passing an image from the gallery or the web for analysis.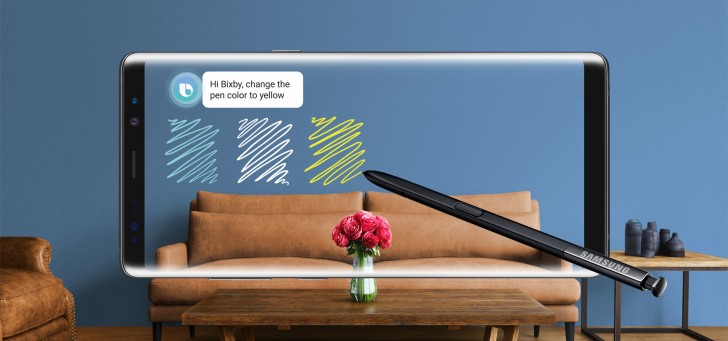 Bixby Voice wasn't initially available when the Galaxy S8 was announced, but it's here now on the Note8. You need to enable it in Bixby settings, and then you can go ahead and press the Bixby button to talk (make sure to keep it pressed for the entire request and let go to make it happen).
So far the service only works in English (US) and Korean, and there are three different voices to choose from - Stephanie sounds American, Julia is supposedly British, and John... well, John is male. There's a tutorial of sorts where you pronounce a set of sentences so the voice recognition can get used to your particular accent. You gain experience points for every new interaction with the assistant - Samsung clearly wants to give you an incentive to use Bixby.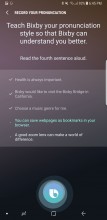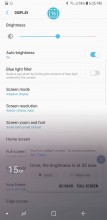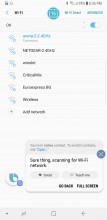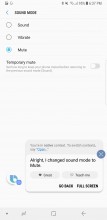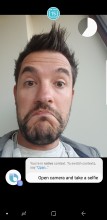 Teaching Bixby • Brightness setting +15xp • Connect to Wi-Fi • Turn off sound • Take a selfie
And use it you could, albeit for a specific set of tasks. It's good for doing stuff around your phone - setting brightness, taking a photo, setting up reminders, toggling Bluetooth on and off. Just make sure you don't send it into airplane mode - it'll do it, and then you won't be able to issue any more requests due to the lack of internet connection. There's a long list of email-related tasks it would do for you as well. You can ask it about the weather, and then use follow-up questions and it'll oblige.
What it won't do is look up restaurants on the internet or give you driving directions - both of these well within the abilities of Google Assistant and Siri.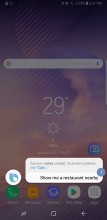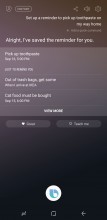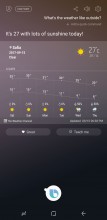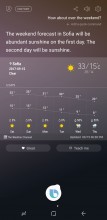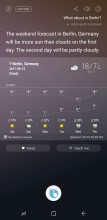 Nope, no restaurants • Reminders are ok • Weather with follow up questions
Overall, we're still baffled by this whole craze for having a personal assistant on your phone. On a fundamental level, we find issuing orders to your phone cool in an 80s sci-fi movie kind of way, but not particularly useful from a practical perspective. And then, when there's the reasonably well working Google Assistant out there that has already gained momentum, why do Android manufacturers insist on building in-house solutions from the ground up.
Who knows, maybe in a few years we'd be proven backward-thinking, but right now we're all for typing and tapping our way around the phone.
DeX
The Galaxy Note8 works with the same DeX dock which was launched with the Galaxy S8 and makes the phone into a desktop computer. Provided, of course, that you supply your own monitor (TV will do, too), keyboard, and mouse.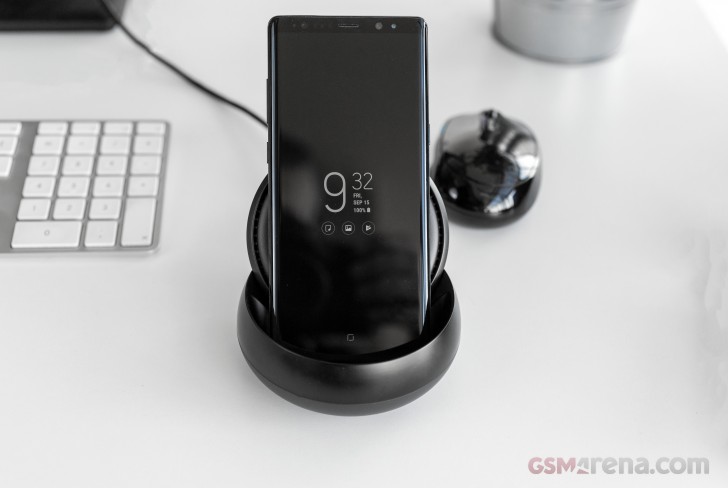 Since the experience is unchanged from the one offered by the S8, you can read about it in detail in our Galaxy S8 review.