Samsung is announcing the Galaxy Note9 on August 9, and the phone keeps appearing in leaks. The latest information about the phone slid in our inbox from Indonesia, where the smartphone was listed for pre-order, revealing its price.
The phone will cost IDR13,5 million, which is about $940. This is the cost of the 128 GB variant, the 512 GB one will be IDR17,5 million or around $1,215.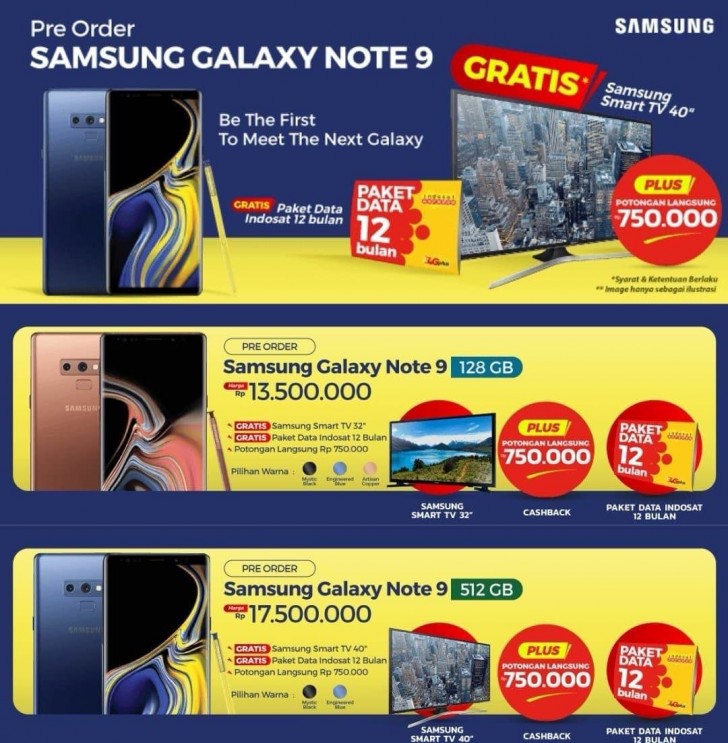 The Samsung Galaxy Note9 will arrive in three colors at the Asia-Pacific market - Black, Blue, and Copper, but the 512 GB variant will skip on the Brownish option. For everyone pre-ordering the device between August 1 and August 9, there are plenty of freebies like a Samsung Smart TV, up to IDR750,000 cashback and free 12-month data plan.
The prices and colors are in line with a rumor from last week by @rquandt, when the device was said to cost between €1,050 and €1,250 in Europe. The image also reveals the S Pen of the Blue phone will be yellow, which we already reported earlier this month.
Thanks for the image, anonymous tipster!
Yeah, I can see KIA being driven in front of my eyes :)
KIA is the first letters that form my namr. It's also a car brand's name
Do you mean Korea ???
ADVERTISEMENTS