Second encounter
Samsung Galaxy Note 3 preview: Second encounter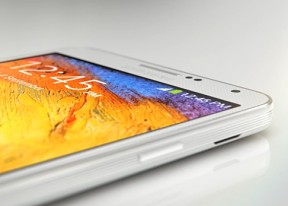 First impressions
The Samsung Galaxy Note 3 is the phablet flagship for this year and the upcoming holiday season. Samsung made sure of it and despite having many opponents to shuffle through before it can get the user's seal of approval, the Galaxy Note 3 does offer something the competition just doesn't - the S Pen.
If you want a high-end and high-res canvas on which to indulge your digital drawing and writing needs, while still managing to make phone calls and take pictures, then the Galaxy Note 3 is the only device to turn to. That's not to say LG, Huawei, Sony and the rest of the major makers don't put up a good fight.
The Samsung Galaxy Note 3 faces some elite competition from LG. Starting with the Optimus G Pro, which rocked the phablet world for a while with a 5.5" FullHD LCD of 401 ppi, a Snapdragon 600 processor and capable software and camera.
It was twice as fast as the then current Samsung Galaxy Note II, had twice the resolution and it is still a pretty capable smartphone to this day, not to mention its price has already settled down to more accessible levels. The G Pro, however, doesn't even attempt to touch the Note's S Pen capabilities, it has a smaller screen and can't hope to match the Snapdragon 800 inside the Note 3 in terms of performance.
Then comes the Sony Xperia Z Ultra. It's razor thin, it's got a bigger 6.4" display of FullHD resolution, the ppi is still in Retina territory, the Snapdragon 800 is once again the star of the show and unlike the Note 3, you can take the Z Ultra with you when you go skinny dipping. However the Snapdragon 800-powered phablet omits the active stylus support, it doesn't have that fancy 2160p video recording and it is much heavier and cumbersome than the Note 3, all the while bringing a smaller battery, which is just shameful.
First thought to be nothing but a gimmick, a relic from days bygone, the S Pen is now the center of attention on the Samsung Galaxy Note 3. That and the overwhelmingly huge display fitted into what seems to be a still pocketable body. We gotta admit, we've got team members here, who are huge fans of the active stylus input and now that we've had the time to properly get to know all of the new Note 3 features, we can help but want some more.
This time around however, we only had a pre-production unit for this preview. We certainly hope to experience more of the Note 3 and see how it fares in departments we didn't even touch upon this time. And from our early look, we have a really solid feeling that the Note 3 might just turn to be the phablet to beat this autumn.