The other side
Samsung Galaxy Note Edge review: The other side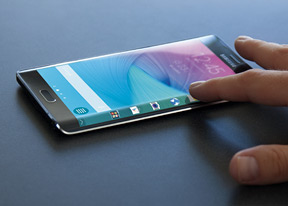 Internet and Chrome
The Samsung Galaxy Note Edge comes with both the stock Android browser (customized by Samsung) and Google's Chrome. Both support Multi-window and the S Pen - tapping with the button pressed is equivalent to a right click. Only the custom browser supports Air View, however.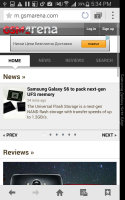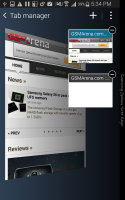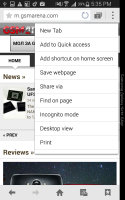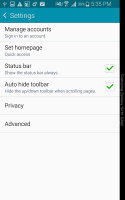 The Samsung-customized Internet browser
Anyway, the interfaces of both browsers are virtually identical. Both show favorite web sites on their new tab page and can sync bookmarks and open tabs across devices. The browsers handle multiple tabs (including Incognito mode), but in Chrome you can switch between tabs by horizontal swipes from the side. This conflicts with swipes from the Edge screen though. Speaking of, we didn't find any use for it in the Samsung-customized Internet app.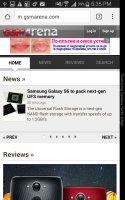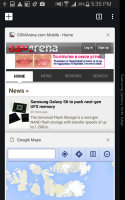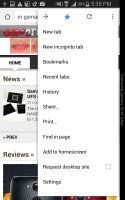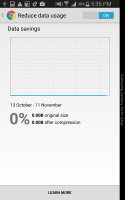 Chrome with data-saving options
Note that Chrome has an option to reduce traffic by compressing web pages on Google's servers before they are sent to the device, similar to how Opera's Turbo mode (and Opera Mini) work.
Other apps
The Samsung Galaxy Note Edge has a number of features to secure your device and your data. Find my mobile is a proprietary alternative to Android Device Manager. It has remote controls so you can reset and lock the device if you lose it and check its location on a map. Once reset, you can prevent the phone from being reactivated. The phone can send out a message the moment a new SIM card is inserted.
There are basics like encrypting the phone and the external memory card in addition to the more selective Private mode option, which offers a hidden folder that can only be uncovered with the right fingerprint. There's also a backup function that keeps your phone logs, messages, wallpaper and several other settings backed up in the cloud.
S Health benefits from the heart rate monitor, but the new sensor can also measure blood oxygen saturation (SpO2). Both allow the app to track your exercise more accurately. The step counter is always working in the background, keeping track of how many calories you've burned. You can view the number of steps, distance traveled and calories burned on the Edge screen.
Besides the basic pedometer, S Health can also track running, cycling and hiking. Goals can be set based on distance, time or calories. You can connect third-party devices for additional measurements - both Bluetooth 4.0 and ANT+ accessories are welcome.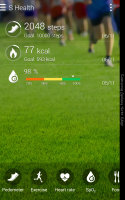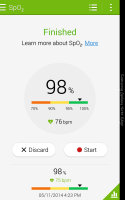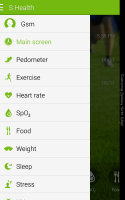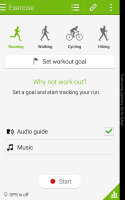 S Health • measuring blood oxygen saturation • extensive options • exercise tracker
The Voice recorder is the most advanced we've seen yet. It can record regular voice memos or transcribe them directly to text (up to 5 minute dictations). The really cool options that make use of the three mics are Meeting and Interview mode. They sense who is speaking based on direction - in interview mode this blocks noise coming from the side, while Meeting mode it can detect up to 8 speakers which you can mute during playback!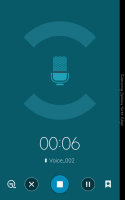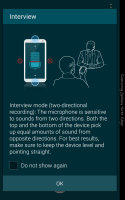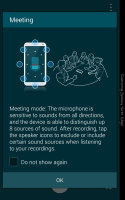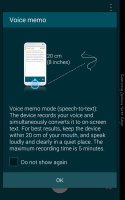 Highly advanced Voice recorder app
Another advanced audio feature is Sound Detector. It's found in the Accessibility settings and is intended for people with hearing loss. It supports two sounds - door bell and a baby cry. You record a short sample and the Galaxy Note Edge will listen for that sound and give a visual notification when it hears it. The notification will be sent to a smartwatch.
Smart remote uses the built-in infrared port to control AV equipment. The app doubles as a TV guide for supported TV providers and gives you the schedule along with information for the different shows and movies. It can set reminders so you don't miss your shows. If you install third party apps you can control more than just TVs with the Galaxy Note Edge.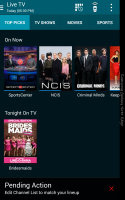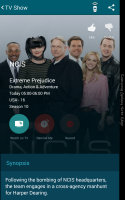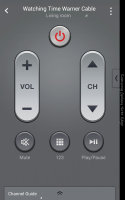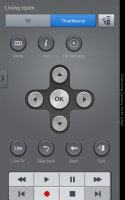 Smart remote • local TV guide • virtual IR remote
S Planner is the calendar on board of the Samsung Galaxy Note Edge. It features six different views: daily, weekly, monthly, yearly, list and tasks. For the month view, events on the selected day are listed in a panel on the right. Hovering the S Pen over a date will show you a popup of the events for that date, which is very nifty.
Another handy S Pen trick to know is that long-pressing on a date lets you add a handwritten appointment, e.g. "19:00-21:00 meeting @ IT center." The text recognition will make sure the info goes where it belongs.
The clock app has a World view along with the basic alarm, stopwatch and timer modes. Smart alarm can wake you gently by starting a quiet sound that builds over a few minutes before the raw ringer kicks in.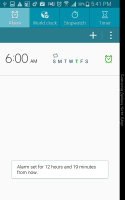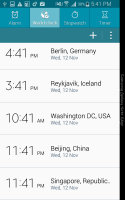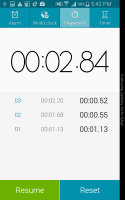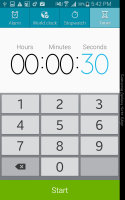 Alarms • world clock • stopwatch • timer
Finally, aside from the Google Play store you get Samsung Galaxy apps - the store for exclusive content for Galaxy smartphones. It has many titles and free content. There's some good exclusives in Galaxy Apps - a recent example is Nokia's HERE Maps, which landed on Galaxy devices there before going public on the Play Store.