Affordable dual-cores
Samsung Galaxy R vs. LG Optimus 2X: Affordable dual-cores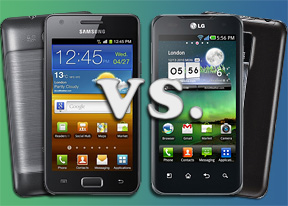 Software and Hardware overview
The Samsung Galaxy R is the thinner of the two at 9.5mm (the Optimus 2X is 10.9mm thick).
The 2X is just a tad smaller, though the actual difference in both width and height is negligible. And it's down to the screen size. The R has a 4.2" screen, while the 2X has a 4" diagonal. The relative difference is about 10% of screen real estate but the resolution is the same.
We'll have a look at the performance of the displays in more detail further on.
As far as weight goes, the two are practically impossible to tell apart - 139g vs. 135g. The thing to note is the Samsung Galaxy R weighs less despite having a larger brushed metal inlay on the back cover.
It has a slightly bigger battery than the LG Optimus 2X too - 1650mAh vs. 1500mAh - but we'll see whether that makes any difference in our battery test, since the power consumption is important too.
The loudspeaker performance is another area where those two differ. They actually ended up even on one of the three tests, but the Samsung Galaxy R was noticeably louder in the other two. Here's how they did and how that compares with other phones we've tested.
| | | | | |
| --- | --- | --- | --- | --- |
| Speakerphone test | Voice, dB | Pink noise/ Music, dB | Ringing phone, dB | Overal score |
| Nokia Lumia 800 | 60.9 | 59.0 | 61.7 | Below Average |
| Apple iPhone 4 | 65.9 | 66.5 | 67.3 | Below Average |
| Samsung I9000 Galaxy S | 66.6 | 65.9 | 66.6 | Below Average |
| LG Optimus 2X | 65.7 | 60.0 | 67.7 | Below Average |
| Samsung S8600 Wave 3 | 68.0 | 65.8 | 69.7 | Average |
| Samsung Galaxy W I8150 | 69.6 | 66.6 | 67.0 | Average |
| Samsung I9103 Galaxy R | 65.7 | 65.7 | 71.5 | Average |
| Samsung S8500 Wave | 69.8 | 66.6 | 75.5 | Good |
| HTC Titan | 75.8 | 66.2 | 82.7 | Very Good |
| HTC Desire | 76.6 | 75.7 | 84.6 | Excellent |
As far as software goes, both phones are currently running Android 2.3 Gingerbread with both manufacturers committed to an Ice Cream Sandwich update. LG is expected to release ICS for the Optimus 2X in Q2, while Samsung's time table is yet to be confirmed.
We won't dig into the Samsung and LG custom launchers for Android. We've found that this is a personal preference and it's something you'll have to decide on for yourself. It appears the differences between TouchWiz and LG Home are mostly aesthetic.
The video player on the LG Optimus 2X handled 1080p videos (FullHD MP4 videos were problematic and MKV a straight no-go) and the Samsung Galaxy R matched it in FullHD video playback (with MP4 videos presenting problems again).
The LG Optimus 2X has a key advantage though - the Optimus 2X has a microHDMI port, which allows it to actually play those FullHD videos on an HDTV. There's a microHDMI cable included in the box too, so you don't have to worry about getting one. Depending on how you plan to use the phone, this might be one of the deciders.
The Galaxy R has only DLNA to rely on for connecting to TVs, but the Optimus 2X has that covered too.
One the thing that the Galaxy R has over the Optimus 2X in wired connectivity is USB On-The-Go. With it, you can hook up some external storage and and manage files on it. You'll need an OTG cable though, which isn't included in the box.
That aside, both phones have very similar software features. Both offer Flash-capable web browsers, come with Office document editors out of the box and offer social networking integration.
It's hard to pick a winner in this category. The Galaxy R is thinner and with a bigger screen, and with a slight advantage in loudspeaker performance. However, no TV-Out is a deal breaker for some. The standard microHDMI port of the Optimus 2X can save you some hassle (no MHL adapters or proprietary cables needed).
Screen comparison
The LG Optimus 2X and the Samsung Galaxy R use LCD screens with their own proprietary technology to improve the image quality.
Slight color and contrast loss when viewed at an angle is observed in both, although the problem is less prominent in the Galaxy R.



LG Optimus 2X • Samsung I9103 Galaxy R
Identical resolution and a slightly smaller screen means the Optimus 2X has an edge when it comes to sharpness. It beats the Galaxy R with a pixel density of 233ppi vs. 222ppi. It's not enough though to make a difference to the naked eye.
The LG Optimus 2X offers much better black levels - even at 100% brightness, the blacks were darker than what the Samsung Galaxy R managed at 50%. The 2X leads in contrast too, as the table below shows.
Where the Galaxy R wins out however is brightness - it's more than twice as bright. Here are the hard numbers:
Display test
50% brightness
100% brightness
Black, cd/m2
White, cd/m2
Contrast ratio
Black, cd/m2
White, cd/m2
Contrast ratio
LG Optimus 2X
0.23
228
982
0.35
347
1001
Motorola RAZR XT910
0
215
∞
0
361
∞
HTC Sensation
0.21
173
809
0.61
438
720
Samsung Galaxy W I8150
0.29
243
853
0.50
423
853
HTC Rhyme
0.43
265
609
0.58
402
694
Samsung I9001 Galaxy S Plus
0
251
∞
0
408
∞
HTC Sensation XE
0.23
172
761
0.64
484
752
HTC Radar
0.26
204
794
0.59
471
797
Samsung I9103 Galaxy R
0.51
407
806
0.92
785
858
LG Optimus Black
0.127
332
1228
0.65
749
1161
In conclusion, let's say it again. The Samsung Galaxy R has a 4.2" screen, which has 10% more surface area than the 4" screen of the LG Optimus 2X. It means though that the WVGA resolution is stretched a little thin on the Galaxy R - it has a 222 ppi against 233 on the Optimus 2X. The Optimus 2X display has better blacks but the Galaxy R display is brighter and has slightly better viewing angles.