All of the cameras - the right ones, too
Samsung may have been late to the dual camera party with a telephoto module appearing on a flagship only as late as the Galaxy S9+ last year, but it's catching up quickly with trends. On the Galaxy S10 and S10+ they've also added an ultra wide angle module to the back for a complete and versatile triple setup.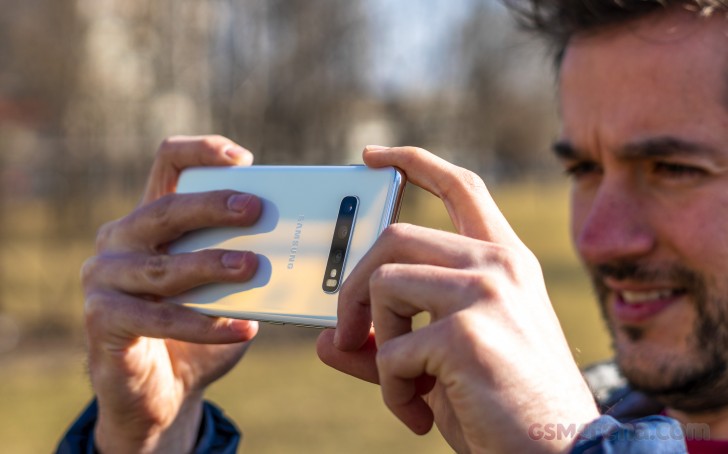 The ultra wide-angle camera covers a field of view of 123 degrees, which translates to an equivalent focal length of 12mm in 35mm film terms. To put it bluntly, it's VERY wide. The lens has an f/2.2 aperture and its focus is fixed - there's no autofocus.
For comparison, the ultra wide cameras on the Xiaomi Mi 9 and the Huawei Mate 20 Pro both have autofocus, though neither is quite as wide as the one on the S10+. Then again, the Xiaomi does get very close with its 13mm equivalent and 117-degree coverage. Meanwhile, the LG V40 ThinQ and the Mate 20 non-Pro have fixed-focus ultra wide lenses that are 16mm and 17mm respectively.
There's a 16MP sensor behind that lens but for whatever reason, our Galaxy S10+ outputs 12MP shots. Meanwhile, the S10's ultra-wide images are 16MP, go figure.
The other two cameras have been carried over from the S9+ and the Note9. The primary module uses a 12MP sensor with 1.4µm pixels and dual pixel phase detect autofocus. It's got a dual aperture lens in front which is able to switch between f/1.5 to capture more light in dark scenarios and f/2.4 for improved sharpness in good light. The focal length is equivalent to that of a 26mm lens on a full frame camera (77-degree field of view). The lens is also stabilized.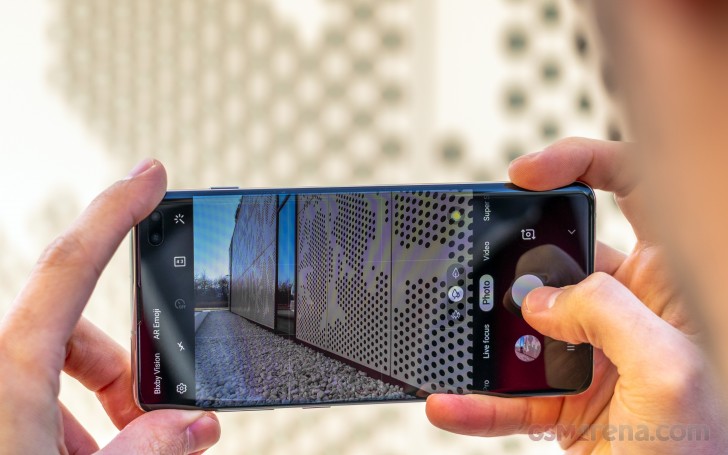 The telephoto camera's optics are stabilized too and offer an equivalent focal length of 52mm or a 45-degree field of view. The sensor behind has 12 million and change 1.0µm pixels. Phase detect autofocus is available too, only it's not the dual pixel variety.
On the software side of things, Samsung's expanded the range of scenes its Scene Optimizer will recognize and optimize for by 10 for a total of 30, and they're all listed on the official S10's specs pages if you're that curious. More importantly, there's now a Bright night mode, which should improve low light performance, although we didn't find it to make much of a difference.
A whole new feature is Shot suggestions. The phone analyzes the scene and suggests the right framing and it will go ahead and take the shot if you align the phone accordingly. We found it more irritating than useful.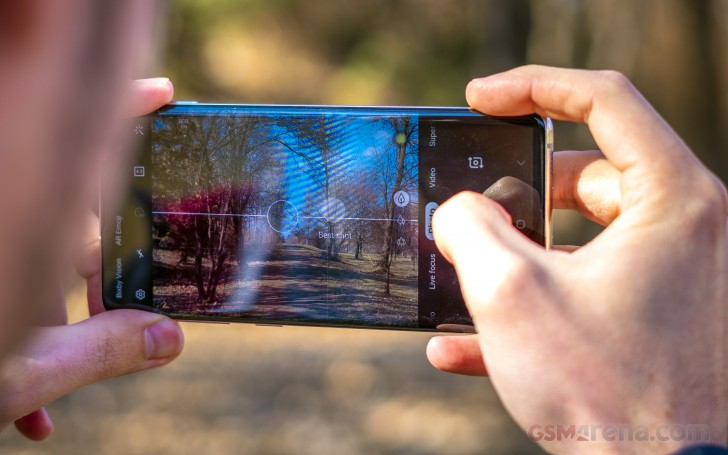 Other than that, the camera app is a natural evolution of the one found on the S9+ and Note9 with some extra input from the A7 and A9 for handling the camera switching. That would be the tree designation - '3 trees' means ultra wide-angle cam, '2 trees' denote the regular camera, and '1 tree' means the telephoto. Pinch to zoom is also available and it switches seamlessly between the three cams unlike on the A9 where there was a jump between ultra wide and regular.
Basic operation is straightforward with side swipes for cycling through modes and an up/down action for toggling between the rear and front cameras. You can add, remove and rearrange the modes in settings. The HDR (Rich tone) setting is not only in the menu but it's even more convoluted as it has an on/off toggle, and then when it's on, you can choose whether to kick in automatically or be always on. This one we keep in auto.
There's a Pro mode too, and it's one of the pro-est around. You can select ISO (50-800), push shutter speed around (1/24000s-10s), manually select the aperture of the main cam (f/1.5 or f/2.4), focus manually (with peaking to aid you), and select the white balance (by light temperature). Metering mode and AF area options are available too. A new addition is a set of picture controls for contrast, saturation, and whatnot. Sadly, there's no live histogram.
We have to complain about Samsung's choice to bury a couple of settings deep where you won't look for them. One is the selfie flipping, which is turned on by default so you'd end up with mirrored selfies out of the box. The other is the software correction for the ultra-wide camera photos which we thought wasn't available. It is. Both toggles are under Save options in settings.
A major change this year comes in portrait mode - Live focus, that is. Samsung's switched to using the primary camera for capturing the photo and the telephoto for gathering depth data, as opposed to the other way around. This carries the same implications we've pointed out a thousand times.
Here goes the 1001st - a wider angle lens when shooting portraits means having to be uncomfortably close to your subject to get headshot-style framing and wide angle lenses are typically less flattering on facial features, but, on a positive note, it also means having the superior (larger) sensor capture the image, which is essential in low light and appreciated in good light.
Dual selfie camera
Over on the front, the Galaxy S10+ has two selfie cameras. Or rather, one selfie camera and a depth detection module for better Live focus portrait selfies. The S10 non-Plus doesn't have the depth sensor so its portraits rely on just the one camera.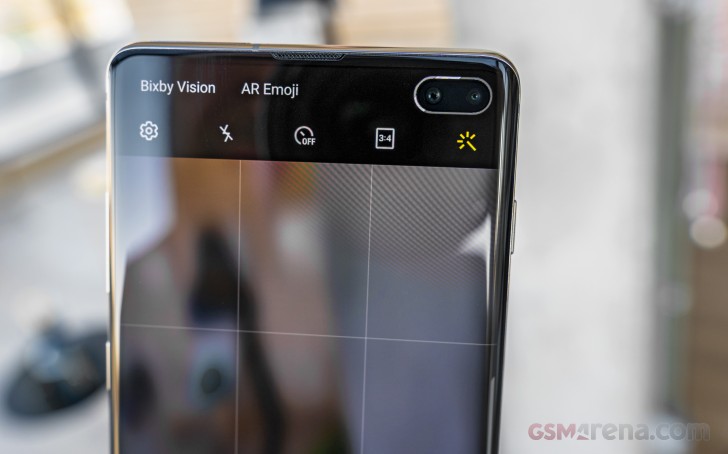 The primary cam is listed at 10MP, but that's not strictly true. Yes, it does take 10MP stills in a 4:3 aspect 3648x2736px but if you switch to 16:9 aspect you'd get 3968x2232px images. So the sensor has at least 3968x2736px to work with, or 10.85MP. 3968px on the long side is also enough for the 4K video that the selfie camera is capable of (3840x2160px), which 3648px clearly isn't.
There's another thing that's more perplexing. There are two modes on the selfie camera - wide and slightly less wide. It's a bit misleading because the wide one actually uses the entirety of the sensor (well, the entirety available at the selected aspect) and produces full-size selfies, while the tighter one simply crops the center and you end up with smaller images (10MP and 6.5MP in 4:3, respectively). But why?