Image quality
Let's go ahead and start with the ultra wide angle camera - we've never had one on a Galaxy S flagship, after all. For one, designing a lens so wide with no distortion is nigh impossible for full-size cameras and it's not any easier for a smartphone, so this camera does produce images with pronounced barrel distortion. That's said, the distortion is far from the worst we've seen - early LG ultra wides and Samsung's own (very recent) A7/A9 (2018) can compete for that title.
In principle, the ultra wide lens works great for capturing interiors, exaggerating perspective while emphasizing a nearby subject and clouds, also clouds. Here's precisely one of each.
At fit to screen magnifications the images look pretty nice with pleasing colors and very good dynamic range as far as these types of cameras go - due to the extreme coverage you're inevitably going to get a wider margin between the lightest and the darkest area in the frame, and the HDR algorithms can only do so much.
Pixel-level detail is also respectable if you don't stare too closely at the corners and if you get the focus distance right - that's not the case with the second sample above where the closest flower pot is too close to be in focus. So that's one of the main uses cases for an ultra wide camera that the Galaxy S10+ can't excel at due to lack of AF. But we feel like we may be judging it too harshly.
Update, Feb 28: Here are a couple of samples to illustrate how the software correction works.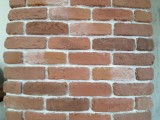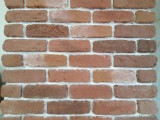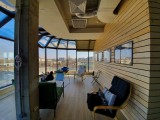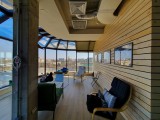 Ultra wide camera correction: Off • On • Off • On
Moving on to the main camera, we're seeing predictably great photos - detailed and clean, with Samsung's signature, highly-competent noise suppression leaving pretty much no trace of noise while preserving detail. Colors are lively but not over the top and dynamic range is excellent - the S10+ passes the snail test with flying colors.
The telephoto camera is also a known commodity, and we've come to expect great results from it in bright light. In such conditions it captures images with very similar quality to ones from the main cam. We're inclined to think we're seeing an improvement over the old model's slightly less contrasty output.
In low light, the main camera captures excellent images with well defined detail and little noise. Dynamic range is also very good - check out the flood lights on the top floor of the yellow building below, usually clipped to white.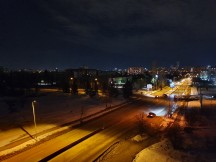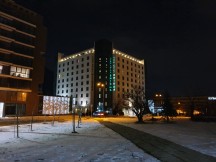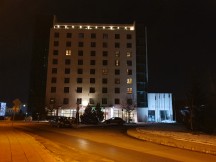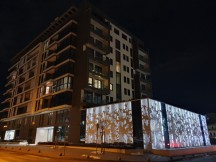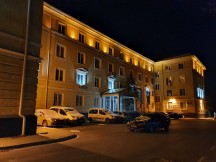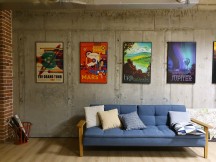 Main camera, low-light samples
Now, Samsung's got a 'night mode' of sorts called 'Bright Night', which is a toggle in the settings under Scene Optimizer. You can't force it on, and it'll only engage in extremely dark conditions. It'll tell you to keep the phone steady and churn away, but the interface isn't very intuitive and it doesn't let you know how long it'll take. In our set of samples it only kicked in in one scene, and only for one of the shots while the rest ended up regular night shots. The one that is 'Bright Night' isn't spectacular either.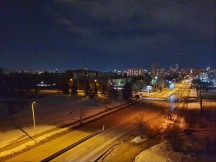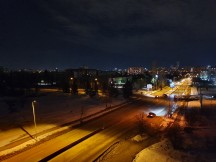 Main camera, low-light samples: Bright Night mode • Regular night photo
The Galaxy S10+ is more inclined to actually use its telephoto camera for '2x' zoomed in shots - previous models straight up defaulted to a digitally zoomed in shot from the primary cam. Even so, it still resorts to the main module under a certain light threshold, it's just that it's apparently lower now. The fact is however, neither approach produces stunning results and telephoto shots are just usable, but little more.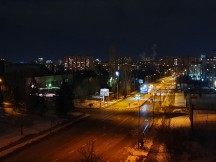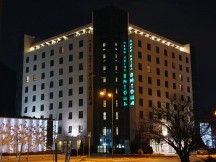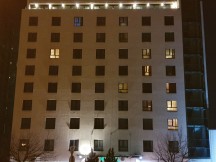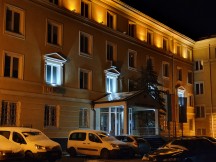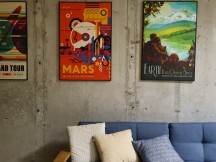 Telephoto camera, low-light samples
That just about sums up the low-light photos from the ultra wide camera as well. The thing is though, you won't be looking at them up close because then you'd be missing the... big picture.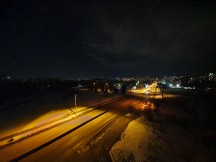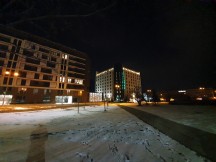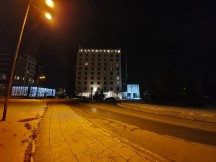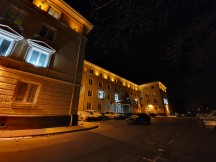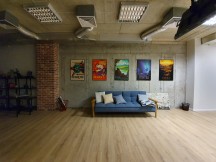 Ultra wide camera, low-light samples
Update, June 7: Samsung released a major firmware update adding a proper standalone Night mode, as opposed to the Bright night option in Scene optimizer (which is now gone, by the way). We duly went out to shoot some samples to compare Night mode and regular Photo mode, plus we brought a Pixel 3 along for reference.
Photos taken in Photo mode are already great, but that's been established before.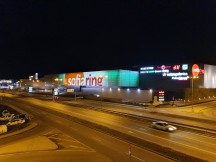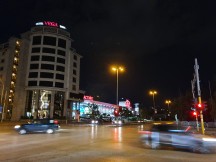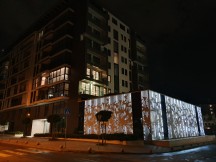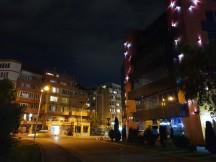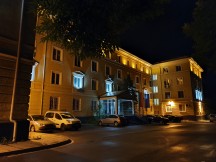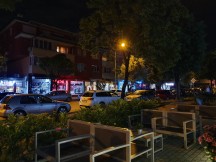 Main camera, low-light samples, Photo mode
Night mode does make a considerable difference indeed. It lifts up the shadows while also preventing point light sources from blowing out. It handles bright lights particularly well avoiding halos and drawing distinct outlines, something the Pixel doesn't quite manage. Colors are rendered true to life and there's no sign of the bleaching effect so characteristic of the Pixel's Night mode in warm lighting.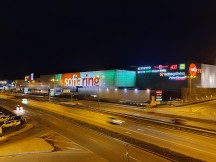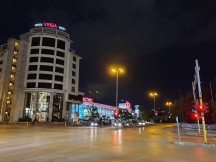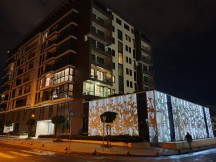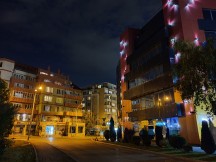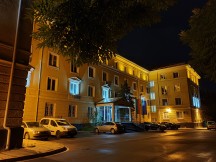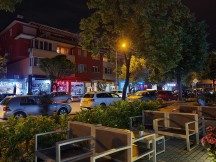 Main camera, low-light samples, Night mode
The Pixel does produce generally brighter and livelier images, and has a more natural look to the images when pixel-peeping, compared to the more sharpened Galaxy shots. In any case, the Galaxy's Night mode shots compare very favorably to the ones from the Pixel, which we consider the benchmark in the field.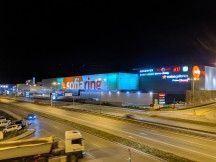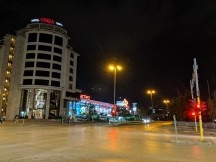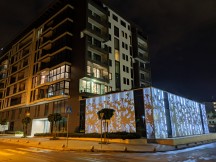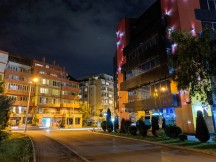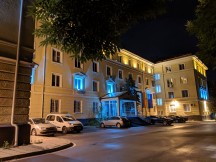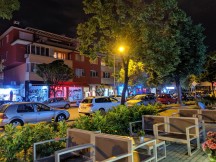 Pixel 3, low-light samples, Night sight
Night mode is also available on the ultra wide camera bringing much the same improvements it does on the main one.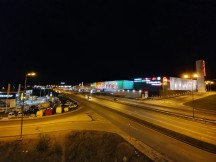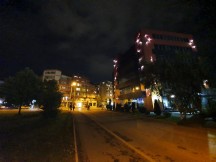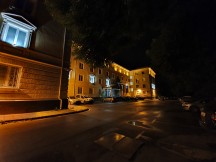 Ultra wide camera, low-light samples, Photo mode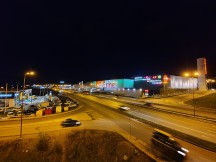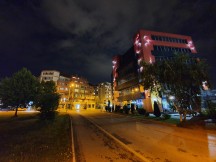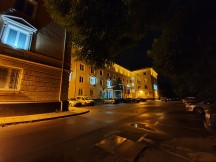 Ultra wide camera, low-light samples, Night mode
Sadly, there's no Night mode for the selfie camera.
You can head over to our Photo compare tool to have a look at how the Galaxy S10+'s camera stacks up to competitors' in the controlled environment of our studio.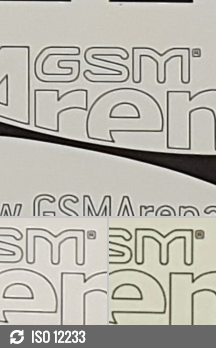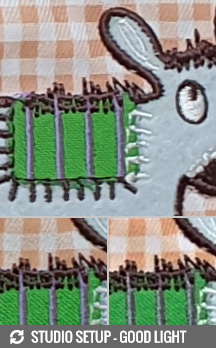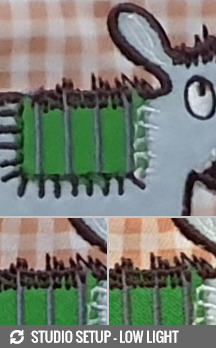 Galaxy S10+ against the Galaxy S9+ and the iPhone XS Max in our Photo compare tool
The S10+ may be taking the portraits with the main cam as opposed to the telephoto, but we're really happy with the shots we're getting out of it. The subject/background separation is excellent, faces are nicely detailed and skin tones are just right. Naturally, you mileage will vary with the complexity of the subject and its relation to the background, but even unruly-hair-guy is satisfied.
Live focus also does more than a respectable job with non-human subjects and you can use it for close-ups of flowers and whatnot.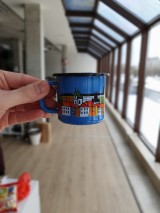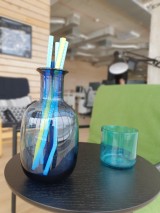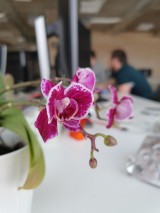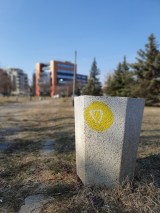 Portrait samples, non-human subjects
One-upping the selfie game
The Galaxy S10+ comes with an all-new 10MP primary front-facing camera and an 8MP auxiliary unit for gathering depth data. That second module is what sets the S10+ apart from the single-cam S10. In good light, the S10+ captures awesome selfies - sharp and highly-detailed. In photo mode the colors come out a bit warmer and more contrasty than in portrait mode - even with all beautification options turned off, and we're attributing that to the HDR processing which is off when in Live focus. It's not necessarily a bad thing, we're just saying that photos taken in the two modes will have a slightly different look, if HDR kicks in in Photo mode.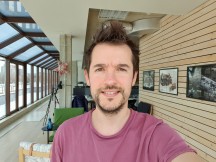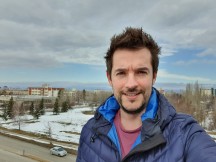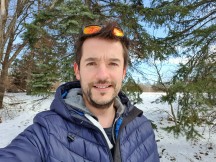 Selfie samples (10MP, wide mode)
Speaking of portraits, here they come. Just like with the rear cameras, Live focus shots show very competent subject separation and natural looking background blur.
There are a few different effects you can apply to your portraits with a couple of different blur styles or a black and white filter to the out of focus area. You can also apply these post shot in the gallery.
One area where the selfie camera isn't great is low-light shooting and in less than ideal conditions photos quickly get mushy.