First encounter
Samsung Galaxy S8 and S8+ hands-on: First encounter
Every hero needs a sidekick and every flagship needs accessories. Samsung has been offering exclusive companions since the Galaxy S III - whether it's cases, docking stations, wireless chargers, VR headsets, or even some premium headphones - there is always something to consider for your new Galaxy S phone. And the Galaxy S8 and S8+ are no exceptions. Samsung will be selling quite a few cases, a compatible Gear VR, a new wireless charger, and a very interesting DeX station that turns the Galaxy S8/S8+ into a mighty desktop computers. So, let's start with that, shall we?
Samsung DeX Station
Do you remember the Microsoft Display Dock for the Lumia 950 series? It's a rather compact dock for easy monitor, keyboard and mouse connection and it offered desktop Windows experience. Now Samsung has the same thing, but thanks to the new Galaxy S8 hardware it should provide a better experience with the desktop Android OS.
The DeX Station itself is nothing special - it's a dock, all right, with USB Type-C for charging, an HDMI port, an Ethernet port, and two USB ports. Upon connection to the DeX you'll be greeted by your wide lockscreen and you can bypass it with face recognition security - there is no need to input your PIN code or password.
The desktop interpretation of Android looks a lot like Windows 10 and works pretty much the same way. Samsung has worked with Microsoft and Adobe for app optimizations, so you can expect Windows 10-like experience with MS Office and Adobe Lightroom, among other apps, on the DeX mode.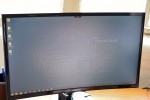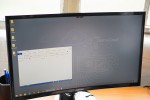 A Remote Connection to Windows PC
Samsung also demonstrated a remote connection to a Windows PC, which worked flawlessly, at least in the demo we saw. It seemed Microsoft and Samsung put some work into this and it may actually pay out very well in the future.
Samsung Gear 360
There is a new Gear 360 camera, which is much smaller than the old orb-like model. It supports 4K capturing, 1080p streaming, and 720p 360-degree video streaming via the Galaxy S8/S8+. The HD VR streaming is done with the help of the Galaxy S8's powerful processor, which stiches the picture from the two sensors together.
Samsung wanted you to have an actual stand with your Gear 360, but one that not stands in the way of pocketability - that's in case you are wondering about the new design.
The new VR camera indeed looks better and is much smaller. The bottom is grippy and should allow for the Gear 360 to stand finally and secure on any surface.
Samsung Gear VR
You bet there is a new Gear VR model with the new Galaxy S8. It has backward compatibility all the way back to the Galaxy S6, so it comes with two holders. The headset itself looks a lot like the previous models and has touch controls on its side.
The bundled controller is new, although not entirely as it was already announced at the MWC. It's basically a smaller model of the Oculus controllers minus the grip. There are the keys for navigation, a touch-enabled surface, and even the triggers. Samsung consider this addition as an essential part of the VR experience, which was missing from its older bundles.
Indeed, the new Gear VR suits the Galaxy S8 well and is very comfy. The controller is welcome, of course, and it would be great if Samsung gave those as freebies with the pre-orders, wouldn't it?
Samsung Galaxy S8 cases
LED View Cover - the nicely looking LED covers are returning with the Galaxy S8 and S8+ in a variety of colors.
The flip wallets are back, too.
There are the traditional transparent Clear Covers, as well.


The clear covers are on the right
You can also choose from colorful lineup of back soft back covers, very pleasant on touch. Those seem to be replacing the leather covers.
There are regular plastic covers with rubber finish, too.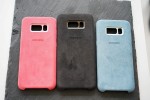 The new cases to replace the leather ones • there is plenty of them • regular cases
The keyboard covers are back. If you want to have a physical keyboard, because sometimes usability is more important than looks, you can have it on both the S8 and S8+.
And finally, there is the brand new 2Piece Covers for the S8 and S8+. If you opt for one, you'd be getting a top and bottom plastic pieces to snap on your phone painted in different colors. We find those odd, if not borderline grotesque. Maybe they will appeal to the younger generation, who knows.
Samsung Battery Pack
Finally, Samsung introduced a refresh of its portable battery with 5,100 mAh capacity. It is capable of fast charging and may turn as a great companion to your Galaxy.
Samsung Wireless Charger
And here is the latest Samsung Wireless Charger with fast charging.