Samsung at MWC 2017
MWC 2017: Samsung Galaxy Tab S3 hands-on
Display
In keeping with tradition, Samsung has equipped the Tab S3 with one of its gorgeous Super AMOLED panels. Since the tablet does use a 9.7 diagonal, just like its Tab S2 predecessor and the same 1536 x 2048 pixel resolution, it might actually borrow the same panel. If not that, a slightly improved version. The resolution and size math adds up to a 264pp pixel density, which might be a far cry from smartphone numbers, but is still enough for a perfectly sharp and crisp image.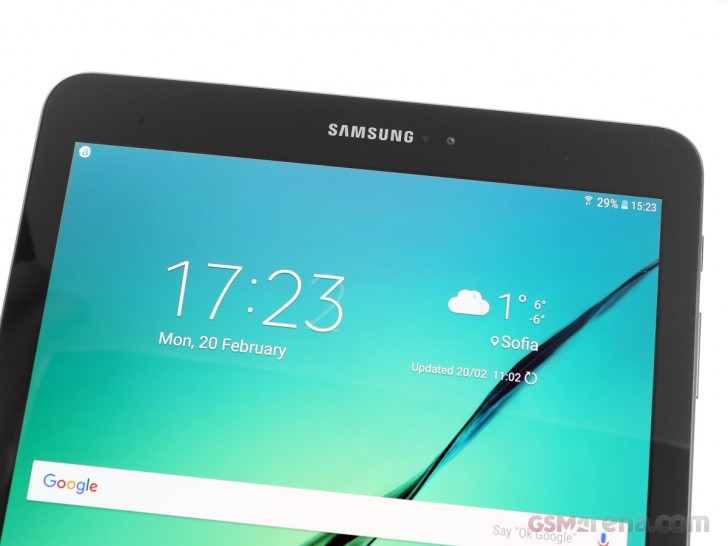 The panel is quite bright, considering its 9.7-inch diagonal and was able to climb all the way up to 439 nits in max auto mode. As for the normal setting, that maxes out at a still quite respectable 338 nits. Overall, the Tab S3 remains perfectly usable outdoors. OLED technology also makes for effectively infinite contrast.
As far as color accuracy and reproduction goes, Samsung has stuck with its traditional overblown colors approach, which does, admittedly, make AMOLED look more appealing to look at. In the default Adaptive color mode the max deltaE measures at a whopping 16.5, making for some really out-there reds. The average delta in this mode comes in at 8.6, so, most other colors are overblown as well.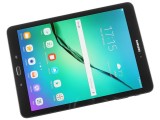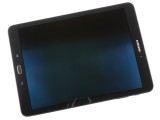 The large 9.7-inch panel looks gorgeous
Basic mode does offer better color accuracy, but the panel never really gets within calibrated territory. The max deltaE in this case is 8 and is detected in green colors. Some of the brown hues are affected as well. Most other colors exhibit a deltaE of around 4.
In is also worth noting that the panel offers support for 10-bit HDR. Compatible content does look stunning, with true-to-life colors and overall improvements to contrast and shadows and highlights reproduction. Finding HDR content is also becoming easier, with Amazon standing out as a great source.
Battery
As previously mentioned, one of the Tab S3's accomplishments is succeeding in cramming a bigger, yet lighter battery than its predecessor. Again, this does come at the price of a few mm of extra thickness, but we would take that trade-off any day for a 6,000 mAh pack, over a 5870 mAh one.
This is yet another area, in which we have to take the pre-production nature of our test unit and not disclose any specific numbers. Once the software gets finalized, we will revisit the matter.
Accessories: S Pen and Keyboard case
The S Pen is one of the most coveted aspects on the Galaxy Note line and for good reason. The little stylus accessory just offers an immense improvement to various precision tasks on screen. From editing, to marking, cropping, even signing documents on the flow. There is also a creative side to the S Pen, for the more artistic among us and throughout the years, Samsung has built and implemented a rich software package to take advantage of unique hovering feature.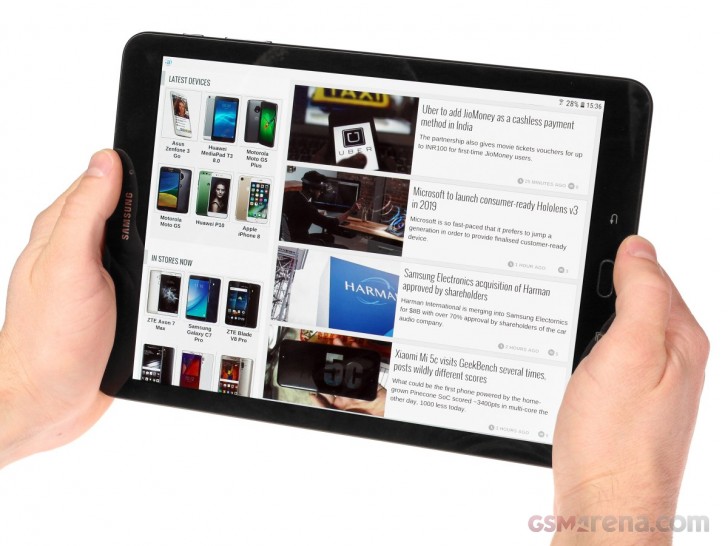 Being able to leverage all that on a sizeable 9.7-inch display is just great. As far as the S Pen itself goes, its design is quite the departure from what we are used to seeing on Note handsets. To put it simply, it is a lot beefier - both wider and longer. Apparently, Samsung decided to go for something more similar to the Apple Pencil or Surface Pen than its usual, slim and easily portable design.
The plus side is that this way the stylus does appear better sized and more functional, overall. It comes a lot closer to a pen in every way, even down to the clip holder, which improved handling and precision. We also appreciate the rubberized soft-touch finish.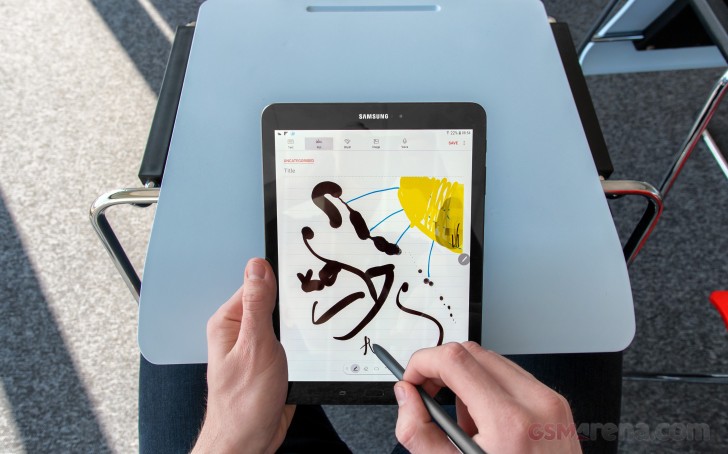 As for the technology inside the S Pen, Samsung hasn't really changed anything major. This is further reinforced by the fact that you can use a Galaxy Note5 or even Note 4 stylus with the Tab S3 and vice versa. The button remains perfectly functional and so does the hover tracking. The new tip is now thinner at 0.7mm for extra precision.
Any perceivable improvements to actual S Pen input, and there are some to note on the Tab S3, stem from the better digitizer and improved software on the device itself. Doodling on the big screen makes it really easy to notice stuff like acceleration and pressure detection. Both of which work great. Samsung boasts detection for 4096 pressure levels.
Besides the S Pen, there is also a keyboard accessory to round-off the Tab S3 as a truly versatile productivity tool. Circling back to the TabPro S comparison, Samsung has stuck with mostly the same magnetic and pogo pin attachment and communication mechanism. The keyboard itself is passive and draws power from the tablet.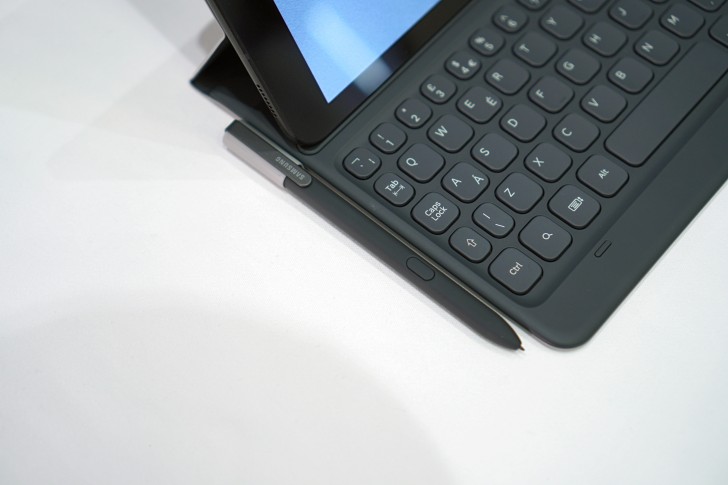 The key layout is pretty similar as well, except for the absence of a trackpad. This is quite understandable, since using mouse input on Android is a rather uncommon practice. Plus, the S Pen does offer a great alternative. Still, mouse support has been a part of the Android core for quite some time now and it works pretty well. Samsung could have thrown that in as well.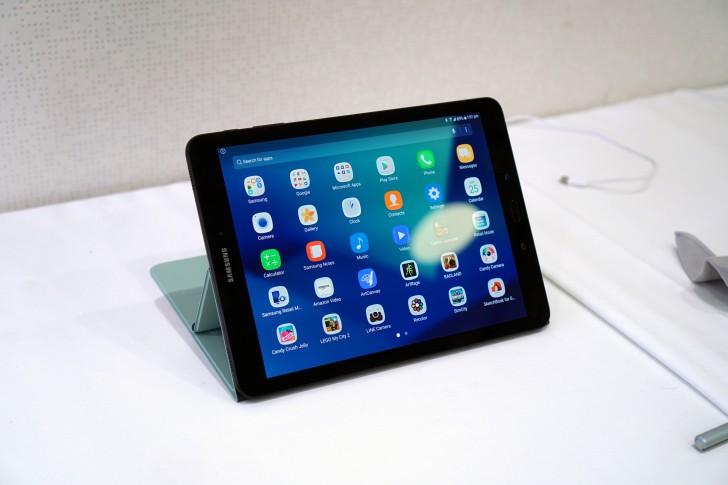 But, there is also a practicality point to be made here. Even with its 9.7-inch diagonal, the Tab S3 leaves limited surface area to work with for a keyboard that also doubles as a case, when flipped over, as well as a convenient stand, for that matter. A trackpad would have taken up a lot of space and by electing to leave it out, Samsung has managed to incorporate quite a bit of spacing between the keys, something the TabPro S keyboard lacks. Combined with a decent amount of key travel and a good tactile feedback, this make for a really pleasant typing experience on the Tab S3 keyboard.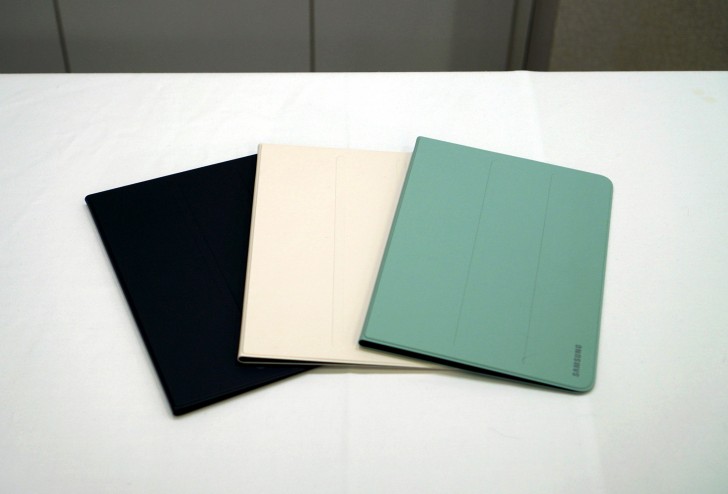 Unlike the S Pen, the keyboard cover will be sold separately. However, we do recommend picking one up, as it really transforms the Tab S3 from simply a powerful tablet to a powerful and convenient 2-in-1. Plus, it has a little lanyard on the side to hold your S Pen. The two were simply meant to work together.