Samsung at IFA 2015
Samsung Gear S2 and S2 classic hands-on: Samsung at IFA 2015
Introduction
Samsung's freshly announced Gear S2 smartwatch has piqued our interest ever since we caught a first glimpse of its circular display and sleek UI several months ago. The Tizen OS wearable device made made a brief cameo at the Samsung Galaxy Note5 launch event last month, followed by its official debut a couple of days ago.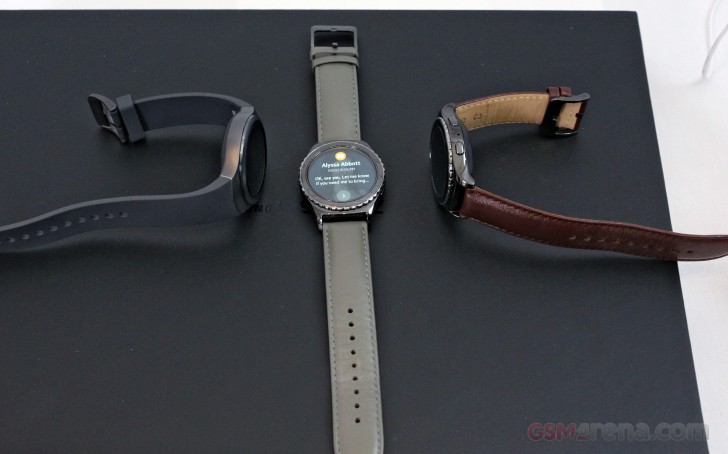 Available in classic and sportier guise, Samsung Gear S2 is a massive improvement over last year's Samsung Gear S in terms of design and functionality. With a fully circular Super AMOLED display and rotating bezel that controls a sleek new UI, the newcomer carries an aura of desirability which none of its predecessors possessed.
Samsung Gear S2 lineup at a glance
1.2" circular Super AMOLED display with 360 x 360 pixels; 302ppi
1GHz dual-core CPU; Qualcomm Snapdragon 400 chipset
512MB of RAM; 4GB of built-in memory
Wi-Fi: 802.11 b/g/n; Bluetooth 4.1; NFC (with support for Samsung Pay)
Optional 3G network connectivity and e-SIM support (Gear S2 3G)
250mAh battery (Gear S2 and Gear S2 classic); 300mAh battery (Gear S2 3G)
Built-in heart rate sensor with S Health support
Built-in accelerometer, ambient light sensor, gyroscope, vibration/haptic engine
Standard 20mm leather band (Gear S2 classic); swappable band with proprietary connector (Gear S2 and Gear S2 3G)
Stainless steel body with IP68 rating for water and dust resistance (all variants)
Rotating bezel for navigating through the Tizen OS user interface
Compatible with all Android devices with Android 4.4 and up and more than 1.56GB of RAM
In a manner typical for a high-end Samsung device, the 1.2" circular Super AMOLED unit in the Gear S2 family promises one of the best screens in its segment. The Snapdragon 400 chipset on the other hand, promises smooth performance - it is an established smartwatch industry standard by now.
In charge of navigating the sleek Tizen UI, the rotating bezel of the Gear S2 is an innovative and convenient solution. At 2-3 days, the quoted battery life of the device of the non-3G version looks impressive too.
Most importantly, the Gear S2 smartwatch, unlike past Gear iterations, is now available to Android devices other than Samsung. This step by the Korean manufacturer promises to make its latest and greatest wearable more successful than any of its predecessors.
N
In the video at 1.20 the watch lags
D
Seriously considering buying this thing. But... next year lol
D
I'm already the proud owner of a steel/sapphire Apple Watch, but this new Samsung looks like a worthy contender. Since the S6 phones, Samsung's design department have been really going for it. Only caveat with the Gear S2 is apps on Tizen. Maybe the ...