The keypad is expressive but usability suffers
The keypad of Samsung i450 is decent but we have certainly seen a few better than it. Its keys are large enough and even the first row is easily accessible without the front panel getting in the way. On the other hand, the keys have very small edges and it's quite difficult to tell where one ends and the other starts, which is quite a disadvantage as we see it.
Typing without looking at the keypad is a hard one though enough practice could produce better results. At least the keys are large enough and therefore harder to miss.





The keypad of Samsung i450 - larger borders between the keys would have been appreciated, they surely look good now though
Still we would have preferred it for the keys to have a terraced layout or at least easier discernable borders. Nonetheless, the keypad is good enough in most cases so users probably won't share our view entirely.
The backlighting is also strong enough, so you should expect no problems with this handset in darker environments. Plus, the even white color is pleasing to the eye and boosts user-friendliness.





The backlighting is strong and even
The display is not much of a treat
Samsung i450 is equipped with a 2.4" 256K color display with QVGA resolution. It has good picture quality and made a decent impression overall.
We personally preferred the display of Samsung U600 in terms of brightness and contrast but this one isn't too far behind. It is large enough and the resolution is adequate to make display quality above average.


We've seen better displays by Samsung
On a different note, sunlight legibility isn't among its strong sides and in a sunny day you will have some difficulties finding a proper angle for working with the phone. It is not as bad as the case of Samsung G800, where the glossy surface makes it practically unreadable in strong sunlight, but we can easily think of a few dozens of handsets that perform a whole lot better in this aspect. So a winning point goes to Nokia when it comes to the display department.
Ringing loud
First things first - a phone must be good at making and receiving calls. After all listening, to music is nice but is not the reason why you buy a mobile phone. Luckily, with Samsung i450 signal reception is on the familiar high level. Sound during calls is crystal clear, with no interferences.
The Samsung i450 is not among the loudest handsets we've reviewed, however you probably won't miss a call with it, as its maximum loudspeaker volume level puts it among the better half of the recent mobiles we've laid our hands on.
Here is how the handset ranks among some of the other handsets we've measured in our speakerphone loudness test. You can find more information about the test itself here.
| | | | | |
| --- | --- | --- | --- | --- |
| Speakerphone test | Voice, dB | Pink noise/ Music, dB | Ringing phone, dB | Overal score |
| Samsung i450 | 70.7 | 72.7 | 75.5 | Good |
| Nokia N81 | 68.8 | 67.8 | 75.7 | Good |
| Sony Ericsson W910 | 77.5 | 70.7 | 82.7 | Excellent |
| Sony Ericsson W960 | 72.3 | 73.5 | 76.7 | Very good |
The S60 user interfaces is dressed in black
Samsung i450 is running on Symbian 9.2 OS and uses the well known S60 3rd edition graphic user interface. The improved Feature Pack 1 also comes pre-installed. You won't come across Symbian OS in Samsung mobile phones that often, so naturally we were quite curious how it works out with the i450.
As it turns out, the result is quite good - the phone is really snappy. The icons are also quite nice, or at least seem to us a tad better than the set in Nokia smartphones on the same platform. On a second thought, this may just seem so because we are getting increasingly bored with Nokia's ones and this may just be different rather than better.
As a Symbian device, Samsung i450 naturally features an active stand-by mode. You have a bar of shortcut icons for instant access to pre-selected functions at the top of the display, and scheduled events from the calendar together with the currently playing track or radio station (if there is any) underneath.
When choosing items for the Active Standby, you can choose any application or even a website. The functionality of the two soft keys is configurable too. The nice innovation here is the added line for Google search. This allows initiating searches on the world's larges engine at the expense of only a few clicks.
The phone has 5 profiles plus an offline mode that switches off all transceivers. It is also the default profile if you start the handset without a SIM card. The offline mode allows full access to the functions of the phone that do not require cellular network coverage. The other profiles can easily be edited to best suite your needs.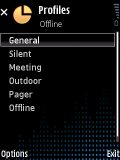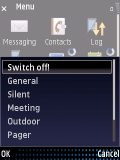 5 profiles, plus an offline mode, available with Samsung i450
| | |
| --- | --- |
| "...The Samsung i450 is not among the loudest handsets we've reviewed, however you probably won't miss a call with it, as its maximum loudspeaker volume level puts it among the better half of the recent mobiles we've laid our hands on..." | ADVERTISEMENTS |
As with any S60 smartphone, the task manager pops up upon a longer press on the Menu key. It allows switching between applications or turning off any running application by pressing the clear key. The two most popular menu views are also found here. Whether the icons will appear as a grid or as a list is completely up to the user.
As with all recent Symbian smartphones, there is also a voice recognition feature. It's used for both starting applications and dialing contacts. It is not speaker dependant, and doesn't require pre-recording of your commands. Voice recognition on Samsung i450 is OK with most of the commands, but still short of Nokia N95, which can recognize basically any name from your phonebook. Still, there is a chance that this will change with the retail version.