The camera is somewhat disappointing
Samsung i450 is armed with a 2 megapixel camera with fixed focus and LED flash. Those surely aren't features to brag about and we're quite positive that the camera is the most disappointing piece of hardware in the phone. However, saying that without putting it to a test is by no means fair to this handset.
The camera interface is not that user-friendly and it offers a moderate number of features. White balance and effects are included and so are flash settings and self-timer. There are also three image quality options - basic, normal and high and that completes the list of options worth mentioning.
The camera itself is also inadequate. It has no lens cover and is only a little recessed to protect it from scratches. Moreover, the red metal frame around the camera lens doesn't go too well with the phone's design and somewhat spoils the looks of the back cover. The comfortable dedicated camera button is the only beam of sunlight in the camera performance.
Photo quality is average; in favorable weather pretty nice images can be produced. The noise levels are high in uniform areas with no detail like the sky for example. Given the absence of autofocus, you'd rather not take a picture of a closely situated objects or text, as they will surely be blurred. Text can only be legible if captured from a distance.
The camera can also capture video in CIF resolution, which is not the best in the business but is a decent achievement. At least the length is only limited by the free memory. Still you probably won't end up too happy with the videos you shoot with your Samsung i450.
"No Wi-Fi" sounds like a deal-breaker
Regarding connectivity, Samsung i450 surely isn't the most tempting offer around. USB connectivity is the main focus here, and it is truly seamless. You can either pick a default mode or the device can prompt selecting it upon each connection. Moreover, Mass storage is available, allowing your phone's memory card to be directly accessed from a computer.
As we already mentioned the Bluetooth version is 2.0 and it supports the A2DP profile, which allows stereo wireless connection. No WLAN or infrared port are to be found on i450 but we really miss the first much more. The network capabilities for data transfer include GPRS and EDGE, both Class 10. 3G support with HSDPA is some consolation and allows us to rate the connectivity performance of Samsung i450 as passable.
The browser we know and appreciate
We have very good impressions of Symbian smartphone web browsers. We were quite curious if Samsung i450 will also live up to the high expectations. Luckily it was completely up to the task and really won our appreciation.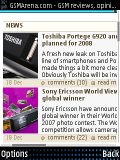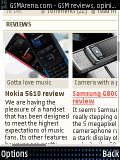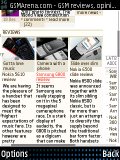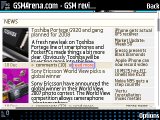 The web browser is very good indeed
Browsing the internet with the handset is a pleasure. No matter how elaborate the web page, it fits perfectly on the screen and looks almost exactly like on a PC. The virtual mouse cursor takes browsing another level up. It is easy to control and generally works great. A mini-map can be activated to help navigating your way around large sites where lots of scrolling is required. The zoom level is also adjustable at the expense of only a few key presses.
Putting things in order with the organizer
The calendar in Samsung i450 has three different types of view - monthly, weekly and daily, and four types of events available for scheduling - Meeting, Memo, Anniversary and To-do. Every event has its own unique fields, some of which allow an alarm to be activated at a preset time to act as a reminder.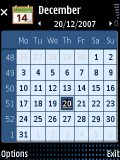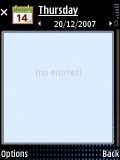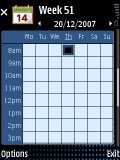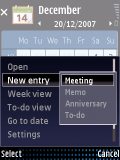 Different calendar views and events available
The mobile office is also very well presented, with preinstalled applications able to open Word and Excel files seamlessly. Unluckily, editing documents is not supported by the included version of the Quickoffice. If you would like to add editing capabilities, you'll have to buy the full package. A PDF reader is also included in the office set - read-only of course.
The other included organizing and time-management applications are: a great unit converter, calculator and voice recorder, as well as a Notes application. We are not going to get into any further explanation about them, as their functionality and performance are familiar enough from Nokia reviews.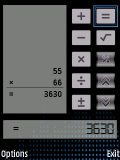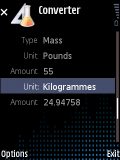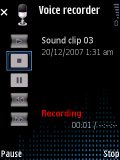 Other organizer applications: calculator, converter, and voice recorder
No games were to be found on our unit of Samsung i450 but this may not hold true for the final retail version.of the model. Besides, there is a huge number of games for the Symbian phones all over the internet.
Final words
Summarizing our impressions we have to start with the fact that Samsung i450 is really a handset that's fun to use. It may not be the most feature-packed mobile around but the list of missing goodies isn't long either. Plus, it includes the unique touch wheel key, which no one else has.
A bit of a let-down was the audio quality, which was not at the usually great Samsung level. We also missed the Wi-Fi functionality. The mediocre camera was a huge disappointment since Samsung already has a nice tradition at producing above-the-average camera modules and cameraphones.
| | |
| --- | --- |
| "...Overall Samsung i450's market success greatly depends on its retail price, as there is a tough competitor in the face of Nokia N81. They look a lot alike, they feel alike, and the Nokia has the soon-to-be-born N-gage gaming..." | ADVERTISEMENTS |
Overall Samsung i450's market success greatly depends on its retail price, as there is a tough competitor in the face of Nokia N81. They look a lot alike, they feel alike, and the Nokia has the soon-to-be-born N-gage gaming. The dual slide design also gets a serious opponent in the face of the Nokia N81 touch sensitive Navi wheel. The Nokia N81 will also score some points due to the Wi-Fi support and the better display.
That is unless the Samsung i450 is priced right of course. The stake is the hearts of music smartphone lovers, and Samsung has yet to defend its place in these improvised Symbian Olympic games that Nokia rules for quite some time.