Samsung at IFA 2014
IFA 2014: Samsung Galaxy Note 4, Note Edge, Gear VR and Gear S hands-on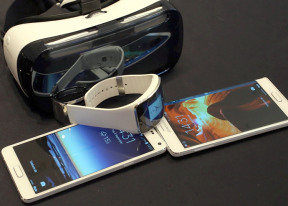 Introduction
Samsung was clearly busy getting a bunch of gadgets ready for primetime at this year's IFA expo. The UNPACKED event delivered the long-rumored Samsung Galaxy Note 4, but the the cameo appearances were equally compelling. The Koreans managed to surprise everyone with a brand new Galaxy Edge, the Gear VR goggles were unveiled as well, and we saw the Gear S in action. Quite an eventful press conference indeed.
The Samsung Galaxy Note 4 boasts a 5.7" QHD Super AMOLED screen, a Snapdragon 805 chipset, a 16MP OIS rear camera, metal framing, leather-like rear finish, new S-Pen features, among others. Sounds like an impressive upgrade but Samsung didn't stop there.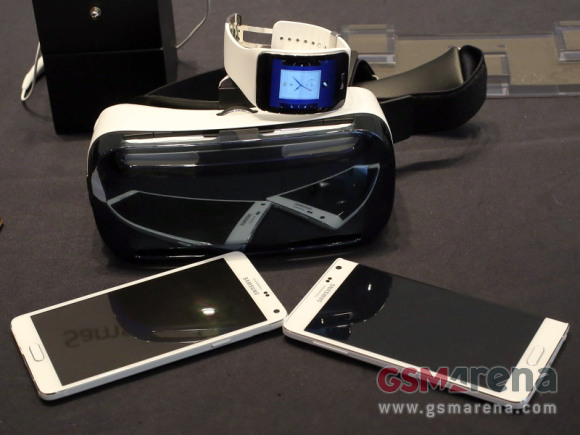 Samsung has finally utilized the arched display we'd been catching rumors of for months. This is the highlight of the brand new Galaxy Note Edge. It has the same specs as the Note 4, but its display continues bending on the right side of the phone with additional 160px. This should make the Note Edge the smartphone with the highest resolution screen to date.
The Gear VR kit, based on the Oculus technology, presents an entirely new way for you to use your smartphone. Just pair with your Note 4 (it's the only compatible device for now) and enter the VR world, armed with a touchpad, keys and sensors for making your way around. We'll get into the details shortly.
Finally, we tried the Gear S smartwatch. It has exchangeable straps and clasps, works as an independent device, but can as well be paired with another Galaxy and become a helpful companion.
The Samsung IFA presentation was a must-see but we hope it has only set the bar for others to beat. No more teasing though, let's get hands-on with the newcomers.
D
Wooow! Never seen anyone that types with a stutter! LMFAO
A
Looks great!But there are two flaws for me: Battery endurance - should expect something much better & No radio. I can live without radio, but I will wait for the next version of Edge - even Note 3 & 4 come with a higher capacity battery...
?
So good phone for note4