Trimmed down user interface
The Samsung L700 interface has the typical Samsung styling - the default menu scheme is colorful icons on white background. The transition effects seen on more high-end models lack on the L700, but the menu response is admirably fast.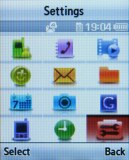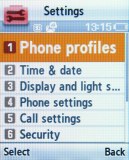 The colorful Main Menu • a listed sub-menu
Besides the transition effects, the other thing lacking is menu themes - there are none whatsoever, nor can any be added. The only thing that yields to user customization is the Home screen, which can either be the dynamic uGo variety or custom static wallpaper.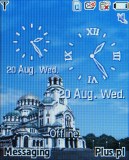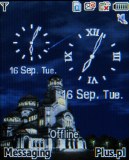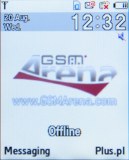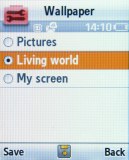 Living world (formerly uGo) with two clocks - it changes the scene with the fall of night • a custom wallpaper • home screen setup
Phonebook is straight to the point
The phonebook of Samsung L700 stores up to 1000 contacts with multiple fields. When viewing contacts, you can opt between displaying phone memory, SIM memory or both. Other than that, 21 fields of information are available for each contact including eight number fields.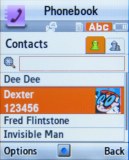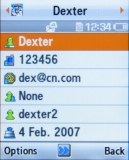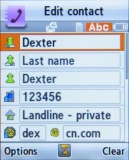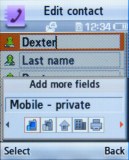 Phonebook: contact list • editing a contact • adding custom fields
Dialing is extra easy
Signal reception with the Samsung L700 phone was excellent. A nice nifty feature that we see in all Samsung phones recently is the Smart dialing. When you punch in some digits the handset automatically fetches not only the contacts whose phone numbers have them, but also contacts whose names match the key input (much like T9 but for dialing). Effectively, that means that you may never need to dig in your contact list to find a contact to dial.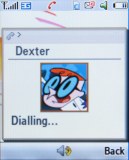 Smart search at work • dialing Dexter
True to its Samsung nature, the L700 also offers several dialing animations, which are cool in a way, even if a bit childish.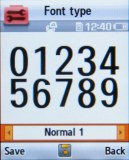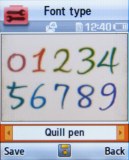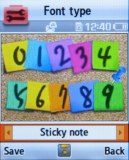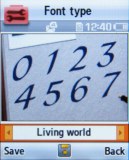 The various dialing animations
Here is how the Samsung L700 stacks up against some of the other handsets we've measured in our speakerphone loudness test. L700 is a very good performer - it misses the Excellent score by a slim margin so it's unlikely that you miss calls even in noisy streets. You can find more info about our loudspeaker test, as well as the results of all other tested devices here.
| | | | | |
| --- | --- | --- | --- | --- |
| Speakerphone test | Voice, dB | Pink noise/ Music, dB | Ringing phone, dB | Overall score |
| Nokia E51 | 67.0 | 66.7 | 71.2 | Average |
| Sasung U800 Soul b | 65.9 | 65.9 | 75.8 | Average |
| Sony Ericsson K770 | 68.7 | 68.8 | 76.2 | Good |
| Nokia 3120 classic | 69.6 | 69.5 | 71.3 | Good |
| Samsung L700 | 77.9 | 70.0 | 77.0 | Very Good |
| Sony Ericsson G502 | 77.7 | 75.7 | 74.8 | Excellent |
Messaging is cool
Samsung L700 can handle SMS, MMS, and email. L700 will store up to 500 SMS messages, while MMS and email are limited only by the available memory. Naturally, a T9 dictionary is at hand, and it does its job quickly and intuitively. Incoming messages, like calls, can be blocked based on a user-defined black list.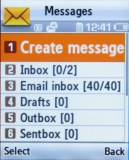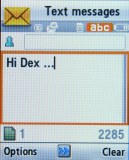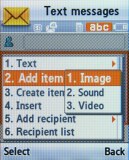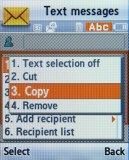 Messaging menu • typing a message • inserting attachments • copy and paste are available too
The email client is relatively good and it even supports SSL, so it works flawlessly with providers that require it - like Gmail, for example.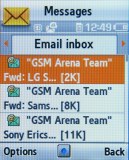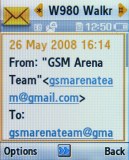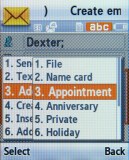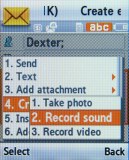 Email inbox • reading an email • adding various content to an email