Image quality is good
Samsung L700 is equipped with a 2 megapixel camera with a maximum image resolution of 1600 x 1200 pixels. There's also a LED flash. Auto focus is not part of the game.
The camera interface is intuitive and follows the current trend of displaying settings with icons in a toolbar at the bottom of the screen, while options appear as semi-transparent popup menus. The settings of the L700 camera are a bit trimmed down and include picture size, shooting mode (single, multi-shot, mosaic shot), color effects (black and white, negative, sepia), white balance.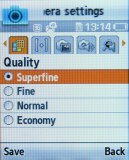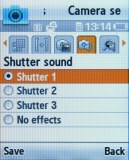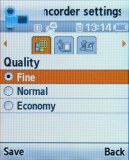 Some of the additional camera settings
As far as image quality is concerned we are pleasantly surprised. The color rendering is fine, the detail is on a nice level, with even edge-to-edge sharpness. Usually there are some traces of noise suppression in the shadows but those are negligible. If it wasn't for the visible sharpening artifacts, we would have called the L700 an excellent performer. Still it's a good one nonetheless.
Here are some camera samples produced by the 2 megapixel camera of Samsung L700:
Samsung L700 shoots video in the so-called Camcorder mode. The user interface of the camcorder doesn't differ from the one of the still camera except for some of the available options.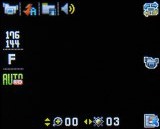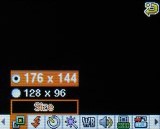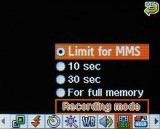 Camcorder viewfinder • camcorder settings on a toolbar
Samsung L700 captures video in QCIF resolution (176 x 144 pixels) at 15fps and clips are recorded in 3GP format. That effectively means they are only good for MMS messaging.
Web browser is a disappointment
With Samsung L700 you can count on EDGE and UMTS for browsing internet on the go. Unfortunately, the handset has a rather trimmed down version of the NetFront 3.4 web browser. There's no mouse pointer and there's no desktop-like scrolling and panning - the cursor just jumps from one hyperlink to the next.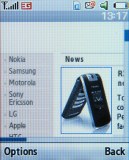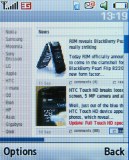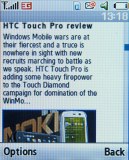 Browsing GSMArena.com on the L700 is not great fun
The Find On Page is also missing, there's no fullscreen mode and no mini-map and you can't rotate the screen to landscape view. Other than that it renders complex pages correctly and jumping around the links is really fast even before the page has fully loaded.
Clean-cut organizer plus Google on board
The Samsung L700 calendar offers three views - daily, weekly and monthly. As usual, there are five types of events available: appointment, anniversary, holiday, important, and private. Alarm slots are also five, each with a variety of configurable options - snooze time, repetition, etc. You can of course choose a custom ringtone to wake you up at a preset volume level or you can use the FM radio for that purpose.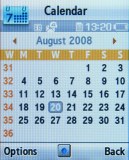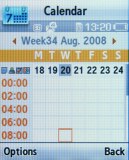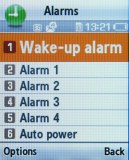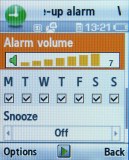 Calendar: monthly view and weekly view • Alarms: 5 slots and some of the available options
Some of the other offerings are a voice memo recorder, a world time application, a calculator, and a unit converter. A countdown timer and a stopwatch are also available.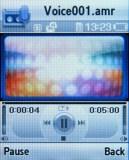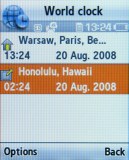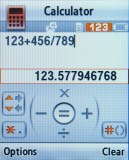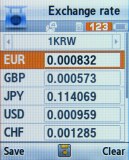 Recording a voice note • the simple world clock • calculator • unit converter
Among the available applications you will also find a Google package, which grants direct access to Google Search and Gmail. In practice these items are not real applications, but just links that open up in the web browser. There is also a RSS feed reader on board the Samsung L700.
Samsung L700 also features an office-document viewer along the lines of most Samsung handsets out there.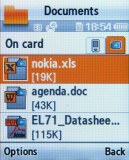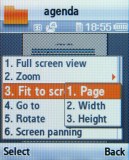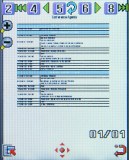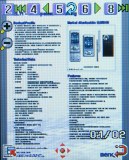 File manager • viewer options • opening a word and acrobat PDF document
Games are yet to be seen
Rather unusual for Samsung, there were no games preinstalled on the Samsung L700 - not even trial ones. We guess that has to do something with our unit being a pre-release one. Our fair guess is that you should expect at least several titles in the final retail unit.
Final words
Samsung L700 is a nice attempt to bring more style to the lower midrange market. Brushed metal finish and 3G are all it takes to get noticed in this segment. That said, the metal gear will come in handy, as the L700 will have some heavy competition blows to ward off.
Typical for the price bracket, strong assets are offset against some annoying shortcomings. The Samsung L700 trimmed down user interface does the solid and classy exterior no justice. It lacks customization options and has a poor picture gallery, which takes away some from the capable 2 megapixel shooter. The underperforming web browser fails to take full advantage of 3G data speed. There's a really good music player but audio quality is a letdown.
Still the Samsung L700 sports Smart dialing, ShoZu and Google integration, and an office document viewer that might be enough to set it apart. Using it as a Bluetooth 3G modem for your notebook is also an option, so not all is lost in the web department.
In the end it's a matter of priorities and above all - pricing. Anyway, the L700 seems a viable alternative to most handsets in the target segment of 100-150 euro, but another unfortunate trade off can't go unnoticed. Samsung L700 looks above its class, but performs below its looks.