File manager and dummy picture gallery
The Samsung L700 file browser is pretty much standard for Samsung handsets. There are 40MB of inbuilt memory at your disposal. And of course, you can always top that thanks to the memory card slot, which supports cards with a capacity of up to 8GB. We checked that ourselves: 8GB cards have a green light on L700.
The file manager has preconfigured folders for different types of files - images, video, music, sounds, which allow the handset to sort the memory contents. You can copy or move files freely and you can create and delete folders.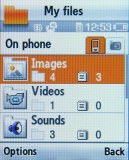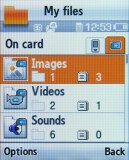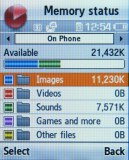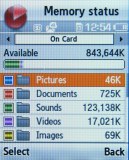 The file browser: switching between phone and memory card is easy • detailed memory status
The picture gallery is an inherent part of the file manager and not a separate application. Accessing it is as simple as opening the Images folder.
And again, you can sort files by date, type, name, and size. Unfortunately, you can view pictures only in portrait mode and there's no fullscreen view option. Otherwise zooming in on images is possible and it's not even too slow.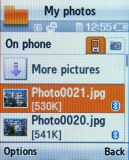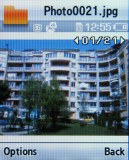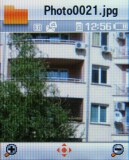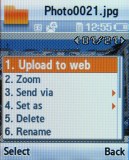 Image list • viewing an image: no fullscreen view • zooming in • you can upload images directly to ShoZu
The Samsung L700 has ShoZu integration, meaning you can upload images and videos directly to ShoZu straight from the file manager.
Music player is worth it
Samsung handsets usually excel in music player capabilities (and audio quality too, we should add). The L700 music player offers various track sorting filters such as artist, album, genre, composer, and recents. There's also a podcast section in the music player menu. You can create your own playlists of course. The music player also makes use of album art.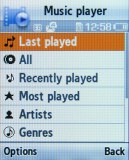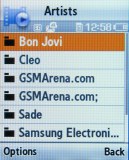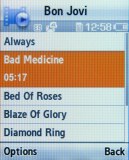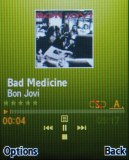 Filtering music • choosing a track • music player has Album Art support
The music player can be minimized to play in the background, while the current track shows up on the standby screen. You can control the music player straight on the Home screen using your D-pad.
Samsung L700 is complete with an FM radio with RDS. The radio can run in the background. Additionally you can set a radio program as a wakeup alarm. And finally, there's an option to set a reminder for a broadcast that you don't won't to miss.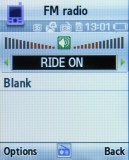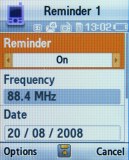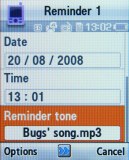 FM radio playing: RDS is available • setting up a broadcast reminder
The L700 video player is a bit disappointing as it didn't play MPEG4 files. We guess it might be a pre-release issue, we are yet to see. Other than that you can fast-forward or rewind videos, and you can watch them fullscreen in landscape mode.
Samsung have made a name for themselves for the commendable audio quality of their handsets, which unfortunately, the Samsung L700 is trying to ruin. It has poor audio quality readings in almost every aspect. However, none of them are too disturbing so if you aren't much of a melomaniac it might not bother you too much. Anyway, the results are here for you to see and draw the conclusions. In case you want to learn more about our test, click here.
| | | | | | | |
| --- | --- | --- | --- | --- | --- | --- |
| Test | Frequency response | Noise level | Dynamic range | THD | IMD + Noise | Stereo crosstalk |
| Samsung L700 | +0.32, -1.91 | -78.0 | 77.2 | 0.019 | 0.131 | -74.0 |
| Nokia 3120 classic | +0.65, -0.86 | -76.6 | 79.0 | 0.018 | 0.439 | -73.9 |
| Samsung E250 | +0.28, -1.92 | -89.7 | 89.4 | 0.0027 | 0.043 | -87.9 |
| Samsung U600 | +0.41, -1.12 | -89.2 | 86.5 | 0.0040 | 0.019 | -86.9 |
| LG KS360 | +0.49, -1.20 | -82.3 | 82.4 | 0.019 | 0.146 | -76.8 |
| Apple iPhone | +0.34, -1.16 | -90.8 | 91.3 | 0.0050 | 0.016 | -91.4 |
| Sony Ericsson K770 | +0.21, -1.04 | -85.7 | 88.8 | 0.014 | 0.030 | -84.8 |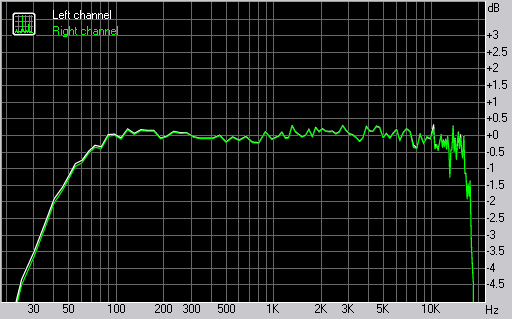 Samsung L700 classic frequency response graph