Samsung reassuring Galaxy S7 users that their phone isn't affected, not being recalled
Unless you have been living under a rock for the past couple of days, you probably know that Samsung has permanently discontinued the Galaxy Note7 smartphone. Users are being urged to either get their unit exchanged for another device or obtain a refund.
While it's amply clear that only Galaxy Note7 has been recalled by Samsung, the company, it looks like, is going an extra mile to make sure that users of its other recent flagship devices know that their unit isn't affected.
Specifically, some Galaxy S7 users have reported that they've received a push message from Samsung reassuring them that their unit is safe and not subject to recall.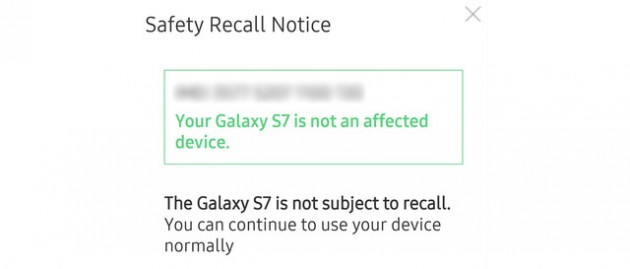 This isn't entirely surprising given that the South Korean company is now relying on the Galaxy S7 to make up for the profit losses caused by the Note7 fiasco. It isn't yet known whether or not Galaxy S7 edge users are also getting the same message, but it'd be reasonable to presume so.
A
I have noticed my S7 will not hold a charge. Yesterday would not function at all phone was extremely hot to the touch I shut it down numerous times. My son had a football banquet which my phone would not let me open any apps so I lost a lot of memori...
M
My S7 gets very hot after half hour use. This never happened with my previous phones. Thanks
D
my samsung galaxy s7 burned my finger n cord to charger, then burnt my daughters finger n her charger cord... it was not the note nor egde...had i been charging it at bedtime, it would have caught my bedroom on fire, it happened at work thank god cu ...