Hands-on video and S Beam demo
We also managed to capture a couple of videos of the Samsung I9300 Galaxy S II in action. Here comes the first of those, showing the refreshed TouchWiz launcher, running on top of Android 4.0.4 Ice Cream Sandwich. Even though the its firmware isn't finalized yet, the smartphone feels impressively smooth.
The second clip shows how easy it is to share files between NFC-enabled droids, using the S Beam feature. The transfer speeds were pretty decent as well at about 1.4MBps.
And one more clip that gives a better look at the new homescreen, the camera UI and a quick tour around the phone.
720p PenTile Super AMOLED display
One of the big mysteries ahead of the Samsung Galaxy S III announcement was about its screen – will Samsung use a SuperAMOLED HD display similar to the one on the Galaxy Nexus or go the SuperAMOLED Plus route like the Galaxy Tab 7.7.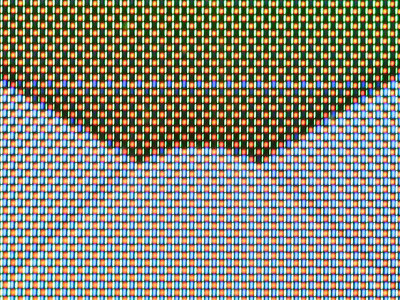 A macro shot of the Samsung Galaxy S III display
We got close enough to the S III to snap a macro shot, which quickly revealed that Samsung has chosen a PenTile matrix for its flagship droid.
The green subpixel is long and thin, while the blue subpixel is of the same length but thicker. As for the red subpixel, appears rounder, which indicates that it's shorter than the other two subpixels.
All this points to the matrix used in the Samsung Galaxy Nexus. That one used long thin green subpixels, thicker blues and shorter reds.
We have to point out that the 720p resolution on a 4.8″ screen works out to 306ppi pixel density and the display appears tack sharp. You can see the PenTile if you look close enough, but you will have a hard time noticing it in regular usage.