Various tools
Idea Growr
Idea Growr is a simple application that strives to provide you with the creative medium to write down every single idea that pops up into your brain. However, the app sets itself apart from the pack by offering you to attach multiple notes to an idea and the cool feature allowing you to answer a series of simple questions from 4 themed question sets. Their goal is to help you develop your thoughts and ideas better and keep everything neatly organized.
Once you have an idea written down, you can share it via various channels.
Get Idea Growr (free)
Ultra Compass & Level
Ultra Compass and Level app for Android is a beautifully designed compass app that can use the main camera of your device to make your navigation easier. The app even measures the current magnetic field, if you are interested in that sort of information.
A must-have app for every hiker at heart out there that wants to have a compass in hand at all times without the need to carry a separate device.
Get Ultra Compass & Level (free) | Get Ultra Compass & Level Pro ($1.49)
Greenify [ROOT]
We strive not to dive into rooted apps in this article, since we think the average user shouldn't be getting into such deep waters without better understanding of the Android ecosystem. However we are making an exception for this one as we recently discovered it and found it to work quite well. It's probably not worth the effort of rooting your smartphone by itself but if you already went that way, you should definitely check it out.
The main reason for battery drain on Android devices is the background processes that some apps initiate to keep themselves up to date. Dropbox's famous Camera upload feature is one such example. It has a background process which constantly checks if you have taken a photo, and once you have uploads it to the cloud. Facebook, Google+, Twitter and many other apps too have background processes in place, which result in poor battery life.
Greenify puts a stop to this madness. It is a very important app that has saved a ton of battery life on many Android devices. Not to be confused with a task killer app, Greenify's main job is hibernating battery hogging apps which launch new background processes. This means that the apps function normally when you open them, but once you close them, they don't work in the background. As a result, push notifications function on hybernated apps will seize to work. Naturally, they won't all be working as smoothly as the Google platform would usually allow them but more often than not, you won't be able to spot the difference.
Get Greenify [ROOT] (free)
Call Recorder Pro
The conversations you're having on your Android phone needn't be lost forever after they're over. Call Recorder Pro comes to the rescue. Available in both free and pro versions, this app is the easiest way to record your conversations without the need of having to root your device.
All you have to do is flick a switch after launching the app, and start talking on the phone. The recorded conversations will be listed in the app itself and stored on the internal or external memory. There's a number of settings as well that can dramatically improve the quality of the recordings.
Mind you, the legal aspects of doing such a thing are questionable and are in a moral grey area, so proceed with caution and check out your local laws before attempting to record anything. Also beware that the app may not function as advertised on all devices due to the complexity of the task at hand. In case of malfunction, seek help from the developer's website, as this might get fixed if you fiddle with the settings.
Get Call Recorder | Get Call Recorder Pro ($5.57)
PushBullet
PushBullet is an app that many will find useful as it allows you to send webpage links, files, notes, lists , addresses and more from your computer or Android tablet to your smartphone. Once sent, the thing of interest is displayed in the notification drawer for easy access. You can control what to send from the PushBullet website or via the official Google Chrome extension.
The app sports a simple user interface and best of all is free on the Play Store.
Get PushBullet (free)
Duolingo
Ever wanted to learn a new language but didn't know from where to start? Fret not, as a great app called Duolingo has recently been launched on the Play Store. Featuring a great-looking user interface that really helps focus on learning the new language at hand, Duolingo focuses on repetition of a handful of core foreign words combined with images to help you remember more quickly.
The app currently supports Spanish, French, German, Portuguese, Italian, and English and it's free without ads. Duolingo also has an achievement system that should in theory help your motivation.
Get Duolingo (free)
Vybe Custom Vibrations
A handful of Samsung Android smartphone with TouchWIz UI have a feature to make your own custom vibrations for various ringtones and notifications. Now, there's an app for that available to all smartphones running Android 2.2 and up. Dubbed Vybe, the app sports an attractive UI and the ability to assign a custom vibration directly to a contact. It's also free on the Google Play Store.
Get Vybe Custom Vibrations | Get Vybe Custom Vibrations ($0.99)
Intelligent Ringer
The app is intended to regulate the volume of the ringing sound of your Android smartphone based on the ambient noise levels of your surrounding. If you're in a library, for example, and you've forgotten to turn your sound off, Intelligent Ringer will kick in, detect that it's quiet around you and ring appropriately.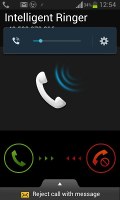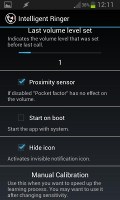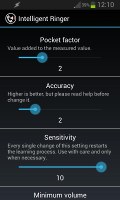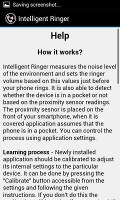 Intelligent ringer
Intelligent doesn't work if you have manually switched off your sound or turned on vibrate. Additionally, the app detects whether the phone is in your pocket and boosts the volume up to make sure you don't miss a call.
Get Intelligent Ringer | Get Intelligent Ringer Pro ($0.99)
Valet Parking Where's my car
Finding your car after you've parked in a large parking lot or at the side of a unknown street can indeed be a hard task that causes lots of unnecessary stress. Valet Parking app for Android comes to the rescue by marking your car's current location on the map. The app also sports a timer function to let you know if your parking ticket is about to run out as well as turn-by-turn walking navigation to get to the vehicle.
Priced at $1.99 on the Play Store, Valet Parking has a final trick up its sleeve. If your car supports Bluetooth audio or phone connectivity, the app will know when the connection between the system and your phone has been lost and mark the location of the car without the need to do anything.
Get Valet Parking Where's my car ($1.99)
Clueful Privacy Advisor
Since your smartphone holds sensitive information such as your contacts, messages, bank and personal info, as well as location data, intrusive apps can get hold of it and misuse it. Clueful Privacy Advisor comes to the rescue by analyzing each app and how it intrudes your privacy.
Once the app is started it scans all of the apps and their required permissions. Then, Clueful Privacy Advisor chunks up a total "Privacy score" and allows you to see which app does what with your sensitive information. The app is very useful if you have the habit of installing apps without reading too much into their requested permissions.
Get Clueful Privacy Advisor (free)
Simple ADB Backup 2.0
Ever wanted to fully backup your Android smartphone, but all apps require you to root your device first? Simple ADB Backup is here to fix this, giving you a simple yet beautiful interface that gives you access to Android's native backup function. As a result, you don't need to get your phone rooted, as some other apps would require you to.
However, the app works only with Android 4.0 Ice Cream Sandwich and up, since the native backup function of the OS has been introduced with this version. To start the backup procedure, you need to install both the .APK and desktop app (depending on your OS) from the developer's website. Then, it's a matter of firing the desktop application and choosing what you wish to do.