Tasks & more
The Sony Ericsson C903 offers a wide range of time-management features. There is an Organizer icon in the main menu and it contains several applications: File manager, Applications, Video call, Calendar, Tasks, Notes, Synchronization, Timer, Stopwatch, Calculator, and Code memo. The Calendar offers monthly, weekly and daily views. When you add a birth date in the phonebook, the phone prompts adding it to the calendar. Tasks can be two types: simple Tasks and Phone calls. Notes are written similar to messages and the T9 dictionary can be used here as well.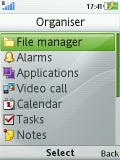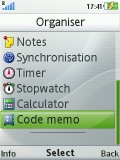 The traditional Organizer with its apps
The Alarms are part of the main menu and there are five alarm slots available. Each one offers a lot of options - you can choose to repeat the alarm on chosen days of the week or everyday. Text and a picture can be added to the alarm. Furthermore, the alarm's behavior can be defined in case the time it is due to go off comes while the phone is in silent mode.
The other well known application Alarm with tabbed view doesn't need any introduction.
The Calculator is the regular Sony Ericsson one. It offers the basic functions, no bells and whistles. The stopwatch and countdown timer are also the familiar basic applications. The Voice recorder has no limit to recording length, making the free memory available the only restriction.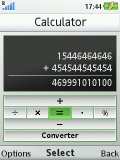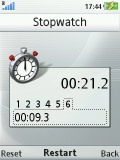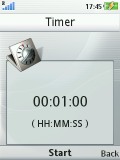 Calculator • Stopwatch • Timer
As for the additional applications, Sony Ericsson C903 comes with Photo Mate, PullFace 2, Rock Bobblehead, Slideshow Wall and Walk Mate.
Photo Mate offers help and practical tips for getting the most out of your camera.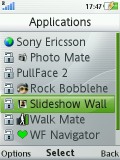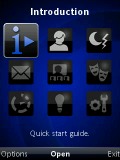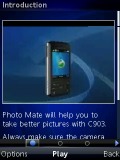 Applications menu • Photo Mate
PullFace 2 is a funny photo application that allows you to alter your images with photorealistic results.
Rock Bobblehead is again an application meant just for fun and it allows you to play bobblehead with an Elvis Presley doll using the built-in accelerometer. This application is mostly intended to be used as a homescreen wallpaper.
The Slideshow Wall is a simple application that displays the available images with a few animations. The main purpose of this application is that it can be used as a wallpaper, otherwise it would've been quite useless.
The Walk Mate is a simple step counter application which works in background mode getting its data from the built-in accelerometer. Again, it can be used as wallpaper.