Earth, wind, green heart
Sony Ericsson Hazel review: Earth, wind, green heart

Tons of apps
As for the additional applications, Sony Ericsson Hazel comes with AccuWeather, a Calendar Wallpaper, Checkbook, EcoMate, GreenCalculator, Grocery List, NeoReader, Standby World 3D, Tracker and YouTube.
The AccuWeather application gives you up-to-date weather information for locations of interest. An overview of current conditions and a three day forecast are available for a great number of cities around the world. You should bear in mind that the data is downloaded in real time so charges apply. Not that we can think of any other way for the application to work but we still feel a warning is due.
The Calendar Wallpaper puts an analog clock on the homescreen. Using the built in accelerometer, you can switch to other views – calendar, tasks and last photo.
The Checkbook allows you to create different accounts, enter a balance and start managing your income and expenses. There is also a chart for easy time tracking of your transactions.
The EcoMate is an educational green app. You have a pet (panda in this case) and you must answer a few questions every day to support its virtual habitat.
The GreenCalclulator and Grocery List speak for themselves, while the NeoReader is a barcode scanner.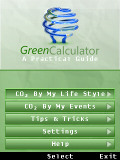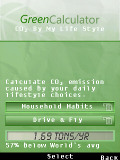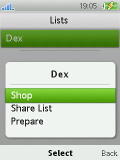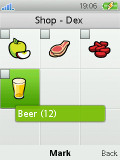 GreenCalculator • Grocery List
The Standby World 3D is a nice application with readings for up to three different time zones around the world. The background changes as day turns into night in the selected locations. You can set this app as a default background.
The last app is the Tracker. It requires GPS data and tracks your route as you exercise – jogging, running or bicycling. You can view your previous routes as well as a summary, which includes things like Total, Average or Best lap time.
GPS navigation costs dear
The Sony Ericsson Elm features a built-in GPS receiver. Its sensitivity is decent enough and with A-GPS enabled, it managed to acquire a lock almost instantaneously.
The Hazel is equipped with the Wisepilot navigation software and offers all the features you'd expect in a proper SatNav solution. There's voice-guided walk and drive navigation, maps are courtesy of NAVTEQ, there's 3D view of the maps, extensive route-planning settings, speed camera alerts, POI and weather. SatNav software is a rare sight in a feature phone - installing one yourself is near impossible.
Its main downside is that maps are not stored locally but instead are downloaded over the air. A flat data fee is recommended but 1MB of data should get you about 600km of navigation. Still, we would have liked to have a map downloader as well, like with Nokia Maps. It really would have helped in avoiding data roaming charges.
We also wish there was a built-in compass like on most of its.
Wisepilot for Sony Ericsson comes on a 30-day trial, beginning the first time you start the app. After this month expires you will need a subscription – 3 months in Europe will set you back 19.95 euro and for North America 3 months cost 19.95 US dollars.
After Nokia released their Ovi Maps with full voice-guided navigation for free this just seems way too expensive. For almost 20 euro for 3 months we at least expected to get to download the maps. The data charges (especially in roaming) really ramp up the price of the whole thing.
Google Maps is included as well if you prefer it.
A single game onboard
Sony Ericsson Hazel has only one Java game preinstalled – the Quadrapop. It's a Tetris replica, this time with some colorful creatures instead of bricks.