HD gets a Pro flavor
Sony Ericsson Vivaz pro review: HD gets a Pro flavor

Excellent messaging
The messaging menu is pretty much the same, though there are some Sony Ericsson touches here and there.
The Sony Ericsson Vivaz pro supports all common message types - SMS, MMS and email. They all share a common intuitive editor which by this point should be quite familiar.
Once you insert some multimedia content or an email address as recipient, the character counter is replaced by a data counter showing the size of your email.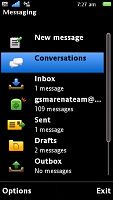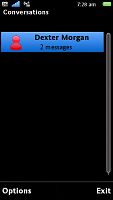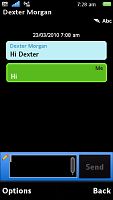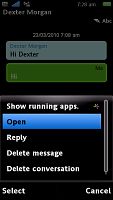 Vivaz pro has gained threaded messaging capabilities
As compared to the original Vivaz, a Conversations view mode was added to the Messaging menu – that's another way of saying threaded messaging. It shows the SMS conversation you've had with a contact styled like an IM chat. You can sort conversations by date, name of contact or frequency.
The My Folders feature lets you organize messages into folders.
The email client is really nice, able to meet almost any emailing needs. It prompts you to choose whether you prefer POP or IMAP access to mail providers that support both. However, it failed to fetch the email settings automatically for our Gmail account so we had to do it by hand.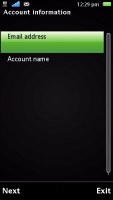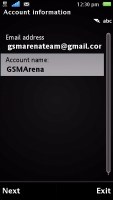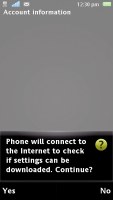 Setting up our Gmail automatically didn't quite work out
The client can download headers only or entire messages, and can check for new mail automatically at a preset interval.
You can also schedule sending email next time an internet connection is available when you compose emails offline. This can save you some data traffic charges since you can use the next available WLAN connection instead.
Multiple email accounts and various security protocols are supported, so you can bet almost any mail service will run trouble-free on your Vivaz pro. You can also subscribe to multiple folders, so you can check email in folders other than the Inbox, e.g. the Starred folder in Gmail.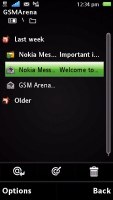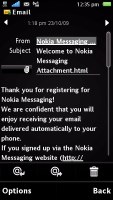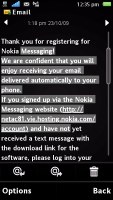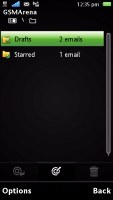 The email client leaves little to worry about
Browsing emails is a bit weird - sweeping your finger selects text and prompts you to copy it. This means you have to use the scrollbar. Easily copying text is great but we would have liked some way to toggle between scrolling and selecting.
There is also support for attachments and signatures - the Vivaz meets virtually all your email needs, and the adequate screen resolution makes reading emails on the device a pleasure.
The text input – can't beat hardware keyboards
The Sony Ericsson Vivaz pro offers a complete selection of input methods. Starting from a touch-based alphanumeric keypad, through a portrait mini QWERTY and landscape fullscreen QWERTY, all the way to an actual hardware QWERTY. There's handwriting recognition too, if for some reason you prefer that.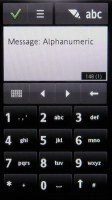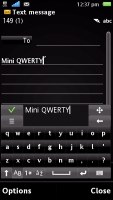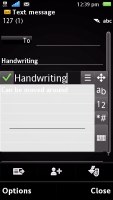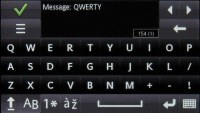 The four ways to enter text using the touchscreen
The virtual QWERTY on the Vivaz pro does pretty well. Typing is enhanced by accurate haptic feedback and the keys are large enough for typos to be reduced to a healthy minimum. Unfortunately, there is no predictive typing like on the Apple iPhone or the Nokia E71.
The Sony Ericsson Vivaz pro also offers handwriting recognition, but with a little training, the hardware QWERTY will allow you to type much faster – plus, it doesn't cover the screen like the virtual version.
So, for five or so keystrokes, one of the virtual keyboards will do fine. But the Vivaz pro is meant for some serious typing action – and nothing beats a physical keyboard at this.
The top row, which is often cramped, gets quite a bit of room above it and there's plenty of clearing on the sides of the keyboard too, so you won't accidentally press any keys while holding the phone.





The hardware QWERTY on the Vivaz pro is the real way to type
With four rows, the keyboard fits almost all the common symbols and the rest are accessible too via the alt key. There are also arrow keys and big Enter and Space keys.
There are some missed opportunities though – the Control key does copy/paste/cut (Ctrl+C, etc.) but those are the only shortcuts we found.
There's also a "globe" key, which offers to change the input language while typing text, handy if you need to enter text in more than one language in the same message, but that key does nothing else (launching the browser for example would have been nice).
Anyway, going back to the keys, they sit quite low, but are easy to press. They are not very big, but there's room between them, so pressing a couple of keys at once should be fairly rare (but it happens).