Telephony
Handling of calls is excellent and we didn't experience any voice quality or reception problems with the Sony Ericsson W595. Call clarity is great in both the earpiece and speakerphone.
Smart Search is a great boost to usability. It looks up contacts whose numbers contain the digits you have typed or whose names begin with the corresponding letters.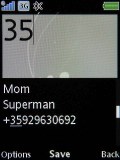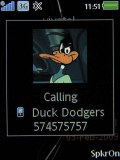 Smart search makes things easier
The tabbed Call Log application should be familiar if you've used a fairly recent Sony Ericsson handset. It displays in four tabs, including All, Answered (Received), Dialed and Missed. When there are several calls made to or from a single contact, only the last one gets displayed.
The Sony Ericsson W595 scored an Excellent mark in our loudspeaker performance test. More info on our test can be found here.
| | | | | |
| --- | --- | --- | --- | --- |
| Speakerphone test | Voice, dB | Pink noise/ Music, dB | Ringing phone, dB | Overall score |
| Apple iPhone 3G | 66.1 | 62.1 | 71.7 | Below Average |
| Sony Ericsson W902 | 68.8 | 69.3 | 75.7 | Good |
| Samsung M7500 Emporio Armani | 73.7 | 66.6 | 75.7 | Good |
| Sony Ericsson C902 | 68.8 | 72.2 | 78.2 | Very Good |
| Sony Ericsson W595 | 75.7 | 75.7 | 83.6 | Excellent |
All-round messaging
Along with the standard messaging functionality, Sony Ericsson W595 offers the proprietary Manage Messages feature, plenty of settings for accounts, and the option to assign categories to messages. The Manage Messages application enhances message handling and messages can be moved to memory card or phone memory, arranged by categories, date, size, and contact.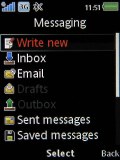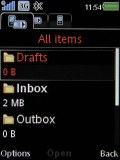 Sony Ericsson W595 messaging menu • Manage messages and email look the same
The W595 handles all common types of messages, all of which - save for emails - share a common inbox. When composing a message, a warning is displayed when you exceed the 160-character limit to let you know that the message will be divided in two (or more if necessary) parts for sending.
There is also a rich T9 dictionary. The SMS and MMS messages share an editor; when typing SMS you could easily convert it into an MMS via the options menu or using the attach-stuff toolbar below the text box to insert images, animations, videos or sounds.
The phone automatically downloaded the settings for our test Gmail account. The options to view messages full screen and change font size really helped to get a lot of text on the screen. Even at the smallest font setting text remained legible.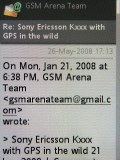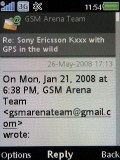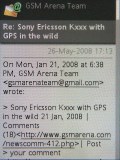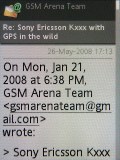 Full screen • normal • small and large fonts
For email you get the Manage Email feature, which has the same functionality as the one for text messages. Saving attachments is problem-free, even if the phone doesn't recognize the file type.
The phone can't handle any documents that are attached to emails (such as .xls, .doc, or .pdf files) due to the lack of a document reader.
Media Center keeps things in line
The Media Center on the Sony Ericsson W595 is the centerpiece of the phone's interface. It is in essence a gallery for all the media the device can handle, all navigated through a sleek, simple and intuitive interface. It allows instant access to the Photos, Music, Videos, Games and Web Feeds on the handset. The current pick is highlighted and the number of stored files is displayed.
Since the Sony Ericsson W595 is equipped with a built-in accelerometer, the Media center interface rotates automatically to match the handset orientation.
Excellent image gallery
The Sony Ericsson photo gallery is definitely among the best we've found in a feature phone. It's a convenient tool for managing a vast collection of pictures with great features and customization options.
Some of those options include: one-click access to the latest snapshot you've taken, a timeline view for your images, and tags that can later be used for filtering. With the Sony Ericsson W595 you can also mark some of your photos as favorites and make accessing them even easier through the favorite photo filter.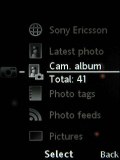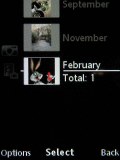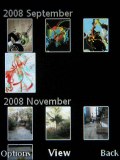 Gallery application from the media center
Viewing photos is a joy with the Sony Ericsson W595, especially when browsing images fullscreen. When you want to go to the next in line, it doesn't simply pop up but instead slides in from left or right. Then, when exiting the full screen view of a picture, it smoothly zooms out to thumb view.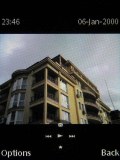 Unfortunately, still shots don't do the animations justice
One place where the music and imaging capabilities of the phone come together is the Slide show. You're prompted to pick a mood (you can choose "silent" too) so it can set the proper music background and transition effects.
The phone doesn't have a GPS receiver but still does geotagging using Cell ID. Using Google Maps, you have the option to view the location (approximate of course) where the picture was taken