Loads of apps
As far as the additional applications are concerned, the Sony Ericsson W595 comes with quite a few preinstalled: Comeks Strips, Music Mate, Music Quiz, World Clock 3d, Rock Bobblehead, Walk Mate and a YouTube client.
Comeks Strips is an application that lets you add speech bubbles and various comic-style add-ons to your camera photos. The comics you make can be then saved or sent via MMS. Making comics is fun and easy following the step-by-step wizard.
One of the most interesting applications that come preinstalled on the Sony Ericsson W595 is the Music Mate 5. It consists of several music-centered mini applications. The first of them allows you to play music by shaking your phone. You can choose from a huge list of musical instruments for each direction.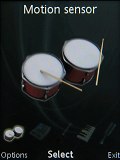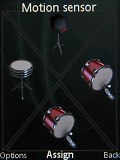 Playing music with the motion sensor of Sony Ericsson W595 is quite amusing
Music Mate 5 also includes a Beatbox with quite a variety of beats. The application can also help you play the guitar or keyboard by demonstrating the proper finger positions for individual chords. Finally, the Music Mate 5 includes a guitar tuner that can help you tune your guitar using the phone's microphone.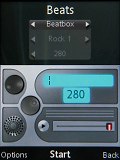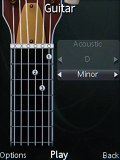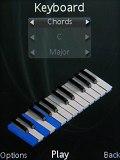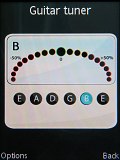 The other features of Music Mate 5 are: Beatbox, Guitar and Keyboard chords and Guitar tuner
The Music Quiz is exactly what its name says - you have to name the title, artist, album or year of release of random tracks in your music library. Long story short: a part of a song is played each round and you have 5 to 30 seconds to guess.
Rock Bobblehead is a totally useless application allowing you to play bobblehead with an Elvis Presley doll using the built-in accelerometer.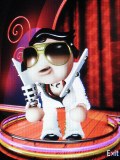 Playing Bobblehead is a really a lame pastime
World Clock 3D allows you to spin the globe searching for a time zone. You can zoom in and out as you please. Of course you can also search by a city name.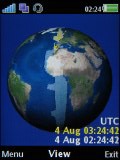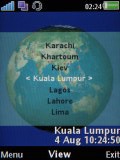 Spin the virtual Earth and find your time zone or search by city
The Walk Mate is a simple step counter application which works in background mode getting its data from the the built-in accelerometer.
And at the end we find the YouTube client, which gives you full access to clips and uploading, bookmarking favorites and so on. It's really nice and it's also tightly integrated into the Media center, so it's always on hand.
By the way, the beta of the Java application is available for download over at the YouTube website for any other Java-enabled phone.