S as in Sophomore
Sony Ericsson Xperia arc S review: S as in Sophomore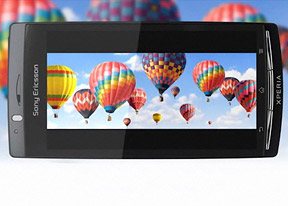 Google Maps and Wisepilot navigation
The Sony Ericsson Xperia arc S comes with a GPS receiver, which took less than 4 minutes to get satellite lock from a cold start. You can use the A-GPS functionality to get near instantaneous locks or the network positioning if you only need a rough idea of your location.
Our unit came with Maps 5.1 out of the box, which gives you access to some great features. Offline rerouting is one – if you stray off course, Maps will recalculate the route without the need for an Internet connection. You can't change the destination without a connection though. There are also 3D buildings, two finger rotation, tilting and so on.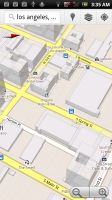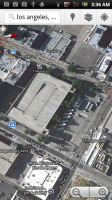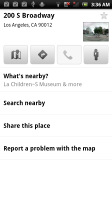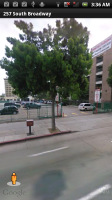 Google Maps 5.1 • Vector 3D maps
Of course, those features aren't available everywhere. 3D buildings are available mostly in the biggest world cities.
Turn-by-turn voice guidance using Google Maps Navigation is only available in select countries and unless you live in one of them the best you can do is plan a route in advance and keep an eye on your current location during travel.
Street view is, as usual, a part of the standard package - it gives you a panoramic view of every bit of road in the covered areas. With the compass mode enabled, it feels like a virtual tour of the place!
Our Xperia acr S came with Wisepilot pre-installed with full navigation license. It took it really long to get a GPS lock with every GPS setting turned on, but then it does what a SatNav software is supposed to - navigate (with voice guidenace). There are weather and traffic information too.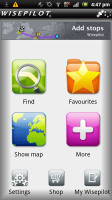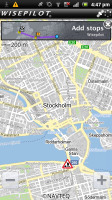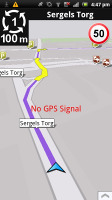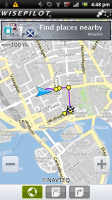 Wisepilot navigation
We just can't promise you your arc S will also come with the same Wisepilot license, it may be a market-dependent.
Android Market gets a new look
The Xperia arc S runs the latest version of Android and has a FWVGA screen, giving you access to the whole Android Market. The MSM8255 chipset should be able to handle most apps in there too.
The Android Market had another visual boost lately plus a layout redesign. Now you get a few scrollable tabs - categories, featured, top paid, top free, top grossing, top new paid, top new free and trending. This organization reminds a lot of the Apple's App Store.
The in-app section is untouched though and we still find it quite unattractive.
There are all kinds of apps in the Android market and the most important ones are covered (file managers, navigation apps, document readers etc.).
Final Words
We guess we made a point already that the Xperia arc S is not an upgrade. At least not in the sense of making the previous version redundant. So what's it then? A quiet coup at the top? Nah, we doubt it. You can't do that to a phone like the Xperia Arc. In fact, someone at Sony Ericsson must still love the original Arc. Love it the way Samsung love their Galaxy S.
No, releasing as many sequels as Samsung wouldn't be a wise thing to do. But keeping your flagship up to date certainly is. When the Samsung I9000 Galaxy S had to make way for the I9001 Galaxy S Plus, there was a change of chipsets involved. In the case of the Xperia arc S, it's simply a matter of clock speed. OK, maybe not as simple as we make it sound - otherwise the original Arc would've had the faster CPU to begin with.
The important thing anyway is that the arc S brings a welcome speed boost. Not one perhaps that was desperately needed but welcome anyway. You don't want your finest humiliated by competitors with better hardware. That's no way to treat a flagship and Sony Ericsson knew it. They needed a match for the latest single-core droids and they got it in the arc S.
It may be a small thing like playing HD Flash videos in the browser hassle-free but it's subtle details that make the difference in user experience. Thanks to the faster processor and the new Android release the Xperia arc S has better overall handling and the benchmarks are here to prove it.
So, in the end the Xperia arc S is Sony Ericsson's answer to the likes of the HTC Sensation XL and Samsung's Galaxy S Plus, Galaxy W and Wave 3. The price is more than reasonable too: at launch the sequel costs nearly as much the original Arc, so not too hard to guess where to put your money.
The Samsung's Galaxy S Plus with a Super AMOLED screen and Galaxy W (LCD) are using the same chipset as the Xperia arc S and run Android Gingerbread, but fail to match the level of sophistication and the superior imaging capabilities of the arc S. Still if you need to save €50 or so, both phones are a good way to do it.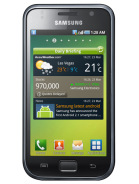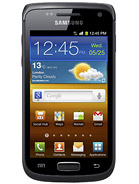 Samsung I9001 Galaxy S Plus • Samsung galaxy W I8150
The recently announced HTC Sensation XL brings more features and screen estate, but will surely cost quite a bit extra when it's released. It probably tops the single-core food chain today, so if you want the best there is, you should check it out.
The Bada OS 2.0-powered Samsung Wave 3 is also a nice option with its Super AMOLED screen, metal on the body and a gentler price tag. The OS may have less clout than Android but there are some good-looking phones running it.
The Sony Ericsson Xperia arc S is right on schedule. Well, obviously not even remotely on time if you consider all the dual core handsets around. But the timing is right if you're Sony Ericsson looking to boost interest in your flagship. It comes in handy too for users still having second thoughts about buying the original Xperia Arc. A price drop is what often puts ex-flagships, however briefly, back into the spotlight. The Sony Ericsson arc S says no to price drops, and tries a speed boost instead. We don't see why it won't work.