SNS-aware phonebook
The Xperia ray's visually customized phonebook can store extensive information about all your contacts. Info for each contact is presented in side-swipable interface that holds contact info, recent calls and more info from social networking services.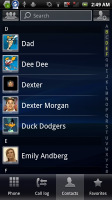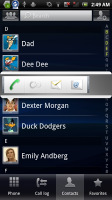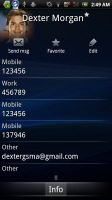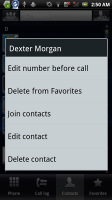 The phonebook • The quick contacts can save you a click or two • the available options
The contact list can be sorted by either first or last name. There are two contact search options – a dedicated search field on top of the contact list, and an alphabet scroll to jump to names starting with a specific letter.
You can sync with multiple accounts, including Exchange, and you can selectively show or hide contacts from some accounts, or set the phonebook to display only contacts with phone numbers.
And if a contact has accounts in multiple services, you can "join" their contact info to keep everything in one place. Their Facebook photos and interests will show as extra tabs.
Quick contacts are enabled – a tap on the contact's photo brings up shortcuts for calling, texting or emailing the contact.
Each contact can have a variety of fields (and repeat fields of the same type), the plus and X buttons let you add and remove fields as needed. The fields cover anything from names (including a field to write down the name phonetically) to addresses, nicknames and notes.
There is an option to redirect calls directly to voicemail. Personalized ringtones are enabled too.
You can "star" a contact, which puts it in the Favorites tab. Also, in each Gmail account there's a special group called "Starred in Android" where these contacts go automatically.
Telephony still misses smart dialing
The Xperia ray held on to signal well and we didn't experience dropped calls. Reception levels are good on both ends of calls, the earpiece is loud enough and there were no interferences whatsoever. The built-in secondary microphone is used for active noise-cancellation so calls are loud and clear even in noisy environments.
Unfortunately, the Xperia ray does not support smart dialing. There's voice dialing though (the quickest way to activate it is the dedicated homescreen widget).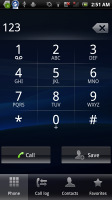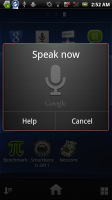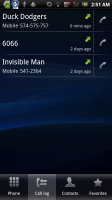 No smart dialing but you can use voice dialing instead • the call log
Thanks to the proximity sensor, the Sony Ericsson Xperia ray automatically disables the touchscreen when you hold it next to your ear during a call.
As usual, the phonebook, call log and dialer are all part of the same application. The call log shows all the dialed, received and missed calls all in one list.
We also ran our traditional loudspeaker test on the Sony Ericsson Xperia ray. Scoring a Below Average result, the ray isn't the loudest ringer around, so you might occasionally miss a call. More info on our loudspeaker test as well as other results can be found here.
| | | | | |
| --- | --- | --- | --- | --- |
| Speakerphone test | Voice, dB | Pink noise/ Music, dB | Ringing phone, dB | Overall score |
| Sony Ericsson Xperia ray | 64.6 | 61.6 | 66.9 | Below Average |
| Sony Ericsson Xperia Neo | 65.6 | 61.7 | 65.7 | Below Average |
| Samsung Galaxy Ace S5830 | 71.0 | 66.7 | 67.8 | Average |
| Sony Ericsson Xperia X8 | 67.8 | 66.6 | 67.8 | Average |
| HTC Salsa | 71.3 | 65.8 | 75.7 | Good |
| Sony Ericsson Xperia Arc | 66.1 | 66.3 | 78.0 | Good |
| Nokia N8 | 75.8 | 66.2 | 82.7 | Very Good |
| HTC Gratia | 73.2 | 73.6 | 83.5 | Excellent |
| LG Optimus One P500 | 77.1 | 74.5 | 77.9 | Excellent |
Hidden in the Sound settings is xLOUD, a feature that claims to improve speaker loudness. A quick test shows deeper sound, but we also used our digital noise/loudness meter.
xLOUD made a difference of about 5dB when you sum up the tests – but with or without it, the Xperia ray scores Below Average (note, the results in the table are with xLOUD on). It's not just a straightforward increase though - it boosts lower frequencies, while high frequencies (and high frequency ringtones) remain mostly untouched.