Shrink to fit
Sony Ericsson XPERIA X10 mini review: Shrink to fit

Plain 5 megapixel camera
On the hardware side of things, the Sony Ericsson XPERIA X10 mini has a 5 megapixel camera module for a maximum image resolution of 2592 x 1944 pixels and a LED flash. It doesn't sound like much but the size of the package says it all.
The camera interface is as simple as it gets with four buttons in total. There is a camera/camcorder switch, a gallery button, scene mode and flash settings. The four available scene presets include twilight, sports, landscape and, of course auto.
This is certainly one of the most basic camera interfaces on the market but we guess Sony Ericsson thought users wouldn't need much more and will prefer simplicity to functionality. In the end, it all comes down to the image quality, so let's see.
The image quality is pretty pleasing with a good amount of resolved detail and the noise levels kept well under control, even in not so favorable lighting. Contrast on the other hand is somewhat low at times and the colors are a usually bit off.
Here go the samples for you to check out.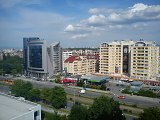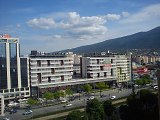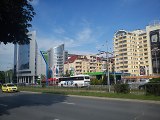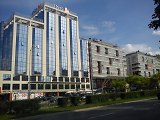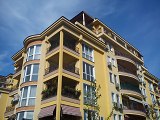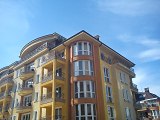 Sony Ericsson XPERIA X10 mini camera samples
Synthetic resolution
We also snapped our resolution chart with the Sony Ericsson XPERIA X10 mini. You can check out what that test is all about here.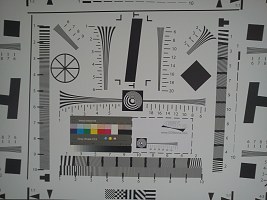 Sony Ericsson XPERIA X10 mini resolution chart photo • 100% crops
VGA video recording
Video recording on the X10 mini goes as high as VGA resolution which, needless to say, is far from impressive. At least the framerate is a good 30 fps to make sure motion looks smooth enough.
The interface of the camcorder is similar to the one on the still camera, except that there are even fewer settings. You can set the video quality, turn the video light on and off and that's that.
Videos are recorded in 3gp format suggesting lower bitrate, which in turn leads to some compression artifacts. Video also suffers from the lack of contrast, much like the still camera so videos aren't too nice to watch on a computer screen.
Here is X10 mini sample video shot at VGA@30fps.
Connectivity: all on board
Connectivity is full suite on the Sony Ericsson XPERIA X10 mini. For starters, you get quad-band GSM/GPRS/EDGE for worldwide roaming and two versions with either dual-band (900/2100 MHz) or tri-band (850/1900/2100 MHz) 3G with HSPA.
As to local connectivity, the X10 mini offers USB v2.0, Bluetooth v2.1 with A2DP support (no file transfer though) and Wi-Fi. The USB interface is standard microUSB, which makes finding a compatible cable a lot easier.
The built-in microSD card slot can also be used as a data transfer tool. Card-readers are going for peanuts these days so you probably already have one lying around and they give some impressive speeds.
Web browser is in a dire need of a higher-res screen and Flash support
The XPERIA X10 mini is an Android phone and an excellent web browser is an important part of that description. With the exception of Flash, the browser performs pretty decently.
The user interface is rather minimalist – all you get on the screen are the zoom controls. The address bar is hidden by default to save some space as the low resolution doesn't allow too much content to fit on the screen anyway.
Unfortunately, the Android browser on the X10 mini supports only a single zoom method – the dedicated onscreen buttons. There is no double tap or one-finger zooming.
On the positive side, the browser supports text reflow – as soon as you zoom, columns of text adjust to fit the screen width. And there's also the nice magnifying glass browsing mode, which let's you browse the page quickly until you reach the part that you want to focus and then zoom in on to read it.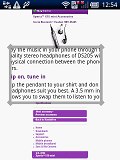 The magnifying glass mode can help you quickly search larges sites for specific bits of info
The minimalist UI is still quite powerful – hit the menu key and four keys pop up. You can open/switch tabs, refresh the page, go forward, open bookmarks.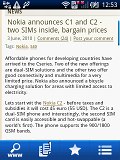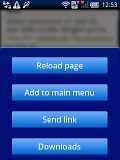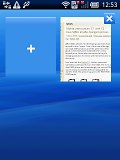 The available options • Multiple tabs can be opened
Flash support is the other letdown of the X10 mini browser. There is of course a YouTube application onboard but Flash content doesn't start nor end with YouTube.